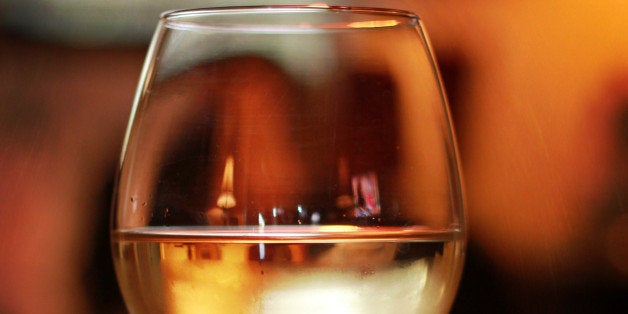 I attended the third annual In Pursuit of Balance tasting this month, an event that focuses on wineries "striving to produce balanced Pinot Noir and Chardonnay in California." That tasting along with a number of other Golden State Chardonnays I've sampled in recent months has me thinking there are now a host of appealing, balanced and complex California Chardonnays available. Hallelujah! Maybe California's most widely planted grape has at last entered its golden era.
California certainly has a long history with the variety, and there are numerous older vineyards, going back to the 1970s, that are hitting their stride as sources for lower yielding, more complex grapes.
The most impressive Chardonnays I tasted at the IPOB event--wines rating 93 points or higher--came from Arnot-Roberts, Ceritas, Littorai, Mount Eden, Sandhi, Tyler and Varner.
I've previously profiled here both Mount Eden and Varner, great producers of the Santa Cruz Mountains. The Arnot-Roberts Chardonnay that most impressed me is also sourced from the Santa Cruz Mountains. Arnot-Roberts, Ceritas, Sandhi and Tyler are all more recent projects, very much deserving of attention both for their Chardonnays and other wines.
Other star producers that have clearly risen to the top out of the more than 550 California Chardonnays I've tried from the last few vintages are Bjornstad, DuMOL, Flowers, Hanzell, Hyde de Villaine, and three more from the Santa Cruz Mountains: Rhys, Ridge and Thomas Fogarty.
A lot of these Chardonnays are made in very small quantities and sold primarily through the winery's mailing list, as is the case with Ceritas, Thomas Fogarty, Littorai and Rhys. A few of California's top Chardonnays--from DuMOL, Hanzell, Hyde de Villaine and Mount Eden--are more widely available, but at prices ranging from $60 to $72. The best relative values amongst the Chardonnays I've scored 93 points or higher are the 2011 Arnot-Roberts Santa Cruz Mountains at $35, 2009 Bjornstad Ritchie Vineyard for about $38, and the 2010 Tyler Bien Nacido and 2010 Ridge Monte Bello, both averaging $45.
Beyond these stars, though, I find the quality level overall of what I'm tasting from many producers is much better than it was only a couple of years ago. Nearly half of the recent vintage California Chardonnays I've tasted rated 90 points or higher, a solid improvement over preceding years.
These newer bottlings are showing more acidity, less obtrusive oak and greater complexity than years past. This is the result partly of cooler recent vintages, leading to more minerality and higher acidity, but is also attributable to many producers choosing to dial back on the new oak and to lower ripeness levels by picking earlier than in years past. It's an exciting trend, and I hope it proves a long lived one.
Chardonnay is certainly California's biggest selling wine, representing 28% of the volume of table wine shipped throughout the U.S., so it would be great to think the State is putting its best foot forward with a really superior product.
Many Chardonnay producers, like the ones represented at IPOB, also produce Pinot Noir--the red wine from France's Burgundy region, just as Chardonnay is the Burgundy region's white variety.
California makes an ocean of Pinot Noir these days, and much of it is quite enjoyable, ripe red fruited stuff. The IPOB producers are generally aiming for something more complex and ageworthy, dialing back on the ripe fruit, and sometimes adding a host of grape stems in an effort to emulate the velvety textured wines made with a high degree of stem inclusion by a number of Burgundy producers.
For me, the high level of experimentation with whole clusters these days shows that California Pinot Noir is still finding its way, but very much in the midst of at least a momentary identity crisis.
The IPOB event this year included a seminar devoted to the topic of whole cluster fermentation and stem inclusion in Pinot Noir. All three of the panelists--Au Bon Climat's Jim Clendenen, Failla's Ehren Jordan and Jamie Kutch--are strong proponents of whole cluster fermentation, so I felt an alternative voice was very much lacking. I also felt the samples poured for the seminar--from Au Bon Climat, Failla and Kutch--argued much more persuasively against than in favor of high stem inclusion.
Like Henri Jayer, the great Burgundian winemaker who advocated for totally destemming Pinot Noir, I think that most good Pinot Noirs with substantial stem inclusion would have been even better wines without the stems.
Despite my dubiousness regarding whole cluster faddism, however, I do very much respect some of the Pinot Noirs being made with a substantial amount of whole cluster inclusion--i.e., more than 30%. For example Arnot-Roberts made a delicious 2011 Peter Martin Ray Vineyard bottling with 100% whole cluster, and Soliste made a couple of great 2010 Pinots with 50% (Foret) and 80% (L'Ambroisie) whole cluster.
Nonetheless, I regularly taste a lot more Pinot misses than hits with high percentages of stems. Too often the outcome is wines with high tannins and green flavors--like peppercorn and green bean--that obscure the fruit and make the wines virtually undrinkable for their first several years. In some cases, the stemmy tannins and flavors will integrate over time, yielding a wine with appealing textures and tertiary flavors. Nonetheless, in a lot of cases in my opinion and experience, the fruit will fail to outlast the thick, woody tannins, so that the ultimate result will hardly be worth the wait.
The best Pinot Noirs out of a very strong field at the IPOB tasting, meriting 93 points or more for me, were the 2011 Ceritas; 2008 Cobb Rice-Spivak; 2010 Failla Hirsch Vineyard; Knez's 2010 Anderson Valley bottling and their single vineyard Demuth; Soliste's L'Ambroisie and Foret; Littorai's 2010 Roman Vineyard and The Haven; and Tyler's 2010 Santa Barbara County and Clos Pepe.
Several of these are not yet released, and some are likely to be sold only through the winery's mailing list. New producer Knez is the best value offering amongst these gorgeous wines, with their Anderson Valley bottling priced at $30 and the Demuth available for $43. Tyler also has some great values, with the Santa Barbara County appellation bottling going for an average of $39.
A final thought on the title of this event: There are a whole lot of other wines being made in California that are balanced--e.g., scads of Sauvignon Blancs and cooler climate reds from dozens of varieties--so I don't see how an "In Pursuit of Balance" label for an event limited to Chardonnay and Pinot Noir does much service to California wine in general.
It is also impossible to imagine an event by this name being held in Italy or France, for example, where balance comes pretty naturally, thanks both to climate and traditional styles of winemaking. Yes, California, like other warm New World regions, has had a recent history of making some pretty unbalanced--extracted, high alcohol, overly ripe, low acid--wines. Nonetheless, both Australia and California, the regions that went the farthest in that direction--have very much regrouped and are heading in a more balanced direction.
The "Balance" title was provocative and attention getting for the first year or two of this event. For IPOB to remain relevant going forward, however, I submit it's going to have to find something more to distinguish its participants than merely the "pursuit of balance."
For my tasting notes on the wines poured at this event, see the complete report on my blog here.
Related