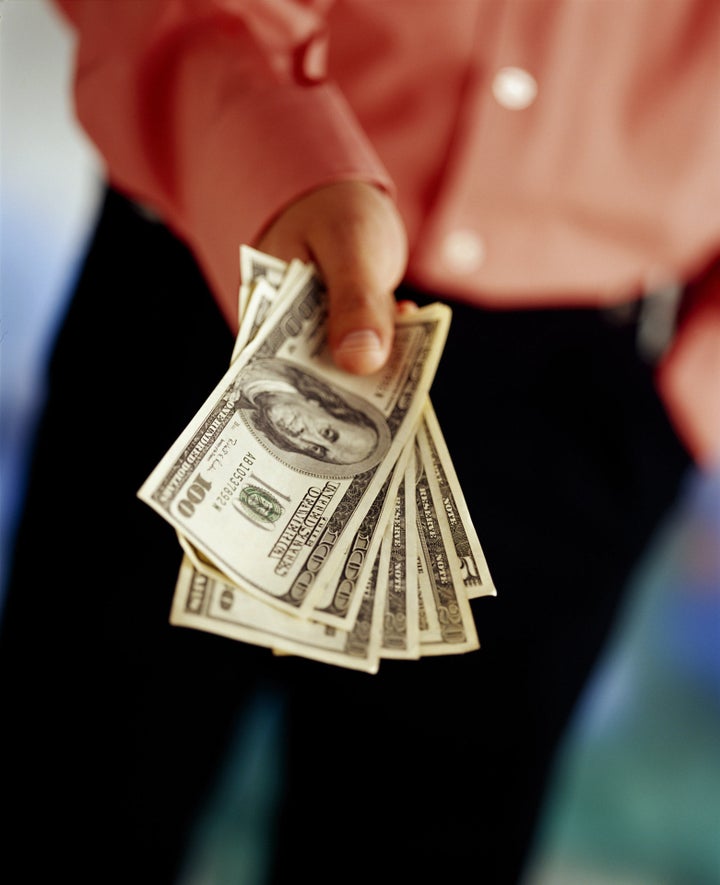 Non-custodial parents owe a near-record $19.2 billion in delinquent child support payments in California – a stubbornly large amount that researchers blame primarily on the state's high interest rate for debt.
Over the years state legislators have made policy changes in an attempt to slow the soaring child support debt, but it is not a current priority.
The Department of Child Support Services arrears – which peaked at $20 billion in 2007 – has been largely driven by the number of low-income parents in the program. The debt load has been accruing since 1975 and the department estimates that about 80 percent of the arrears is owed by parents who make less than $15,000 a year.
California has one of the highest child support interest rates in the country, a 10 percent annual charge. Only Alabama, Vermont, Wisconsin and Rhode Island routinely charge higher interest – all at 12 percent – according to the federal Office of Child Support Enforcement.
In 2003, a report by the Urban Institute, a research policy center in Washington, D.C., recommended lowering the child support interest rate.
"High interest doesn't benefit anyone," said Elaine Sorensen, a senior fellow at the institute who authored the report. "There is no evidence at all in the child support arena that charging a high interest rate encourages people to pay child support. None."
Kevin Foy, of Sacramento, is a dad who owes $40,000 in child support back pay for two sons who live in Florida. He said his child support order was based on his salary from a well-paying job he had until 2001.
Foy, 57, said after he lost that job he tried but wasn't able to get his payments lowered. He said for several years he didn't have a steady job and started falling behind on his child support payments. His debt has increased by $14,000 since 2008.
"So it just keeps accumulating and as it accumulates, you just, you know, trying to do the right thing. ... Yeah, it's my kids ... but I'll never get that money, I'll never be able to repay that kind of debt," Foy said.
Foy was unemployed from 2008 to 2010. Already dealing with a struggling economy, his child support debt made his job search even more difficult.
"I was told that, in more than one case, because of child support being in arrears I was flushed from their system for pretty decent jobs," Foy said.
Foy currently works in landscaping and earns $14 an hour. Half his paycheck goes to child support payments, leaving him about $200 a week.
In a quiet light rail parking lot in a Sacramento suburb, Foy patted the hood of his 1978 Chevy pickup with a light blue vintage stripe, which has been his home since October. He said he never thought child support payments would leave him homeless.
"Frustration is the daily occurrence," Foy said. "And then trying to survive, it's next to impossible to think past a daily and a weekly income."
When Sorensen's study was conducted California had $14.4 billion in child support arrears. The state's current $19.2 billion accounts for nearly 18 percent of the nation's total child support debt.
The Urban Institute study found that many parents who owe child support are not "deadbeat dads." But supporters of high interest rates say that sometimes parents who can pay dodge their responsibility.
John Montevideo, president of the Consumer Attorneys of California, said when the California Legislature set the 10 percent interest rate in 1982, the intention was not to target low-income parents who owe child support. The interest rate applies to money due for all civil judgments, including property damage, personal injury claims and contracts between businesses where debt is owed.
Montevideo said if a debtor doesn't have a strong financial incentive to pay what a judge or jury has ordered, it could be years before the plaintiff gets the money owed. While he understands that some parents can't pay child support, he said some might pay off debt with higher financial penalties instead of what they owe their kids.
"Why give them a break?" Montevideo said. "Why make it easier for them to say I'll pay my credit card instead of paying for my kid's shoes, or my child's food or my child's clothing?"
Since 2005 the state Legislature has considered three bills that would have lowered the interest rate on all civil judgments. All three bills, which were opposed by the Consumer Attorneys of California, were defeated.
The Department of Child Support Services acknowledges that some parents are struggling to meet their child support obligations. Last year it sponsored a bill that would have put interest on hold for child support debt. Parents who pay towards their debt balance and also are up to date on current support would not be charged interest. The bill was defeated.
Bill Otterbeck, the program deputy director for the Department of Child Support Services, said the state faces an uphill battle collecting child support debt. Many custodial parents – usually mothers – are on the welfare program CalWORKS. If they receive welfare cash grants a child support case is automatically opened. Then the first $50 of the dad's child support payments goes to the mom each month and the state keeps the rest to help recoup the welfare costs. Otterbeck said about 70 percent of California's child support debt is owed to the state.
Otterbeck said there have been some changes. The state now uses a different formula to set payment orders that more accurately reflect what low-income parents can afford. There is also a debt compromise program for those parents who owe back pay for welfare payments. And the state now pays toward the principal of the debt before interest payments.
"Putting all those state policy changes together, then you really start to see a slowing down of the accrual of debt overall," Otterbeck said.
But Sorensen, with the Urban Institute, said while California has taken steps to reduce its arrears, lowering the interest rate is key to cutting the debt level. Her report found 27 percent of California's arrears balance was interest alone.
Some of the 28 states that charge interest on delinquent child support payments have lowered their interest rates in recent years. California's arrears amount is twice that of Texas, which has the second-largest debt load. In 2002 Texas cut its interest rate in half, to 6 percent.
Sorensen said from 2002 to 2009 the average debt load per case in Texas declined by 17 percent; in California it increased by 33 percent during that time. Sorensen said California doesn't have to lower all interest rates to reduce child support debt.
"Couldn't they set up two interest rates, one for civil judgments that are not child support, and one for child support civil judgments. Is that possible? Because I know other states do that," Sorensen said.
Otterbeck said there are no efforts under way to change the interest rate for child support debt.
Support HuffPost
A No-B.S. Guide To Life
Related
Popular in the Community