The sister of the California woman accused of shackling and abusing her 13 children says her brother-in-law used to make her feel "uncomfortable" when she lived with the couple briefly during college.
In an interview Wednesday on ABC's "Good Morning America," Elizabeth Flores said she lived with Louise Anna Turpin, 49, and David Allen Turpin, 57, in Texas for a few months when she was a college student.
"If I went to get in the shower, [David Allen Turpin] would come in there while I was in there and watch me," Flores, 41, said. "It was like a joke. He never touched me or anything."
The Turpins were arrested and charged with child endangerment and torture on Sunday after police discovered 12 of their children locked inside their home, some chained to furniture and starving, in Perris, California. The 13th child ― a 17-year-old girl ― had managed to escape and alert the authorities of their situation.
Flores said Wednesday that she didn't witness the Turpins abusing their children while she lived with them briefly, but she said she did think they were "really strict." She didn't tell anyone about her brother-in-law's habit of watching her in the shower because she was "young and scared," she said.
"I was treated like one of the kids kind of, so I had rules," she said. "Now that I'm an adult and I look back, I see things that I didn't see then."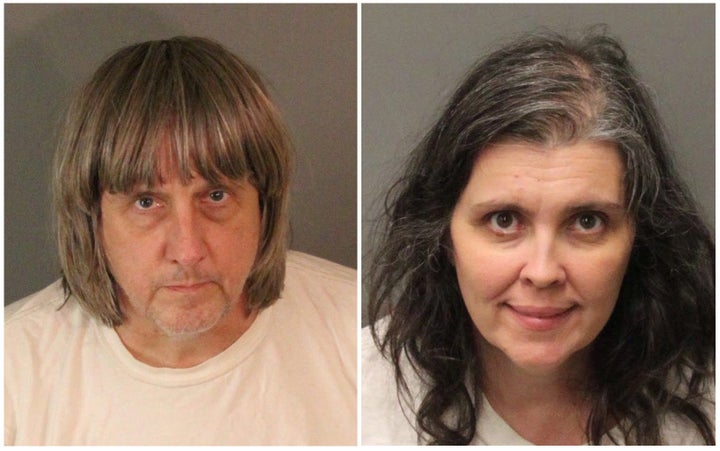 Flores broke down in tears during the interview Wednesday, noting that her sister had cut her off from seeing the children for 20 years. She said she never thought to ask authorities to check on her nieces and nephews because her sister and brother-in-law had always been "private" people.
"If it had been like two years ago that she cut us off than we might think, 'Wow, you know, something's not right,'" she said. "But this has been going on before they even had children."
Officials said the 13 siblings, ages 2 to 29, had been living in "horrific" conditions and that many of them were dirty and malnourished. Still, Flores said, she is praying for her sister.
"I want her to know that she's still my blood and I love her," Flores said. "I don't agree with what she did and her actions have made the whole family suffer, but I want her to know that I'm praying for her salvation."
She continued: "But mainly, I want to reach out to the kids. I want them to know that [for] years we begged to Skype them, we begged to see them ― the whole family. ... I want them to know that they do have family that ... love them."
Popular in the Community