 California has experienced two major economic recessions since the mid 1990s -- the first lasted from 2001 to 2003, and the second from 2009 to 2010. However, in spite of these downturns, California's clean and efficient economy has continued to prosper, creating significant numbers of jobs, cutting pollution, and delivering needed progress toward energy security.
A new report we released last week takes a closer look at that phenomenon.
This report is a look at California's green economic growth in sectors related to reducing climate change pollution. The data clearly that thousands of home-grown companies have emerged across multiple sectors in California -- with manufacturing and installation jobs representing nearly two-thirds of the growth, and most of the jobs in the energy generation and energy efficiency sectors.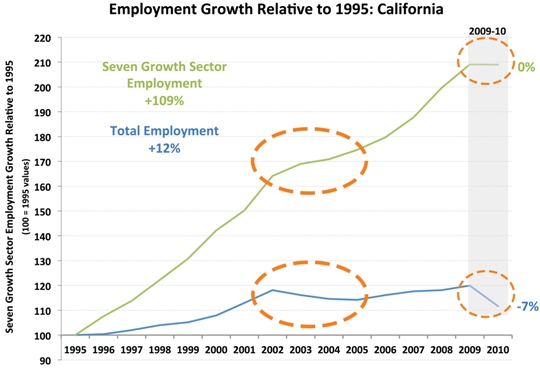 Jobs in the seven sectors driving California's clean and efficient economy grew 109 percent in the period from 1995 to 2010 (the latest available data), versus 12 percent overall job growth in the state during that same period. This ten-fold increase in jobs is not surprising; according to data by CleanTech Group i3 platform, California firms recorded a five-fold increase in venture capital investments since passage of AB 32. California now leads all states in clean energy patents, accounting for 8.8 percent of worldwide clean energy patents (excluding several key sectors such as LEDs and Smart Grid which were not in the database), according to Heslin Rothenberg Farley & Mesiti P.C.'s latest clean energy patent growth index.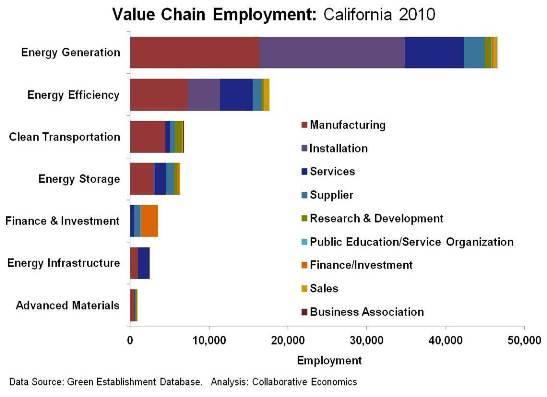 Last week's report provides the best evidence to date that California businesses offer widespread expertise in actions that reduce climate change pollution and can provide the assistance needed to transition to a clean and efficient economy. Because this critical infrastructure exists, climate change pollution reductions will be cheaper, more innovative, and easier for California's businesses, institutions and individuals.
Over the next six months, the state of California will be deciding how to spend billions of dollars that may arise from the state's AB 32 cap and trade regulation for global warming pollution. This report shows that California's efforts to curb emissions in the past have resulted in positive growth in several key sectors -- meaning we should be investing every dollar we can to cut greenhouse gases because California firms are more likely than not to be the beneficiaries of new demand for solutions.
Popular in the Community