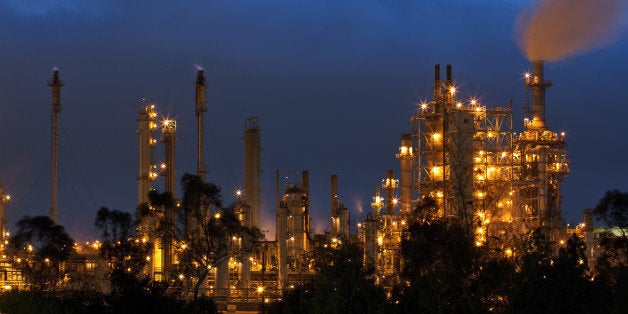 No, that $35 credit on your electric bill wasn't an April Fool's joke. Starting yesterday, millions of California residents and businesses are finally receiving their first rewards from a climate change law the state passed nearly a decade ago.
The "climate credits" come by way of Assembly Bill 32 -- the Global Warming Solutions Act passed in 2006 that required the state's biggest polluters, namely power plants, to acquire limited permits for each ton of pollution they emit in effort to bring greenhouse gas emissions back to 1990 levels by 2020. In 2012, the state Public Utilities Commission voted to stop paying the majority of those proceeds form permits back to the three largest investor-owned utilities and instead start rebating its customers.
Residential customers of the the PUC-regulated utilities, including Pacific Gas and Electric , San Diego Gas & Electric, Southern California Edison, PacificPower and Liberty Utilities, will receive their climate credits in April and October regardless of energy consumption, while small business customers will receive credits on a monthly basis based on how much energy they use, the California PUC announced, estimating that customers will receive an average $35 on each climate credit. The program is expected to benefit more than two-thirds of the state, the National Resources Defense Council (NRDC) estimates.
Advocates of the program are hopeful that beneficiaries of climate credits will be motivated to invest in more eco-friendly alternatives.
"If homeowners and businesses use the credit to purchase some of the newest energy efficient light bulbs or other energy-saving equipment they will save even more," Mary D. Nichols, Chairman of the California Air Resources Board, said in the California PUC press release.
Alex Jackson of the NRDC points to the climate credits as a sign of California leading the way on implementing new energy standards.
"As the urgency in addressing climate change continues to mount, the Climate Credit offers yet another reminder that transitioning off of a carbon-based energy diet need not come at the expense of businesses' and households' bottom lines," he wrote on the NRDC blog. "Under AB 32, California has put a price on carbon to boost clean energy and promote energy efficiency, and is distributing the bulk of the proceeds directly to utility customers. For the states and countries around the world watching California to show the way forward on climate, I'd say that sounds like a pretty good approach."

Calling all HuffPost superfans!
Sign up for membership to become a founding member and help shape HuffPost's next chapter
BEFORE YOU GO
PHOTO GALLERY
Top 10 Polluted CA Zip Codes