I am proud to be born and raised a California girl. Don't you wish you were one too? When you take a car and drive Highway 1 up to Carmel, your mouth will drop open at the astounding beauty of my California coast. A good friend and I decided to take 101 to Santa Barbara where we stopped for dinner at The Hitching Post 2 in Buelton just outside this lovely coastal town. I wrote about the original Hitching Post, Casmalia in my book Everybody Eats There, but I had never been to the younger sibling Hitching Post 2.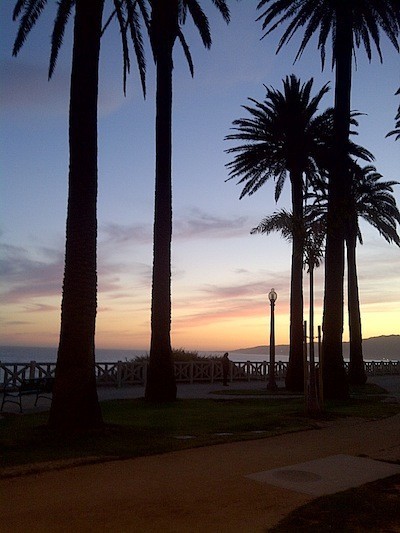 Sunset from the Palisades in Santa Monica
Remember the film Sideways? The Hitching Post 2 was their local hang out, as it is for some of the many famous faces who fill the bar and dining room every night. Pinot noir was their drink of choice in the movie, and chief winemaker and Hitching Post 2 owner, Frank Ostini produces some mighty fine Pinot. My favorite is the Highlander. They also have a very dry and feisty rose named Pinks which goes very well with barbecue. Sit down, order the glass of your choice, and begin your feast.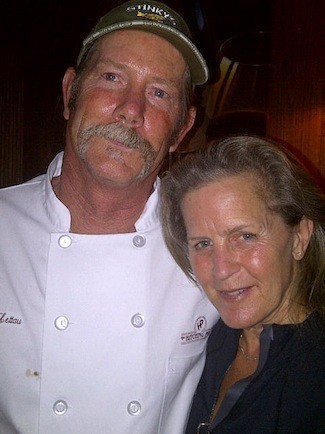 Bradley Lettau the Executive Chef and me at The Hitching Post 2
A grilled artichoke ordered a la carte will get things off to a good start. Then choose your entree and the rest comes along for the ride. First a delightful shrimp cocktail with a spicy sauce arrives or homemade soup, followed by a salad of locally grown greens tossed with either their famous ranch house dressing or the lighter but still incredibly tasty Italian. A basket of warm garlic bread comes with the salad. I asked why the bread didn't come to the table when we sat down, and the reason was clear once I tasted it... there is so much more to come that it would be a shame to fill up on this totally addictive bread.
Finally, the main attraction, steak grilled over an open fire of red oak wood is served with either rice pilaf, a baked potato or what the LA Times rated as the best French fries in California. This is high quality beef in all its shapes and forms whose smoky flavor is accentuated by the Hitching Post "Magic Dust", their special seasoning. The seasoning is available for sale on the way out as are their wonderful wines. There was an interesting couple sitting across from us, who were obviously regulars because everyone was stopping by to say hello to them, including rock legend David Crosby. They insisted that I try a couple of their grilled baby back pork ribs. Amazing... to die for! I was feeling guilty enough ordering a steak, but ribs would be going a little too far for this health-conscious California girl. But throw caution to the wind and indulge. They are worth it.
At the bottom of the menu is a little section titled
"How Do You Like Your Steak?""
Rare - Very red inside, just warm in the middle.
Medium-Rare - Still red inside, when the juices start to flow.
Medium - Pink edges and red in middle, still juicy.
Medium-Well - Just a touch of pink in middle.
Well Done - Cooked through, little or not pink inside.
Desserts are steak house favorites like a rich and creamy cheese cake, hot fudge sundae and key lime pie. There is always a fresh fruit cobbler made from local seasonal fruit.
The Hitching Post is open from 4 until 9 pm seven days a week.
It is located at 406 East Highway 246 just off the 101. Tel: 805 688-0676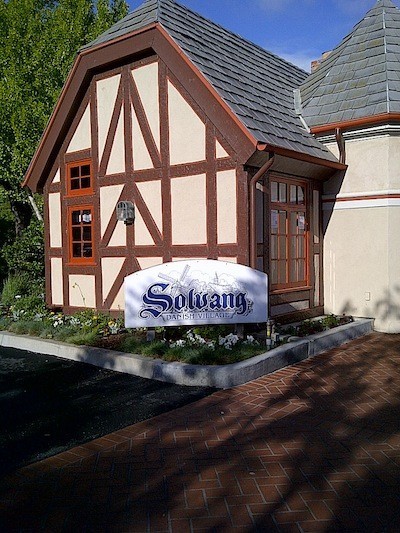 The Danish Village Solvang
It is always fun to drive past the Hitching Post into the little town of Solvang. Kind of a Danish Disneyland. There are a lot of wine-tasting rooms from different local vintners, and to soak up the alcohol, go have coffee at one of the many bakeries along with a pastry. They don't call them Danish pastries for nothing. I stopped in at Mortensen's to pick up some pastries to take to my friends in Carmel.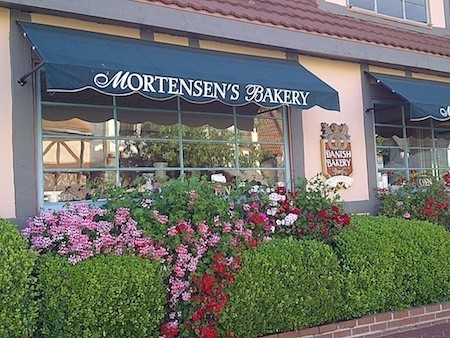 Mortensen's Bakery in Solvang
Carmel is another few hours away if you take 101 but if you started your trip in the early hours of the morning, I strongly advise you to take Highway 1. It will take you about seven hours depending on how often you stop and there are many places to stop and visit such as San Luis Obispo, Hearst Castle and Big Sur (my personal favorite). I actually prefer to take the drive South to Big Sur from Carmel because the best part of the ride is just outside of this charming little town where Clint Eastwood was once the mayor and you have to see it in the light of day and especially before the fog rolls in. Be careful because the summer months bring what is called June Gloom. The marine layer starts to form in the beginning of June and doesn't seem to clear up until the end of August. Sunshine is rare by the sea. Some people find the fog and low clouds romantic and a good excuse to cuddle in front of a roaring fireplace which are in just about every inn and hotel in this town.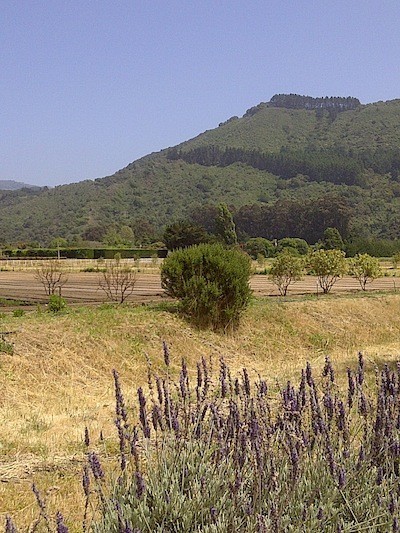 No it is not the South of France, it is Carmel Valley
Carmel, on the Monterey peninsula, boasts some of the most fabulous homes in California. When I asked my host with whom we were staying, "where do locals go to eat?" he said frankly, at home. Why not, when your home is on the 14th hole of Pebble Beach and facing west out over the Pacific. There are some cute little restaurants in town, but I can only recommend a few and they are all owned by the same man, Walter Georis. Walter is a true Renaissance man who makes wonderful wines, paints and plays and composes music. He composed the music for the surfing movie, The Endless Summer.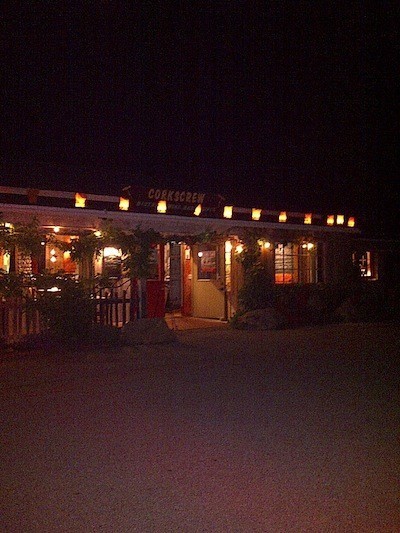 The Cork Screw Cafe in Carmel Valley
Bicylette and Casanova in Carmel proper and The Cork Screw Cafe in Carmel Valley, where the sun shines all summer long, have menus that reflect the use of fresh herbs and seasonal produce from their large gardens, paired with local fish and meats. The Cork Screw Cafe makes artisan pizzas cooked in a wood-burning oven.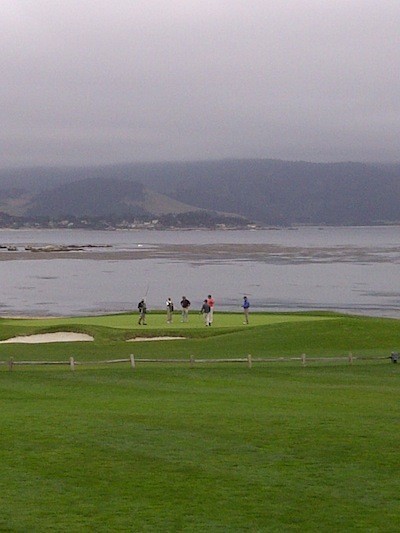 Could be you on the Pebble Beach Links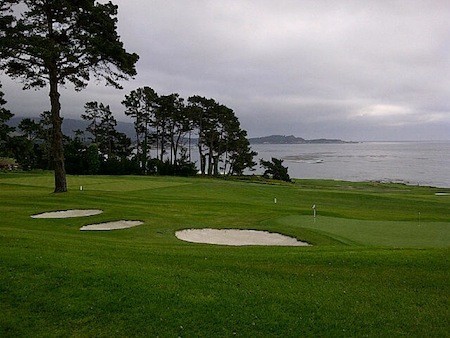 View from a home in Carmel (on the 14th hole of Pebble Beach)
Pebble Beach Links is one of the most popular attractions in Carmel. Since 1919, golfers have relished this spectacular ocean-side course. Unfortunately, a tee-time is not easy to come by and doesn't come cheap. Of course if you stay at The Lodge at Pebble Beach with rooms on the links, you may have a shot. Do come for afternoon tea or a drink on their terrace overlooking the green and ocean beyond. The hotel's bar, The Tap Room is a Carmel hangout.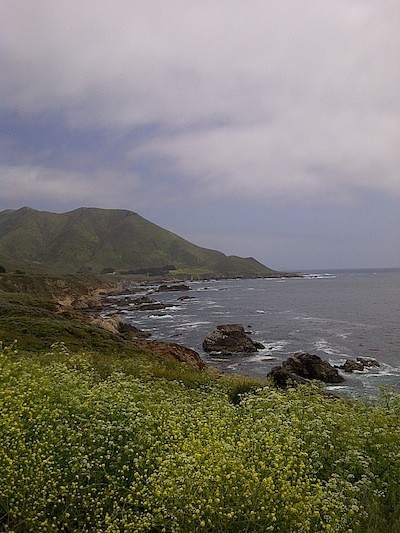 Mustard flowers on Highway 1 to Big Sur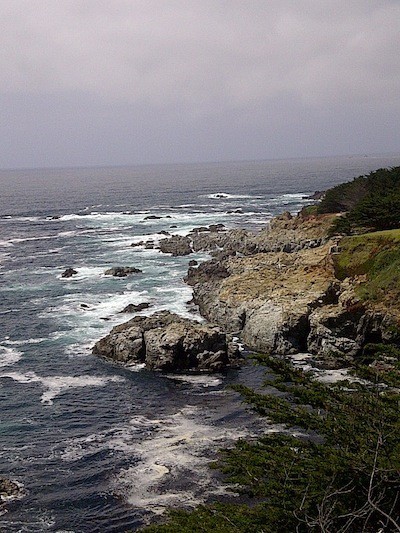 The rugged California Coast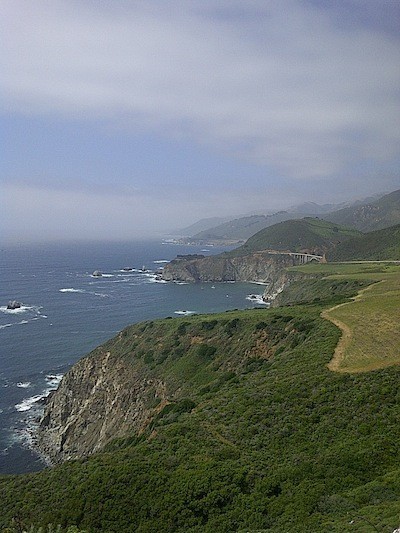 No, it is not the Amalfi Coast, but California on the way to Big Sur
Driving south from Carmel to Big Sur is one of the most beautiful drives in the world. I think we stopped every five minutes to take photos because each vista is more spectacular than the next. You absolutely have to stay the night in Big Sur at The Post Ranch Inn or at least have lunch, dinner or a drink at their restaurant, Sierra Mar.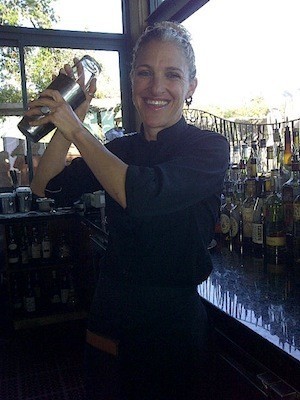 Head bartender Vanessa at Sierra Mar, Big Sur
We sat outside on the terrace of Sierra Mar overlooking the great expanse of ocean beneath us. The view takes your breath away. Order one of Head bartender Vanessa's cocktails, like her watermelon blueberry margarita made with freshly squeezed juices, or have a glass of one of the many exceptional wines on their superb wine list, which I might add is priced just right. (One of my pet peeves is the way in which restaurants take advantage of the customer by jacking up prices on their wine list.) I guess the Post Ranch Inn feels that people pay enough for the privilege of staying at this five star resort that it would be unfair to trap them with overpriced wines, since they eat most of their meals on the property. There were wines on this list that are next to impossible to buy and yet here they were, the Colgins, Harlans, Araujos from California alongside the great chateaux from France and the Italians, Barolos, Barbarescos and Brunellos from the finest Italian vintners.
There are two types of rooms, the ocean-view rooms or the canyon views. There is even a treehouse cottage! We visited the Tree House cottage that is literally built like a tree house, mind you a luxurious tree house. It has a view to the ocean on one side and the other side has views into the forest and canyon.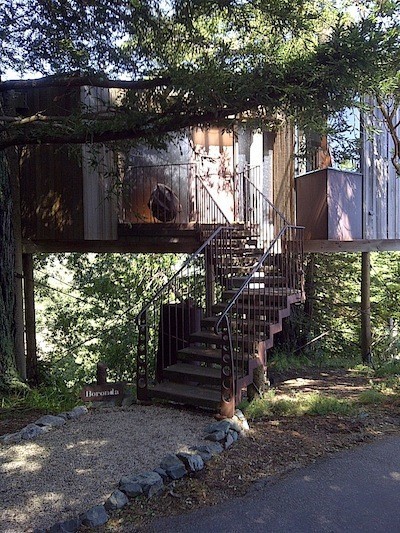 The Tree House Cottage at The Post Ranch Inn
The ocean-view cottage had a hot tub outside next to the private terrace that felt like you were on top of the sea. It was double the size of the other cottage we visited.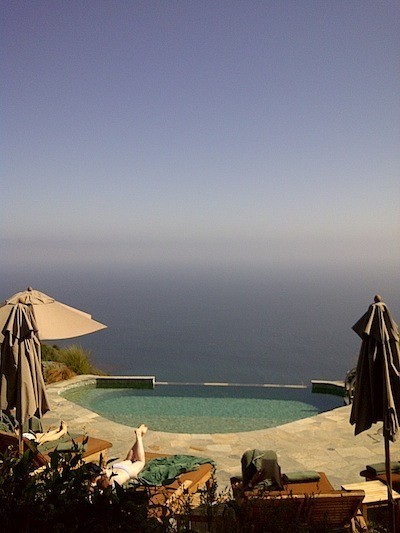 The ocean-view pool at The Post Ranch Inn in Big Sur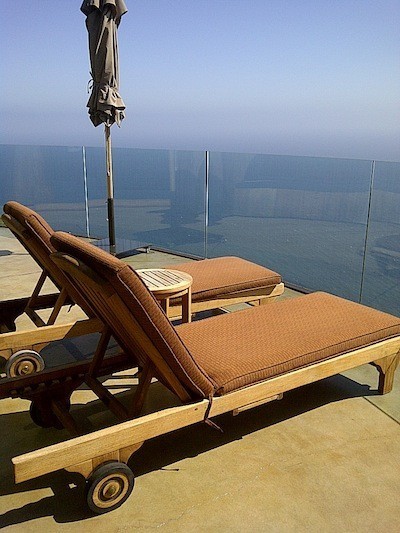 The private terrace at an ocean-view cottage, The Post Ranch Inn
Every room has a woodburning fireplace and sunken marble baths along with amenities like coffee makers and organic teas. There are no TVs or outlets for computers because the only entertainment should be nature, in the opinion of the management.
We stopped for a peek at The Ventana Inn across the highway from the Post Ranch Inn. We had a bowl of Executive Chef Truman Jones' authentic Spanish tomato gazpacho and watched the sun set before taking off on our journey home.
The ride home seemed endless. There were nothing but fast food outlets along the route back to LA, and so I confess to breaking up the monotony by a stop at McDonald's, where this
so called "foodie" succumbed to a Big Mac and French fries. I can't remember when I had one of those the last time, but frankly, I won't be returning any time soon. I wish it had been an In and Out burger made chic by being a main attraction at Vanity Fair's annual Oscar party, but they were unfortunately closed.
Start from the South, or from the North and see why everybody says they "wish they all could be California... girls, beaches, mountains etc etc etc".
The Lodge at Pebble Beach
17 Mile Drive
Pebble Beach, California
Tel: 831 624-3811
The Bicyclette
Dolores St at 7th
Carmel, California
Tel: 831 622-9899
Casanova
5th St at Mission
Carmel, California
Tel: 831 625-0501
The Cork Screw Cafe
55 West Carmel Valley Road
Carmel Valley, California
Tel: 831 659-8888
The Post Ranch Inn
Highway 1
Big Sur, California
Tel: 800 527-2200
The Ventana Inn & Spa
Highway 1
Big Sur, California
Tel: 831 667-2331
Related