Living in California is like living in a bowl of granola; what ain't fruits or nuts, is flakes.
This popular late '70s East Coast rip on a state already then famous for trendsetting, cultural liberation, and technological innovation was notable for its ubiquity, so common that young children shared it without understanding who, exactly, it mocked: radicals and rebels, new agers and hippies, gay men and women. The fact that those on the cutting edge only made up a tiny percentage of California's huge and fantastically growing population didn't temper the joke's sentiment, since these colorful groups so dominated media coverage of the state.
And while the jibe was light, the mocking hinted at a larger American defensiveness, an attempt to write off the previous decade's dramatic social and political upheavals as nothing more than a goof. Because if California wasn't the site of all the nation's conflicts over civil rights, the war in Vietnam, and the attempt to depants "the Man" and his "system," it certainly had seemed to be the symbolic locus of changes many "mainstream" Americans were bemoaning as the root of a host of social ills. Meaner quips, in fact, often centered on the notion that if an earthquake pushed the state off the continental shelf into the Pacific, it would be no great loss.
From the rise of a bold Chicano culture in Los Angeles to the decadence and "obscenity" of an increasingly artistic and unchained Hollywood, from the myriad communes and cults dotting the forests and coastal towns along Highway 1 to columnist Herb Caen's radical "Berserkeley" and Oakland, home of the Black Panthers, Hells Angels, and even the renegade Raiders, California seemed to have exploded with color, strife, and new ideas, some silly, some scary, some brilliant.
Nor was it all "airy-fairy" stuff, another popular dismissal of the Left Coast from Manhattan's towers: The home-garage invention of the personal computer and the inventive commodification of the Internet created overnight fortunes even Wall Street had to respect—at least, that is, until the dot-com collapse that began in 1999 drew national mockery for the hubris and chutzpah of twentysomethings blowing billions on concept companies built around nothing more than a URL. And, perhaps a bit jealous of all the attention San Francisco's overheated housing market had attracted pre-mortgage meltdown, the East Coast media was quick to celebrate presidential candidate Rick Perry's mocking of California's foreclosure crisis after the recession.
Of course, as early as the gold rush, the East Coast establishment had chuckled at those crazy left coasters, perhaps smugly glad to have emptied their cities of so many dreamers, hustlers, and con artists making the migration westward. Yet the powerful draw of California, the final frontier of continental manifest destiny, ultimately prevented it from being perceived as a backwater for outcasts in the way, say, that the British saw their old penal colony Australia.
Instead, California became the seductress of the Wild West, bedazzling her suitors with shiny gold trinkets and promises to make them rich. They came in hordes and most stayed, if only to bask in her beauty. She was starkly different from what they'd left back home, warm and welcoming, her spirit conveying a sense of adventure and abandon. Over time, she would become the envy of the entire country, while those behind were left pouting, like jilted lovers.
Occasionally, she stumbled, yet she has always recovered her balance and run ahead, racing to embrace the future. Today, several years removed from a devastating recession that deeply challenged her confidence, California is surging once more—economically, politically, and culturally—as its quirky, "ruthlessly practical" leader, Governor Jerry Brown, aggressively pushes forward a new, trimmer, yet still essentially compassionate and optimistic version of the California dream.
As historian H. W. Brands described the birth of the California dream after the staged "discovery" of gold near Sacramento: "The old American dream ... was the dream of the Puritans ... of men and women content to accumulate their modest fortunes a little at a time, year by year by year. The new dream was the dream of instant wealth, won in a twinkling by audacity and good luck. [This] golden dream ... became a prominent part of the American psyche only after [gold was found at] Sutter's Mill."
The dream proved remarkably enduring, even as reports began drifting back about the hell that was a miner's life and the bawdy lawlessness of the nation's new Paris-style theme park of debauchery, San Francisco, where venereal disease and earthquakes were equally terrifying facts of life. New Yorkers, Bostonians, Philadelphians, and the rest assumed that California would never be more than a distant novelty; the real power would always reside with the bankers on Wall Street, the industrialists in Chicago, the politicians in D.C. Let those westerners send us some fine, rowdy tall tales to read by the fire in our brownstone—tales of cowboys and sailors, miners and naturalists—and then let us get back to work.
But by 1963, California had knocked off prideful New York as the most populous state in the nation—and it seemed to have become the most interesting one, too. That many of the nation's young people had been streaming west for more than a century left the nation's elite a bit queasy, especially since by then the region had several bona fide industries of towering global importance: aerospace, computers, and entertainment. So it is perhaps not surprising, then and now, that when bad times befall California, pundits, historians, and leaders of other states often appear unseemly in their haste to pronounce the California dream on life support, if not already dead.
"The California Dream is a love affair with an idea, a marriage to a myth," wrote historian Claudia Jurmain, explaining the rank disappointment of the farmers who fled the 1930s Dust Bowl for the sustained poverty they found in California—the same scenario that subsequent destitute immigrants from China, Mexico, Guatemala, Vietnam, Cambodia, and other parts of the developing world would find upon arrival.
"California is a tragic country—like Palestine, like every Promised Land," wrote Christopher Isherwood. "Its short history is a fever-chart of migrations—the land rush, the gold rush, the oil rush, the movie rush, the Okie fruit-picking rush, the wartime rush to the aircraft factories—followed, in each instance, by counter-migrations of the disappointed and unsuccessful, moving sorrowfully homeward."
It's true that the dream, regardless of how it was marketed or perceived, could never be a promise, but many found that the strip of desert, mountain, plain, and coast spanning one thousand by four hundred miles offered greater opportunities than the rigidly stratified and frequently war-torn societies they had fled. With each receding echo of the post-World War II population and economic booms, the dream is renewed, reinvigorated. The place is just so fertile, spawning cultural trends and whole industries as easily as it produces grapes, or olives, or avocados, and this tends to alleviate the often harsh realities that threaten to tarnish the veneer of the Golden State: racial tension, exploitation of immigrants, massive and, since the 1970s, increasing economic inequality.
In fact, by the eve of the Great Recession of 2008, California had navigated a thirty-year period of increased political polarization, exacerbated by a steady stream of reactionary citizen-initiated ballot measures—targeting immigrants, people of color, and gays and lesbians—to become dominated once again by the centrist Democratic Party; the state also was a key bulwark for the historic election of Barack Obama. Host to the dominant corporate engines powering the again-booming and synergistic technology and entertainment industries and the "cool factor" they accrued, the state was in the midst of another astonishing housing boom, financed by easy credit and equity loans based on seemingly ever-rising property values.
Sure, no matter how high the share prices of Google or Apple climbed, the state was still struggling to fulfill its promise to those not able to afford a $95,000 Tesla Model S. And the once shiny educational and infrastructure systems were widely perceived as still in decline thirty years after a national "taxpayers' revolt" was kicked off with the shocking passage of Proposition 13. But, hey, the laser, iPhone, blue jeans, and the summer blockbuster were invented here; there was even a macho, charming, cigar-chomping actor in the governor's mansion. And the weather was still nice.
Sign up for more essays, interviews and excerpts from Thought Matters.
ThoughtMatters is a partnership between Macmillan Publishers and Huffington Post
Then the roof caved in. The Guardian summarized the crushing Great Recession well, noting that the Golden State, for all its glitter and gloss, its image of success and boundless opportunity, by 2009 was in a state of collapse: "From its politics to its economy to its environment and way of life, California is like a patient on life support."
The financial meltdown had walloped the state. The government, collapsing under a crippling deficit, began issuing IOUs to pay its bills made huge cuts in education and healthcare funding. Large numbers of state workers lost their jobs and others were forced to take unpaid "furlough" days and lengthier unpaid leaves. Local governments suffered a similar fate. The unemployment rate of 12 percent was the highest since 1939, further contributing to the deficit through loss of tax revenue. The mortgage meltdown wiped out the wealth of a large swath of the middle class and cost tens of thousand of families their homes, lost to foreclosure. It did not end there.
"Its political system is locked in paralysis and the two-term rule of former movie star Arnold Schwarzenegger is seen as a disaster," Harris noted. "The crisis is so deep that Professor Kevin Starr, who has written an acclaimed history of the state, recently declared: 'California is on the verge of becoming the first failed state in America.'"
Et tu, Professor Starr? The fact that as revered a scholar as Starr, California's historian emeritus and perhaps the state's biggest fan, would deploy such an epithet showed the depths to which the mighty had quickly fallen after Wall Street inflated and then burst the biggest bubble in decades.
Even Mitt Romney, running another failed presidential campaign, took a crack at the state where he had one of his many luxury homes—even though he wasn't facing any California politicians in the race. "[A]t some point America is going to become like Greece or like Spain or Italy, or like California," he smirked, listing political states where capitalism had recently run aground in dramatic fashion."
Economists at California Lutheran University were even harsher in their judgment. "California is fast becoming a post-industrial hell," wrote Bill Watkins, director of the Center for Economic Research and Forecasting, for "almost everyone except the gentry class, their best servants, and the public sector." He defended his hyperbole: The state's unemployment rate was at 12 percent, higher than the national average, and the poverty rate adjusted for the high cost of living more than twice that. Two of the country's ten poorest large cities were here, Fresno and San Bernardino, with the latter second only to bankrupt and burning Detroit. Beneath the glitz and techie gleam, there were enormous reservoirs of pain.
Even access to the state's free natural beauty was being curtailed; in 2011, the state announced that by July 1, 2012, seventy parks across the state would be closed completely to save a measly $22 million.
By that point, three years after the mortgage crisis began, disastrously declining tax revenues had begun savaging the state's budget, like a rabbit slowly being digested by a snake. Both the elementary and higher education systems were absorbing historic decreases in funding—$7 billion, or 13.8 percent, statewide for K-12—with school and district administrators being asked each year to trim absurd amounts of fat off budgets that had already long been on a diet.
In Oakland, for example, the high-poverty district of nearly forty thousand students saw its budget shrink from $615 million in 2008 to $445 million just four years later; schools were shuttered, staff and teachers laid off, a new contract was unilaterally imposed on teachers who had not had a raise in a decade, and nearly the entire adult education program was dismantled overnight. At the city's biggest public high school, Skyline, where most students are from low-income families, the school shed its librarian, all its counselors, and most of its untenured teachers. This was not uncommon in schools throughout the state.
Governor Arnold Schwarzenegger, brought to power with much populist fanfare after the successful recall campaign against his predecessor, centrist Democrat Gray Davis, had himself been humbled in 2005 by the total rejection of a slew of ambitious Republican reform initiatives he brought to the electorate through a special election. Chastened, especially by his failure to weaken the power of public unions, he retreated into moderation, and by 2011 his second term was ending on a down note, to understate the situation, with his leaving behind a high budget deficit and embarrassingly low approval ratings.
"Do you ever feel like you're watching the end of the California dream?" a reporter asked him at a press conference concerning a state budget featuring billions in cuts. "I think the California dream is as strong as ever," he replied with a straight face.
 
Read the full excerpt here.
 
 
Copyright © 2016 by Narda Zacchino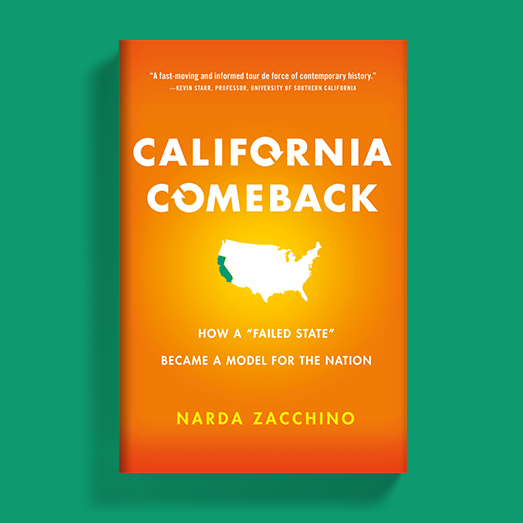 Narda Zacchino is an author and award-winning journalist who served as a top editor at the Los Angeles Times and San Francisco Chronicle. During her 31 years at the Los Angeles Times, she was a reporter, government and politics editor, Sacramento bureau chief, Editor of the Orange County edition, Deputy Managing Editor, Associate Editor, and Vice President. She is the co-author of Boots on the Ground by Dark, a book on NFL star/Army Ranger Pat Tillman written with his mother, Mary.
 
Read more at Thought Matters. Sign up for originals essays, interviews, and excerpts from some of the most influential minds of our age.
REAL LIFE. REAL NEWS. REAL VOICES.
Help us tell more of the stories that matter from voices that too often remain unheard.