A California police officer was suspended after video surfaced showing him unholster his gun while arguing with a man recording him in a small city north of San Francisco.
"The video is not a typical interaction between our Public Safety Officers and the public," a statement posted to the Rohnert Park Police and Fire page on Facebook said. The officer, who wasn't identified, was placed on "temporary paid administrative leave" while the city brings in an outside investigator to look into the confrontation, according to the statement.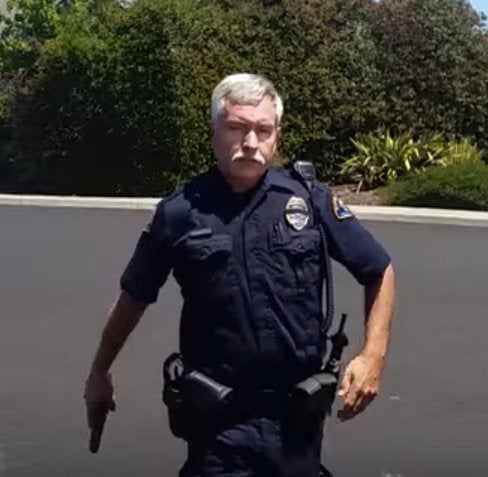 Fear that the video may spark an anti-police backlash also led the city Department of Public Safety to cancel its "Coffee with a Cop" event that had been scheduled for Thursday at a McDonald's.
"We have information that individuals from outside the community have voiced an interest in using this event to cause a disturbance, potentially putting our community and citizens at risk," a statement from the department said.
The video, taken last month, shows the unidentified Rohnert Park officer briefly point his gun at Don McComas, who was in front of his home. According to McComas, the confrontation began when the cop slowly drove by and watched McComas hitch a boat to his Ford Excursion. McComas started recording with his camera as the officer drove toward him and parked in the middle of the street.
About two minutes into the recording, the officer emerges from the car and orders McComas to take his hand out of his pocket.
"No, sir, I've done nothing. I've done absolutely nothing," McComas says, at which point the officer draws his gun.
"You know I don't have a weapon on me," says McComas. " You have your gun out because you're a police officer. You're trying to intimidate me and this is going all over YouTube."
Later, McComas accuses the department of corruption and the officer asks, "Are you some kind of a constitutionalist crazy guy or something like that?"
The officer holds the gun out for about two minutes before leaving. McComas was neither arrested nor accused of wrongdoing.
Popular in the Community