In recent years, Sacramento has slashed public services and raised regressive taxes to balance the state budget. Now, there's finally a state budget surplus, and it's reserved for an out-of-state corporation, not the 9 million people living in poverty.
Assembly Bill 2389, which was drafted at the behest of Gov. Jerry Brown, provides $420 million in corporate tax breaks over 15 years to a defense partnership between Lockheed Martin and Boeing. Under the bill, the only entity eligible for the tax credits is "a major first-tier subcontractor awarded a subcontract to manufacture property for ultimate use in or as a component of a new advanced strategic aircraft for the United States Air Force."
That vague but specific language is intended to help Boeing and Lockheed Martin win a contract to build the next-generation of stealth bombers. The project is so secretive that state lawmakers weren't given any information about the project, all while being told they needed to pass the bill before the summer recess.
According to the Legislature's committee analysis, the special corporate tax breaks are contingent on the jobs coming to California and the federal contract going to Boeing and Lockheed Martin.
It's the worst kind of corporate welfare, drafted and approved by Democrats. At least, a few Democrats remembered the state party platform, which promises to "fight for meaningful tax reform which eliminates corporate welfare and achieves a more equitable tax system for working families."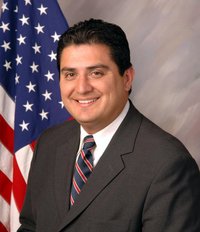 In the State Assembly, Assemblymen Mike Gatto and Mark Stone opposed the bill. In the State Senate, six Democrats -- Noreen Evans, Cathleen Galgiani, Loni Hancock, Ben Hueso, Mark Leno, and Bill Monning -- withstood intense pressure from corporate lobbyists.
"There is so much need in our state, and there is so much poverty in our state," said State Senator Ben Hueso, D-San Diego, who opposed the bill. "This is just more corporate welfare."
On the same day as the Lockheed Martin vote, Senate Democrats passed a measure attacking the Citizens United decision and calling for an advisory vote to limit "corporate spending to influence elections, candidate selection, policy decisions, and public debate."
"Public support shows most residents believe it's outrageous that out-of-state interests can spend millions on efforts to influence Golden State policies," Sen. Ted Lieu, D-Redondo Beach, who backed the Lockheed Martin corporate tax break, said about his bill calling for an amendment to the U.S. Constitution. For the record, Lockheed Martin, which is listed on the NYSE, is based in Bethesda, Maryland and Fort Worth, Texas.
2014 has turned out to be a very good year for corporations.
"This appears to be the year for big corporate subsidies," Sacramento Bee columnist Dan Walters astutely notes. "A big tax break for the movie industry is moving through the Capitol, and Brown and legislators are working on 'incentives' to persuade Tesla tycoon Elon Musk to locate a big battery factory in the state."
If only California's working poor formed a corporation, maybe they'd be $420 million richer.
REAL LIFE. REAL NEWS. REAL VOICES.
Help us tell more of the stories that matter from voices that too often remain unheard.