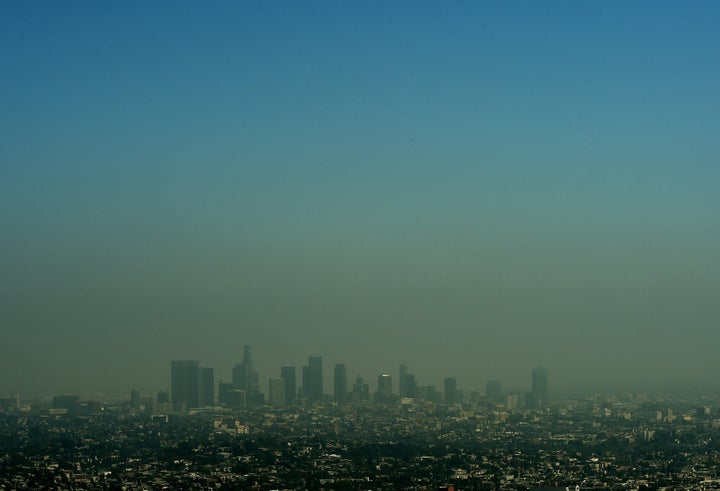 This week, California legislators received a pair of letters signed by dozens of corporations in support of two bills that would require the state to further reduce its greenhouse gas emissions through 2050. In both letters, the firms say tackling climate change is "one of America's greatest economic opportunities of the 21st century."
Some of these companies you'd expect to see among advocates for stronger environmental policy: Patagonia, the North Face and Ben and Jerry's. But there are also companies less well known for climate advocacy: Gap and the candy company Mars Inc. signed both letters. eBay and the LA-based homebuilding company KB Home each signed a letter, too.
One of the largest corporate supporters of both bills, Dignity Health, California's largest not-for-profit hospital chain, also signed both letters.
California has been at the forefront of climate change-related legislative action. In 2006, it passed the California Global Warming Solutions Act, which required the state by 2020 to reduce its greenhouse gas emissions back down to 1990 levels (about 15 percent below where it would have been if it had continued doing nothing).
With the state on track to reach that goal, these two new bills on deck in the state legislature are pushing for further reform.
SB 350 calls for a 50 percent reduction in petroleum use, and a 50 percent increase in energy efficiency in existing buildings, as well as 50 percent of utility power to come from renewable energy by 2030. SB 32 would require the state to further slash greenhouse gas emissions -- to 80 percent below 1990 levels -- through 2050.
California could save $8 billion on health care costs related to respiratory illnesses like asthma if the state meets the goals for 2030 laid out in SB 350, according to Rachelle Reyes Wenger, the director of public policy and community advocacy at Dignity Health.
"Healing requires an environment that lets people have a healthy lifestyle," she told The Huffington Post. "Climate change threatens to undermine 50 years of advancement in population health."
The science backs this up, particularly in California. A study published in the New England Journal of Medicine earlier this year found that improved air quality in California over the last 20 years is correlated with a significant decrease in children living in Southern California who have asthma.
The oil industry, on the other hand, has mounted firm opposition to both bills -- and there will certainly be upfront costs to changing the way that Californians get their energy.
But it's important to think about the cost of inaction as well, says Carol Lee Rawn, the director of the transportation program at the nonprofit advocacy group Ceres. "It's good economic policy to be addressing this. When you set ambitious goals, that drives innovation and drives investment."
While cutting down on emissions is costly, California's aggressive stance on curbing them is also bringing it business.
Proterra, a company that makes fully electric buses, is moving much of its corporate staff to California from South Carolina. Proterra CEO Ryan Popple told HuffPost that California's 2006 law allowed alternative energy companies to flourish there.
"The advantages that incumbent industries have are just enormous. There is no industry larger and more entrenched than energy. I don't think that California protects big monopolistic industries in the way other markets do," he said. Because of that, new companies like his can compete.
Already, after just a few years ,"the cost [of electric bus technology] is dropping so quickly that we're already approaching a point where we are competing with natural gas technology," he said.
Related
Popular in the Community