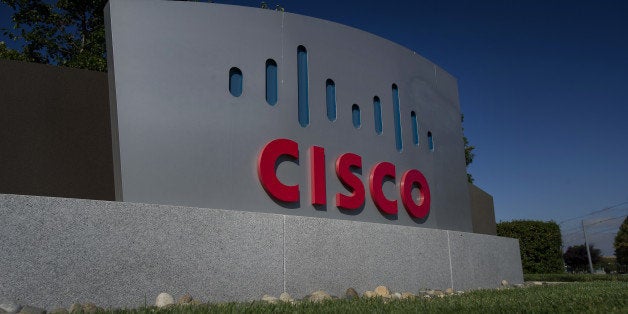 Economist William Lazonick caused a stir last year when the Harvard Business Review printed his critique of corporate America, Profits Without Prosperity. In it, Lazonick extensively analyzed data that showed how the country's largest companies were exacerbating economic inequality by cutting back investment in research and development, as well as skimping on employee wages and benefits. Instead, Lazonick found, the companies were throwing their massive revenues into stock-buyback schemes in order to reward shareholders and increase the compensation packages of top executives. (See our companion piece, Misfortune 500: How One Economist Exposed a Dirty Corporate Secret.)
Many of the corporations Lazonick studied are headquartered in California. Below are the top five in the state, based on how much money they spent on stock repurchases during the period 2004-2013.
CISCO SYSTEMS INC. The San Jose technology company devoted 110 percent of its net income to stock repurchases and dividends from 2004-2103. (Companies are able to go over 100 percent partly by selling corporate bonds). Last summer Cisco announced it was laying off up to eight percent of its work force. The news came following reports that Cisco was not demonstrating growth potential and was not expanding its client list. There was a silver lining for the corporation in its 6,000 layoffs, however. According to CNN, "Cisco did manage to boost its stock price earlier this year by increasing its dividend, and has returned $13.3 billion in total to shareholders in the past four quarters." At the same time, Cisco was set to receive $12.9 million in hiring incentives from the state of North Carolina.
HEWLETT-PACKARD CO. This Silicon Valley legacy information and technology corporation, which is based in Palo Alto, devoted 168 percent of its net income to stock repurchases and dividends from 2004-2013. By 2014 HP began laying off 50,000 employees in advance of splitting itself into two companies. This, after its investment in research and development had plunged to a miniscule three percent of its revenues. (Most tech firms invest between and 11 and 35 percent in research and development.)
INTEL CORP. The company, one of the world's largest semiconductor chip makers, is based in Santa Clara. Intel devoted 107 percent of its net income to stock repurchases and dividends from 2004-2013. In 2005, Lazonick wrote, Intel's then-chief executive, Craig R. Barrett, argued that "it will take a massive, coordinated U.S. research effort involving academia, industry, and state and federal governments to ensure that America continues to be the world leader in information technology." Yet from 2001, when the U.S. government launched the National Nanotechnology Initiative (NNI), through 2013, Intel's expenditures on buybacks were almost four times the total NNI budget, Lazonick argues.
CHEVRON CORP. The No. 2 U.S. oil producer, headquartered in San Ramon, devoted 49 percent of its net income to stock repurchases and dividends from 2004-2013. Chevron repurchased $5 billion worth of its shares in 2014, but it also surprised Wall Street when it halted its 2015 stock repurchase program last month in the midst of declining crude oil prices. Meanwhile, the company cut its 2015 budget on capital and exploratory by 13 percent in 2015 and reviews are underway for possible layoffs at locations around the globe. Chief executive John Watson said, however, that the stock repurchase program could be resumed in the future.
(Gary Cohn won the Pulitzer Prize for Investigative Reporting in 1998 and has garnered other honors, including a George Polk Award, an Investigative Reporters and Editors Medal, the Selden Ring Award and a Robert F. Kennedy Award.)
REAL LIFE. REAL NEWS. REAL VOICES.
Help us tell more of the stories that matter from voices that too often remain unheard.
BEFORE YOU GO
PHOTO GALLERY
Income Inequality In California