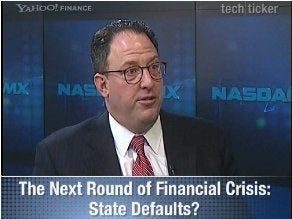 California will default on its debt, bank analyst Christopher Whalen said. And if it accepts a Federal bailout, he added, other states will follow.
Whalen, managing director of Institutional Risk Analytics, who recently called the mortgage crisis a "cancer," told Business Insider's Henry Blodget that a California default is imminent (hat tip to The Big Picture).
The state, saddled with a $25.4 billion deficit, and with a reputation for taking an unusually long time to pass a budget, also faces a massive pension obligation, which some estimates place around half a trillion dollars. The looming question, Whalen said, is how the Federal government will react to a state default.
"I think they're gonna default first, and then I think you're gonna see some kind of Federal workaround. Because obviously a default by a sovereign state, within our Federal system, is going to hurt the credit rating of the United States," Whalen said.
The Federal government, Whalen noted, cannot force a state to accept a bailout. Indeed, state defaults are extremely rare -- the last one happened during the Great Depression, when Arkansas couldn't meet its debt payments. Most states, including California, are constitutionally required to balance their budgets.
Whalen said a California default would have enormous implications for the rest of the country.
"This is not just a California issue. This is a Federalist crisis for the United States," he said. "If there's even a hint of a bailout, you're gonna have Illinois, New York, several other states right behind California."
At The Economist's Buttonwood Gathering last month in New York City, an all-star panel, including Robert Rubin, Laura Tyson, and Joshua Bolten, simulated for an audience a Federal government response to a fictional state's ("New Jefferson") default.
For the most part, the actors were able to stay in character -- until Tyson accidentally referred to New Jefferson as "California."
WATCH Whalen's interview below:


Related
Popular in the Community