 Fueled by a Democratic supermajority and a bumper crop of new faces, California lawmakers launched their new two-year session on Monday, planning to turn their immediate attention to health care and the state budget.
Democrats have a two-thirds majority in the Assembly and Senate for the first time since 1883. That means they have the power to approve new taxes and get constitutional amendments on the ballot without a single Republican vote, but they said Monday they will be cautious not to abuse that new authority.
In his remarks to the new Assembly, Speaker John Perez, D-Los Angeles, noted the body has a "sober profound responsibility" facing it this coming year.
"We have a special moment as we begin a new legislative year," Perez said.
That supermajority may be short-lived because several seats are expected to open up in 2013 for special elections as members seek other elected offices before their legislative terms expire.
The new class is also marked by the highest number of freshman legislators -- 39 -- since 1966. But that's not likely to be matched anytime soon, as a new revision to term limits will let incumbents remain in the same office for a longer time.
The previous term-limits law restricted legislators to six years in the Assembly and eight in the Senate. This summer, voters decided to allow lawmakers to be re-elected to either or both houses for up to 12 years.
One of the top issues to be tackled by the Legislature this year is preparing for the complex implementation of federal health care reforms in California by 2014, which will require a host of new state laws and regulations. Gov. Jerry Brown is expected to call a special session next month to tackle that issue.
A second big challenge will be once again tackling the state budget, which has faced multibillion-dollar deficits for years. Though with the state's moderate recovery, that budget gap has now been whittled down substantially.
"The good news is we have dealt with the state's structural deficit and now are left with about a $2 billion carryover," said Assemblyman Bob Blumenfield, D-Van Nuys, who is continuing as chairman of the Assembly Budget Committee. "It's a lot of money, but it's nowhere near the $50 billion (shortfall) we faced a couple of years ago."
Blumenfield is one of several Democrats who may be vacating their offices next year before their terms expire. He is seeking the Los Angeles City Council seat now held by Councilman Dennis Zine, who is running for city controller, and if he wins would take the new office on July 1, 2013.
Most importantly, Blumenfield said he does not see Democrats attempting to ram through programs over Republican objections.
"I don't think there will be any gloating," Blumenfield said. "We already have been reaching out to Republicans to see where we can work together."
Democrats are also expected over the next two years to seek changes in Proposition 13 to make local tax increases easier to accomplish, and they promise to look into finding new revenues from certain tax loopholes.
Senate President Pro Tem Darrell Steinberg, D-Sacramento, said Democrats will be cautious with the new powers voters handed them, despite expected pressure to move quickly.
"There's gonna be a lot of noise, a lot of elbows, a lot of pushing and pulling," Steinberg told reporters after the swearing-in ceremonies. "But I don't think we should come hurtling out of the gates talking about taxes. Down the line, as we look at the budget, we can always reassess."
One other change that lawmakers are facing this year are lower salaries, after the California Citizens Compensation Commission voted in May to reduce their salaries by 5 percent. But they'll remain the nation's highest-paid legislators, with a base salary of $90,525 a year.
Gov. Brown's salary will drop to about $165,000, down from $174,000. Lt. Gov. Gavin Newsom will be making about $124,000, and Attorney General Kamala Harris will be paid less than $144,000.
Some legislators wasted no time Monday in introducing new bills.
Sen. Fran Pavley, D-Agoura Hills, who moved up from the state Assembly, introduced several bills on Monday, including one to look at the oil industry practice of fracking by having the state enact regulations that would require advance public notice of the practice.
"Public interest and concern remain high about the practice of fracking wells to facilitate oil and gas production here in California," Pavley said. "Significant environmental, health and public safety concerns have been raised across the country by fracking."
Pavley said she also called for ways to reduce higher education costs by energy savings plans at the state's colleges and universities.
Assemblyman Jeff Gorell, R-Ventura, who is serving his second term in Sacramento, said his focus will be on fiscal responsibility.
"Also, I want to see the Legislature fulfill its role in overseeing the work of the executive branch that we are operating as efficiently as possible," said Gorell, who will be serving as vice chairman of the Budget Committee. "We need to make sure we are operating as transparently as possible. In the past, things would be dropped on us and we would be asked to vote without examining what is being proposed."
Sen. Ted Lieu, D-Torrance, said he is looking to advance measures to strengthen the California political reform law.
"I am working with (Sen.) Leland Yee on a pair of bills to expand on the disclosure provisions of money spent in California," Lieu said. "This past election, an Arizona group spent $11 million and we had to go to court to force them to disclose where their money came from.
"There is a greater need for transparency now than ever before," Lieu said.
Assemblywoman Bonnie Lowenthal, D-Long Beach, said she does not believe the Legislature will overstep its authority.
"Frankly, I only see that concern in the media," Lowenthal said. "In a couple of weeks we are going to have the governor's proposed budget in hand and we will have to address the needs of the budget," Lowenthal said. "While things are looking better, we still have a lot of work to do."
Lowenthal she also plans to look to advance measures so the state is prepared to apply for and use the billions of federal dollars expected for transportation and infrastructure needs.
"Also, there is going to be pressure to restore some of the cuts we have made to the courts and medical and social services," Lowenthal said.
Political analyst Allan Hoffenblum, who tracks the Legislature for his Target Book, suggested the supermajority will not lead to the massive changes that many expect. Democrats, he said, are not always in lockstep with each other.
"This is a very diverse group of Democrats," Hoffenblum said. "It is not as if they were all San Francisco liberals. We even have some who signed a no-tax pledge.
"Also, there are a large number who will be running for vacancies in the state Senate, so they will be careful with what they do. And you also have a lot of Democrats who were elected by narrow margins in very competitive districts and they will want to represent their constituents."
Steve Harmon of the Bay Area News Group and The Associated Press contributed to this report.
(c)2012 Daily News (Los Angeles)
Distributed by MCT Information Services
Support HuffPost
The Stakes Have Never Been Higher
Related
Before You Go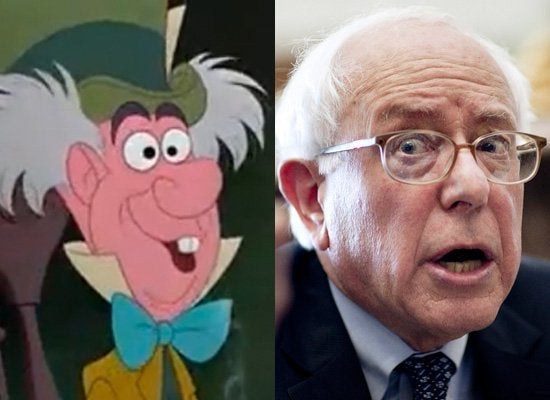 Politicians Who Look Like Disney Characters
Popular in the Community