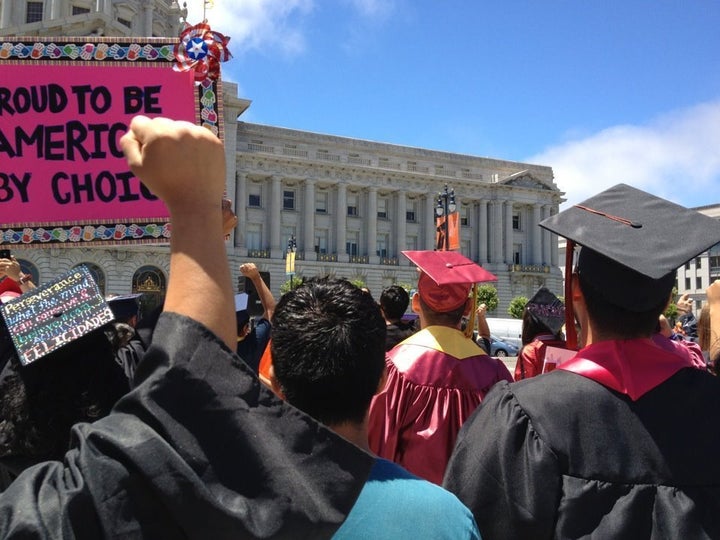 SAN FRANCISCO -- Hundreds of young undocumented immigrants from California, Nevada, Arizona, New Mexico and elsewhere gathered on the steps of San Francisco City Hall on Saturday for a "graduation ceremony" protest.
(SCROLL DOWN FOR PHOTOS AND VIDEO)
Participants called for President Barack Obama to issue an executive order to impose the Dream Act's provisions and protested against the Supreme Court's recent upholding of the "papers please" provision in Arizona's aggressive anti-immigration law, which critics said encourages racial profiling.
"Many of these students have been in this country their entire lives," ceremony organizer Kiren Savage told The Huffington Post. "They are contributing members of society, of the community, and yet they don't have a path to citizenship."
Young protesters wore caps and gowns and carried signs reading "undocumented and unafraid," "true Americans except on paper" and "stop deporting Dreamers." Civil rights activist Angela Davis served as the keynote speaker.
"The Dream Act was proposed more than 10 years ago," said Davis during her speech. The act was first introduced in 2001 and still hasn't been passed by Congress. It would provide conditional permanent residency to eligible undocumented residents brought to the U.S. as children. "We really shouldn't be struggling for this anymore."
While similar ceremonies have taken place in Washington D.C., the San Francisco event was a first for the West Coast.
Despite the protest component, Savage noted that recent progress toward more inclusive immigration policies is worth celebrating. Last year, Gov. Jerry Brown signed the second bill of the two-part California Dream Act, allowing undocumented immigrant students to apply for state-funded financial aid for college.
However, Savage emphasized that these advancements are not enough.
"The Arizona law still allows for racial profiling and many of our students still live in fear of deportation," Savage said.
In a video titled "Memos Don't Stop Deportations," Bay Area group Migrant Youth explained that under the president's memo, deferments and work permits are not guaranteed, there is no appeals process for denial and deportation proceedings can begin as the result of a denied application, discouraging some to apply.
"We need to stand up for our human rights," said DreamActivist.org founder and National Immigrant Youth Alliance member Mohammad Abdollahi in a statement. "Congress needs to act now before other states worsen their attacks on our communities nationwide."
See photos of the California Dream Act Graduation Ceremony in the slideshow below. Then watch Migrant Youth's video about the Department of Homeland Security memo: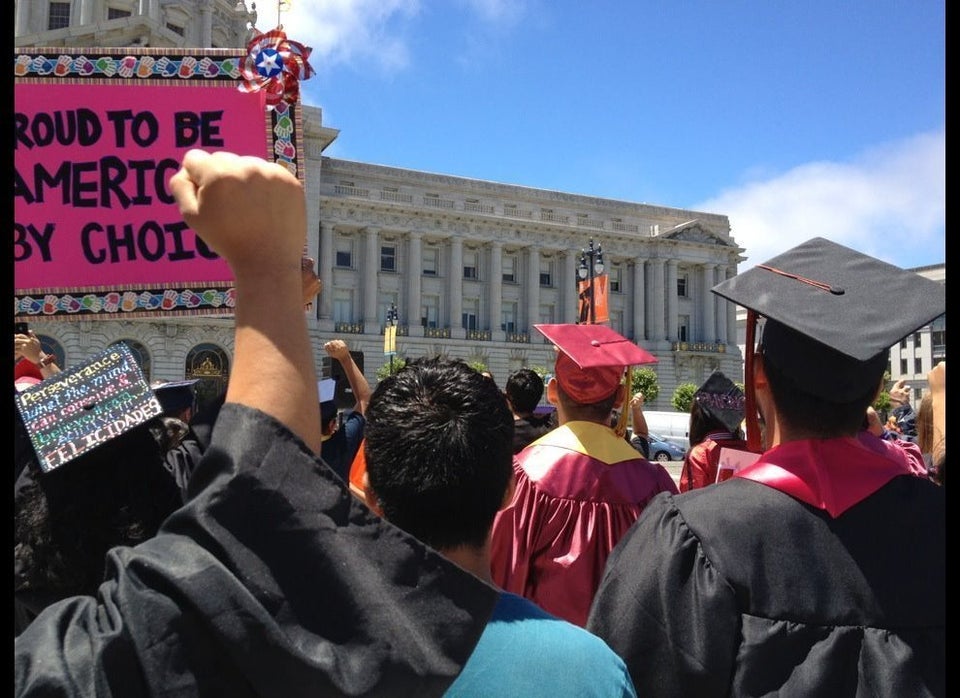 California Dream Act Graduation Ceremony
Popular in the Community