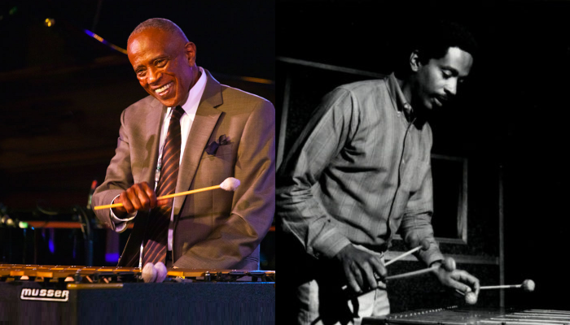 By Dan Ouellette, ZEALnyc Senior Editor, August 22, 2016
The jazz world lost a legend on Monday, August 15th when 75-year-old vibraphonist Bobby Hutcherson passed away at the home that he built in northern California, losing his long fight against emphysema. He had been awarded with the prestigious National Endowment for the Arts Jazz Master honor in 2010 after recording as a leader and sideman beginning in the '60s and continuing up till recently.
In the past twenty years I had the opportunity to spend time with Hutch--first as reporter in the '90s for the San Francisco Chronicle when discussing an upcoming show he was playing in the Bay Area. He seemed spaced out at times in our conversation, but also quick to crack a joke about one of his early-year experiences. A few years later I decided to put Bobby on the hot seat of DownBeat's Blindfold Test--trying to guess who a player was and reflect on the music he was hearing--in front of a live audience at the Monterey Jazz Festival. However, I was worried. Would he be the spaced-out jazz elder or the good-times entertainer he so thoroughly put on display when he performed? As it turned out, he had the crowd in stitches as he listened to a series of recorded vibraphonists and weighed in on their prowess or lack thereof.
The next year I ran across Bobby at the breakfast table at the North Sea Jazz Festival, then being held at The Hague in the Netherlands. A constant flow of people passed by and exchanged hugs with Bobby as he sat and told story after comical story of the old days.
We connected again in 2013 to talk about his career. It takes a journey to get to where he lives. The picturesque stretch of Highway 1 along the Pacific Ocean coastline between San Francisco and Santa Cruz may not be as dramatic and isolated as the spectacular Big Sur drive further south below Monterey. But, except for a few close-to-the-cliff curves where cars on occasion soar off the pavement and plunge some one hundred feet to the jagged, salt water-drenched rocks below, this relatively unknown span of two-lane blacktop makes for a cruiser's paradise. Huge crashing waves (most notably the Mavericks where surfers flock in the winter to attempt to negotiate breakers that have been known to crest at 80 feet), spooky fog (where visibility at times is only a few feet), windswept cypress trees (growing sideways) and in the midst of the winter rainy season a mad rush of precipitation hurled to the shoreline (the downpours sometimes trigger landslides that shut Highway 1 for months).
Twenty miles south of San Francisco on Highway 1 sits the sleepy, idyllic town of Montara, population just shy of 3,000. Its still-standing lighthouse built on the point in 1875 today has been repurposed into a popular hostel, and the mile-long state beach is arguably one of the finest on the coast.
Just off the main drive, hunkering down for yet another damp winter by feeding his brick fireplace with split Monterey pine, sat Hutcherson, the innovator who forever changed the potential for the vibraphones with his progressive improvisational mallet prowess.
While he didn't pioneer the full blooming of the vibraphone from being a novelty instrument--Lionel Hampton deserves the props, followed by Red Norvo, followed radically by Milt Hinton--Hutcherson took the vibes to a new level of jazz sophistication with his harmonic inventions and his blurring-fast, four-mallet runs across the metal bars amplified with motor-driven resonators. Today, he's the standard bearer of the instrument and has a plenitude of emulators to prove it.
Even though Hutch's stick action may have slowed a tad, his passion for music surely hasn't, evidenced by last year's Kind of Blue Records album Somewhere in the Night. Recorded live in 2009 at Dizzy's Club at Jazz at Lincoln Center, the disc captures the vibraphonist collaborating with B-3 organ maestro Joey DeFrancesco and his trio. It's a rousing bebop-to-blues-to-ballads outing where DeFrancesco delivers fire with his brio and brusque voicings while Hutcherson gracefully dances with a cool finesse that thrills and even tosses in vibes fillips to complement his partner's sprightly velocity on Duke Ellington's "Take the Coltrane."
But since the gig, Hutcherson has been laying low for several reasons, one of which is a well-deserved respite from the career-long full-tilt action that made him one of jazz's most prolific recording artists, as a leader and as an in-demand session man. And he was happy to be in Montara--home.
The Los Angeles native made his way to New York in the early '60s and then unlike most of his peers returned to the Golden State in 1967, continuing his band-leading duties for Blue Note Records from his West Coast base, first in L.A. and then later in San Francisco. It was his 1971 experimental soul-blues Blue Note recording, San Francisco, featuring the funky hit tune "Ummh," that solidified his stay.
"That song and album got a lot of airplay, so I made some money," Hutcherson said with a laugh. "My wife and I agreed that we should do something special. So in 1972, I bought an acre of land in Montara and built a small house on it. The acreage and house cost me $39,000. That was one of the smartest investments I've ever made."
Born in Pasadena in Los Angeles County, Hutcherson grew up playing a piano in his house and listening to church music at the First African Methodist Episcopal Church. But his true education came from his older brother Teddy, a big jazz fan who listened to records by the likes of Art Blakey in his room with his friend, Dexter Gordon--the future tenor star who Bobby was destined to play with years later (on records as well as in the CBS All-Stars band at Havana Jam in 1979 and in the Bernard Tavernier film Round Midnight in 1986).
Bobby's older sister, Peggy, was a singer who performed in Gerald Wilson's 17-piece jazz orchestra (she was later a Ray Charles Raelette) and who dated locally based reedsman Eric Dolphy and later tenor saxophonist Billy Mitchell.
Even though the young Hutcherson was surrounded by jazz, he didn't fully dive in until he was 12 when he was walking down a Pasadena street and heard Milt Jackson's swinging vibes blaring from a record store. The tune was "Bemsha Swing" and the Prestige album was Miles Davis And The Modern Jazz Giants. Hutcherson bought it, wore it out listening to it, then began saving money bricklaying with his mason father to buy a vibraphone like his new hero. After he got it, he began playing in town with friends, including bassist Herbie Lewis who told him he could earn spending change, plus meet young women. (A novice on the vibes, Hutcherson had Lewis mark the notes of the tunes on the keys, which were "cleaned off" by a conscientious stage manager, resulting in a disastrous debut performance.) Hutcherson played with Dolphy as well as Charles Lloyd at such venues as Pandora's Box on the Sunset Strip.
Through his sister, Hutcherson got to know Mitchell who had recently left the Count Basie Band in 1961 and co-formed a new group with ex-Basie trombonist Al Grey. "Billy needed someone to play piano parts on the vibes," Hutcherson said. "My first gig with them was at The Jazz Workshop in San Francisco opposite Charles Mingus. Billy then asked me if I wanted to go with them to New York where they playing Birdland at 52nd and Broadway, opposite Art Blakey."
That's where he got his first taste of the city's strange grit. The date was a two-week stint. As Hutch was assembling his vibraphone for the first night, the cigar-smoking emcee of the club, Pee Wee Marquette, blew smoke in his face and told him to get off the stage. "We don't need you," he said. "We've already got Lionel Hampton and Milt Jackson." And to make matters worse, Marquette was known for making it hard for emerging youngsters to get recognition by deliberately mispronouncing their names.
"He'd mess your name up unless you gave him a nice tip for the announcement," said Bobby. "At first he called me Bubba Hutchins. People laughed. Finally after the first week, I gave him five bucks. The next week he introduced me as Bobby Hutcherson."
The Mitchell-Grey band went on the road, mostly on the chitlin circuit, then broke up, leaving Hutcherson to fend for his own in New York. He settled in, living in the Bronx on 165th Street, a few blocks from Yankee Stadium. "I grew up with grass and trees," he said with a laugh. "New York City was quite a different spot. But I knew I had what was best there to get things going musically."
Even though the Mitchell-Grey band disintegrated, Hutcherson contributed to recording dates by both musicians as well as took on moonlighting gigs as a taxi driver to make his rent. As he began branching out more on his own, he soon faced the New York scene full on. He relinked up with Lewis who was playing with Art Farmer and Benny Golson in the Jazztet where Grachan Moncur III was playing trombone. Lewis was hosting jam sessions at his pad, and Moncur, after hearing Hutch play, said that it would be good for him to meet Jackie McLean, whose band he was also playing in.
"Jackie liked what I was doing with four mallets, so he asked me to play with him at the Club Coronet where he was introducing a young drummer from Boston," said Hutcherson, who didn't feel that he needed to ID the obvious: then-17-year-old Tony Williams. "Jackie called Alfred Lion at Blue Note to see the band. Lion wanted to record the group, so we all went off to Rudy Van Gelder's."
The 1963 album was McLean's classic One Step Beyond. Hutcherson continued playing with an assortment of Blue Note artists, including Moncur, Andrew Hill, Grant Green and L.A. pal Dolphy. "Eric had heard about this new young band Jackie had put together for the Coronet date," Hutcherson said. "He came in and was surprised to see me. He told me that he wanted me to do some gigs. Eric had a thing. He played two octaves, playing the chords from the first octave followed by chords from the second. He opened up these amazing possibilities."
Case in point: Dolphy's sole Blue Note album, 1964's gem, Out To Lunch, where he displayed the avant-garde modus operandi to expect the unexpected, with a band comprising Freddie Hubbard, Richard Davis and Williams. Offering unpredictable floating accents and wink-in-the-eye drop-ins, Hutcherson shines throughout, including the Dolphy-penned track "Hat And Beard" (inspired by Thelonious Monk) where the vibraphonist contributed plunks, splashes and shimmers that have a prankster vibe.
"I began hearing all these other ways of playing," Hutcherson said. "That was wonderful for me to be living in New York and to be a part of the jazz renaissance of that time." Early in his Blue Note career (which continued to 1977), Lion gave him carte blanche to record his own albums as a leader. "I told Alfred that I wanted to do some different things and he told me, 'Listen, you make all the albums you want. Just call me and you can record.' So that's what I was doing every couple of months."
This estimation confirmed what others in the jazz world had already realized: that Hutcherson was an adventurous improviser who wasn't afraid to barrel down the barriers of the dominant hard-bop jazz world.
Hutcherson's official Blue Note debut, The Kicker, was recorded at the end of 1963 but mysteriously shelved until 1999 (the Blue Note label at the time was recording prolifically). Other trackings met with the same stockpile treatment, including Spiral, recorded in 1968, and Medina, recorded in 1969, which were released on CD in 1998 as a double album. But several of his outings managed to see the light of day in the '60s, including his first issued album Dialogue (during the time that he was playing in Archie Shepp's quartet) in 1965, and his 1966 masterpiece, Stick Up!, his first date with McCoy Tyner and featuring his collaboration with Joe Henderson.
Hutcherson also delved into the highly charged political vibe of the city, packing his cumbersome vibraphone into cases at his Bronx home, loading them onto a dolly for the subway ride and sometimes stopping off in Harlem to hear Malcolm X speak on his way to gigs and rehearsals.
But Hutcherson's New York experience came to an abrupt close in 1967 while he was recording a date with Hill. At the rehearsal he and bassist Joe Chambers took a break and scored a couple of joints to kick back in Central Park. However, they were busted by the police, handcuffed and thrown into jail. Musician friends at the club Slugs passed the hat to post bail for him. But Hutcherson lost not only his cabaret card (the guarantee to perform anywhere in New York that was abolished not long after) but also his taxi driver's license.
So, he moved back to Southern California where he joined up with hard-bop tenor saxophonist Harold Land and began their long-running creative union, starting with Land's quintet record, The Peace-Maker, released in 1968 on the Cadet label. When the cabaret card was no longer required in New York, Alfred Lion called Hutcherson to continue his recordings--this time as a collaboration with Land. The underappreciated band recorded seven albums for Blue Note, beginning with 1968's Total Eclipse (with Chick Corea on piano) and continuing through 1975's Inner Glow. The former proved to a marquee outing for the group, where hard-bop entered into the exploratory zone. The album dips in and out of Hutcherson's daredevil sensibility, with exciting vibes romp and elation. The trippy finale, "Pompeian," is a questing voyage with a whimsical open and close and a complex middle section that is avant-leaning and charged as Hutcherson paints dark colors on the marimbas.
"I had been doing a lot of writing then," he said. "I was experimenting with moving intervals in my playing, doing seconds and thirds to fourths and fifths. It was creating a different sound instead of typical jazz lines. The intervals were opened up. The idea was to try to make it sound simple even though the music was hard to figure out. Harold started playing the intervals too so that we could bounce off each other. Actually, I got a lot of my ideas from Joe Chambers who was always trying to change the recipe. 'Pompeian' is full of the intervals playing--which actually reflected the scene that was going on in San Francisco at the time."
In addition to Corea, other pianists joined the Hutcherson-Land band, including Joe Sample and Stanley Cowell. "Joe Chambers hipped me to Stanley," Hutcherson said. "He was a guy with a direction. He had great ideas and he showed me a lot about beats--playing on top of the beat or in the beat or behind the beat. He would create a whiplash situation, like a weather system that comes in and creates a pow. And then it circles around and boom! It's almost like a punch line. It's the kick like the tail end of a cup of coffee. That's what Stanley had."
Then the chairman of the jazz program and professor of jazz piano at Rutgers University, Cowell began his New York experience in the '60s with Max Roach. Then he was called by Miles Davis, but quit after playing two gigs with him in Montreal and Boston. It was a too controlled--and no doubt, chaotic--a situation for him, so he worked with Charles Tolliver and then Stan Getz, connecting often with Chambers who brought him into the Hutcherson-Land fold.
"Bobby was one of the most relaxed people," Cowell said. "He was a wonderful player, but he did it in a relaxed way. When we were touring, he never rushed to the airport. We'd all be panicked that we were going to be too late, but he just relaxed and took his time--and we never missed a flight. Behind his back, we called him California Dreamer."
Cowell says that with Hutcherson's penchant for stretching beyond, the band was definitely in the zeitgeist of the tumultuous anti-establishment era. "We were all embracing the political content of the music versus issuing the traditional and conventional," he says. "Our approaches varied. We used sounds prevalent at the time and played in a free form. Our resources were expanded as we set out to re-examine the music. The apex for me came at a concert we had in Antibes [France]. You can view it on YouTube. There were great moments at that show where we combined pulses with a great deal of freedom within a fixed form. Bobby was doing these incredible cadenzas. The last time I saw him, he still was. He's a happy person."
Bobby's move from SoCal to San Francisco was hastened by a Pasadena friend, Delano Dean, who opened up the Both/And club (which is where he met his second wife Rosemary Zuinga, who was a ticket taker). There was a lot of activity there, not only at Keystone Korner, The Jazz Workshop and the Blackhawk, but also in Golden Gate Park. He set up roots in the city and later Montara.
Joe Henderson also made the move to San Francisco. The tenor saxophonist and vibist formed a trio with drummer Elvin Jones and traveled the country. "Joe and I became very close," Hutcherson said. "He always had a haircutter in the city. So, when we were on the road, I brought along a pair of sheers and gave him haircuts."
Hutch noted that he's slowing down. "I'm not the dynamo I used to be,' he says, laughing again. "I have emphysema, and I'm breathing oxygen while I'm talking to you. I can't play long solos like I used to be able to, and I don't play quite as fast because that takes a lot of oxygen."
During the winter months with Montara's cold, damp weather, it's been rough for Hutcherson, who has ended up in the hospital every February for four years in a row. Still, he says, "My doctor keeps telling me I'm doing well. That way I can continue to share my life and my music. What a reward that is."
One time in recent years when Hutcherson was totally out of his element was when he was asked in 2003 to be a founding member of the SFJAZZ Collective, where he was the elder working with an array of young jazz stars through 2007, including artistic director Joshua Redman, Miguel Zenón, Dave Douglas, Renee Rosnes, and several others.
"That was four wonderful years, and I was the old guy in the group," Hutcherson said. "It was something completely new to me. I was thrilled to play, but I was also very humbled. What a learning experience that was being with the younger players. I learned forgiveness, to forgive myself. I wasn't able to play as fast, and sometimes I'd miss notes and feel bad. But all the players made me realize that I had to forgive myself and keep going. That was the biggest lesson. And I continue to work on this every day. It's a good practice."
Looking back at his career, Hutcherson waxed philosophic. All the trophies he's received and the plaques pegged on his walls aren't the point, he said. "Slowing down, I see a lot more," he said. "The real plaque for me is to be able to share my music with others." He paused and then added, "There's still a lot to be revealed."
As it turned out, a year later in 2014 he recorded his final album, Enjoy the View, returning to the label where he began his career: Blue Note.
(Note: Part of the 2013 story appeared as a feature in DownBeat magazine.)
Cover photos: courtesy of Blue Note Records
_________________________________
Read more of Dan Ouellette's jazz news:
For all the news on New York City arts and culture, visit ZEALnyc Front Page.
Calling all HuffPost superfans!
Sign up for membership to become a founding member and help shape HuffPost's next chapter