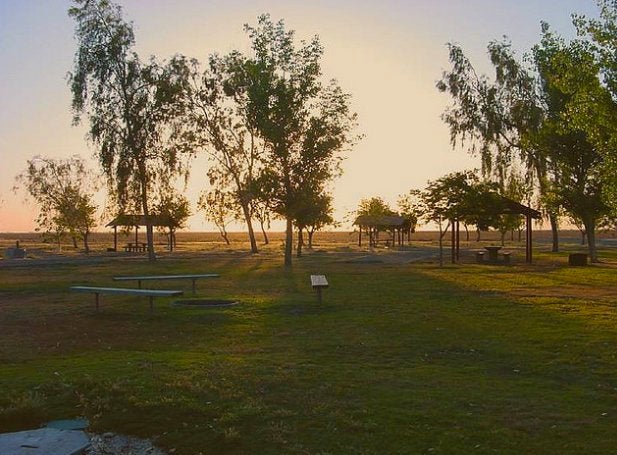 For a good part of its rich history, residents of unincorporated Allensworth, the first African American colony west of the Mississippi, have gone without a reliable supply of safe drinking water.
This is still the case today, where the Tulare County community's wells - which provide water to the neighboring Colonel Allensworth State Historical Park that commemorates the area's legacy - exceed federal levels for arsenic.
Arsenic is naturally occurring in the area, and consumption of the semi-metal can cause nausea and skin discoloration. It has also been associated with various cancers.
Residents of Allensworth and neighboring Alpaugh - both rural, unincorporated communities in Tulare County whose water has elevated arsenic levels - have advanced a novel proposal to resolve the water issues in their communities. Under the plan, the Allensworth and Alpaugh Community Services Districts would combine with the Angiola Water District, which sells water for irrigation, to deliver drinking water to residents. Late last week, Allensworth and Alpaugh's proposal received nearly $420,000 in state grants [PDF] to research its feasibility.
Safe drinking water is a "necessity for healthy living and economic growth and opportunity for the community," Denise Kadara, president of the Allensworth Progressive Association, said at a recent meeting of the Strategic Growth Council, a cabinet-level committee that coordinates activities related to issues such as water quality and public health among five state agencies. "Rural communities like Allensworth face huge barriers to clean drinking water and we need innovative solutions to overcome these barriers."
Consolidation of water districts - there are more than 8,000 public systems in California - has become increasingly appealing to rural communities. "It's become harder and harder for a very small water system to provide safe water and to keep the rates affordable," said Laurel Firestone, the co-executive director of the Community Water Center in Visalia. "There's an overall trend of water systems looking for collaborative solutions to help cut costs."
The Allensworth-Alpaugh proposal is unique because it involves a consolidation between remote rural community water districts and an irrigation water district. The arrangement could serve as a model for other rural communities, water policy experts say.
"A lot of dispersed communities face similar challenges, and what is learned here could be pretty influential in the rural West," said Tony Rossmann, an attorney who has handled some of the state's most significant water cases.
The proposal had the support of the Tulare County Board of Supervisors, which submitted the application to the state Strategic Growth Council. "We know that in Tulare County, we have clean water issues in our unincorporated communities," said Allen Ishida, a county supervisor. "We are not going to be able to solve these issues without consolidation because it's too expensive."
Ishida said the funding for the feasibility study is a step toward "finally, after all these years, getting acceptable and potable clean water" to unincorporated communities "so that residents can enjoy the health benefits and lessen the financial burden of having to buy bottled water."
According to surveys conducted by advocacy organizations like California Rural Legal Assistance, residents of low-income, unincorporated communities spend up to 10 percent of their income on water.
California law states that residents have a "right to pure and safe drinking water," but while the state Department of Public Health is charged with monitoring public water systems, there are few enforcement mechanisms, said Camille Pannu of the Center on Race, Poverty & the Environment, who helped draft the Allensworth-Alpaugh proposal.
The Allensworth-Alpaugh proposal also included an additional $450,000 funds to study the extension of sewer service from the city of Tulare to the unincorporated community of Matheny Tract.
As California Watch has previously reported, Matheny Tract, on the outskirts of Tulare, is located just a few miles - and downwind - from the municipal wastewater treatment plant, but residents currently can't connect to it. Residents rely instead on aging septic tanks.
A memorandum of understanding is already in place between the city and county to explore a wastewater connection to Matheny Tract, but feasibility studies are a crucial step toward infrastructure improvements for low-income unincorporated communities, advocates said.
A common obstacle to construction is "not getting through the planning phase," often because there's a lack of funding, said Phoebe Seaton of California Rural Legal Assistance.
Tulare County Supervisor Pete Vander Poel added that the studies for the Allensworth-Alpaugh and Matheny Tract projects "can be used to leverage additional funds for construction." He said that state and federal funding sources typically require feasibility studies and preliminary engineering work to be completed before projects will be considered for future funding.
A separate $383,853 proposal to draft a planning document for unincorporated and disadvantaged communities in Tulare County along the Highway 99 corridor was also approved by the Strategic Growth Council.
Numerous Central Valley communities face similar conditions with water quality, access and delivery. A report by the environmental research organization Pacific Institute found that between 2005 and 2008, about 1.3 million San Joaquin Valley residents drank water with unhealthy levels of nitrates, which can lead to severe illness and even death among infants.
According to Oakland think tank PolicyLink, an estimated 1.8 million Californians live in low-income, unincorporated communities like Allensworth and Alpaugh, and many lack potable drinking water or other basic infrastructure. In the Tulare Lake Basin area, there are at least 370 of these communities.
Bernice Yeung is an investigative reporter for California Watch, a project of the nonprofit Center for Investigative Reporting. Find more California Watch stories here.
Popular in the Community