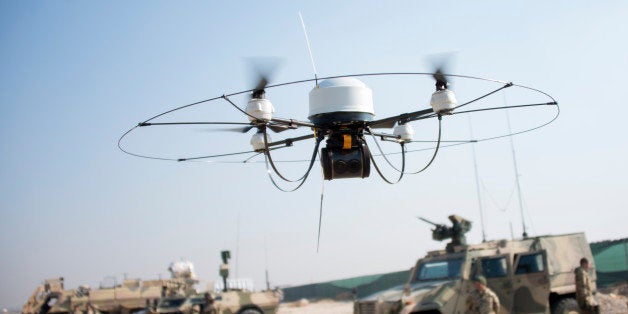 SACRAMENTO, Calif., Jan 29 (Reuters) - Using drones to spy on Californians without a warrant could soon be outlawed under a bill making its way through the state legislature, tapping into public concern about unwarranted government intrusion into private lives.
The bill, which passed the state assembly 59-5 on Wednesday with bipartisan support, would require police, fire and other investigative agencies to obtain a judge's approval before using a drone to collect information about ordinary citizens.
The measure comes even as California tries to entice companies to make and develop unmanned aircraft in the most populous U.S. state, where unemployment still lags the rest of the nation.
"While we as a legislature and as a state try to attract the jobs in aviation, we also have to balance the growing concern about unmanned vehicles," the bill's sponsor, Republican Jeff Gorell, told Reuters.
A Navy Reserve commander who served for about a year in Afghanistan, Gorell said he has relied on intelligence information from drones, and understands what they can do, for good or ill.
"The drones can loiter for long periods of time with stealth-like capacity over homes or businesses or public areas," said the assemblyman, who represents a suburb north of Los Angeles.
He said he was concerned about the scope of intrusion that drones might enable, citing the possibility that public agencies could be tempted to use the heat-seeking capabilities of drones to locate - and ultimately fine - homeowners who use their fireplaces on smoggy days when open flames are prohibited by air quality regulations.
His bill, Gorell said, would require a government agency to disclose plans to undertake that kind of surveillance. The bill would also make it illegal to outfit a drone with a weapon, or to use it as one.
Furthermore, the law would require law enforcement agencies to discard any data they gather after six months, unless it is needed for an ongoing investigation.
Law enforcement agencies would be allowed to use drones without warrants in some circumstances, however, including law enforcement emergencies such as a hostage situation, certain pursuits and while fighting fires.
Police could also use them without a warrant to search for illegal marijuana farms hidden in some California forests, Gorell said. The bill must still be approved by the California Senate and signed by Governor Jerry Brown. (Reporting by Sharon Bernstein; Editing by Cynthia Johnston and Ken Wills)
Calling all HuffPost superfans!
Sign up for membership to become a founding member and help shape HuffPost's next chapter
BEFORE YOU GO
PHOTO GALLERY
12 Companies Cashing In On Drones