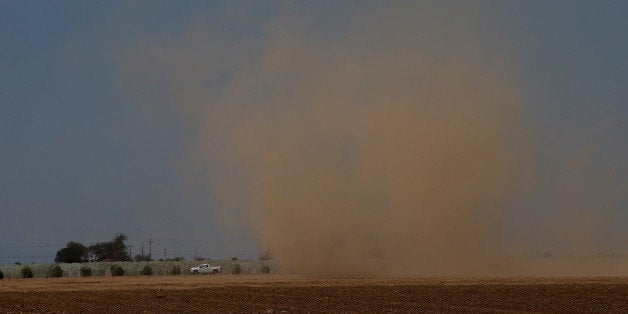 The American Lung Association's annual State of the Air study, evaluating ozone and particle pollution across the U.S. from 2011 to 2013, found that the region's prolonged dry period, which began at the end of 2011, may be contributing to increased contaminants in the air.
"Many cities had a record number of days with high short-term particle pollution, particularly in the West, where continuing drought and heat may have increased the dust, grass fires and wildfires," the Lung Association report says. "The impact of climate change is particularly apparent in the West where the heat and drought create situations ripe for episodes of high particle days."
Particle pollution is a "mixture of acids, chemicals, metals, soil and dust that is formed when emissions from power plants, factories and vehicles react with the air," the International Business Times explained. Most particle pollution isn't the drought's fault. It's from burning fossil fuels in industry and cars, and from fires.
Still, dry soil as a result of the drought -- its California's worst in 1,200 years -- allows particle pollution to thrive, while wildfires and dust storms send more particles into the air. The five most polluted U.S. cities in both particulate matter categories are all in California.
Of the seven U.S. metro areas that had more annual particle pollution than in last year's report, four were in California: Bakersfield, Modesto-Merced, El Centro and San Jose-San Francisco. Each area also failed the national air quality standard.
California's Fresno-Madera area's particle pollution improved since last year's report, but it maintained its title as the most polluted metropolitan area for annual particle pollution with an average 47 days per year.
Alexander Sherriffs, a physician in the Central Valley and board member on the San Joaquin Valley Air Pollution Control District, told the Fresno Bee that the health consequences of air pollution are very apparent in the region.
REAL LIFE. REAL NEWS. REAL VOICES.
Help us tell more of the stories that matter from voices that too often remain unheard.
BEFORE YOU GO
PHOTO GALLERY
California Drought