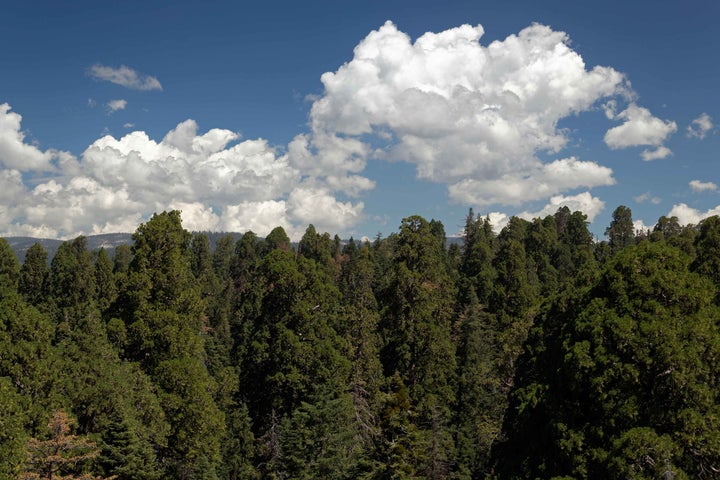 A full-grown giant sequoia is a thirsty tree. In the height of summer, the millenia-old behemoths, some of which grow upwards of 30 stories tall, can guzzle 500 to 800 gallons of water per day. They can also survive a variety of scourges that would fell an inferior conifer -- beetles, wildfires, storms. But scientists are worried the species may have met its match in the ongoing California drought.
Nate Stephenson, a research ecologist with the U.S. Geological Survey, was walking through the woods last year when he noticed some of the trees he'd been studying for decades had dropped most of their leaves. He joined forces with other researchers from the USGS, as well as from the National Park Service, U.S. Forest Service, Stanford University, UC Berkeley and the Carnegie Airborne Observatory, to launch a comprehensive health study on the sequoia.
Anthony Ambrose, a tree ecologist at University of California, Berkeley, led a recent bout of fieldwork to monitor how stressed the sequoia have been, and if, in fact, we should be worried about their longevity. A few weeks from now, his team plans to collect a slew of samples from more than 50 trees that have dropped up to 75 percent of their leaves. He hopes the research can provide real-time data to forest managers who can prioritize care for threatened trees.
"There are a lot of trees that are dying, a lot of pines and cedars that have died because of the drought," Ambrose told The Huffington Post. "The giant sequoia seem to be pretty resistant, but we want to know what does it take to kill one of these and what can we learn from this."
Koren Nydick, a lead author of the study, spoke with Ezra David Romero of NPR affiliate Valley Public Radio about the prospect of a drought felling the giants. Nothing's been corroborated by science yet, but it's clear something unusual is bothering the trees.
"The good news is that there were lots of trees that still seem healthy, but there was this smaller amount that seemed to be stressed and stressed in ways that we haven't seen documented before in the parks," Nydick said.
Ambrose said many of these trees have undeniably gone through drought before -- the oldest among them can live to more than 3,000 years old. But opportunities to study a drought like this one don't happen often, and can provide insights into a tree's capacity for hardship.
"Every organism has a limit," Ambrose said. "Every organism has a threshold beyond which it can't survive anymore."
The punishing drought in California is about to stretch into its fifth year. The state suffered through its driest January on record this year and officials have been struggling to come up with innovative water-saving methods, including the recent introduction of millions of "shade balls" to cover a reservoir. But many scientists are worried about how the water shortage will affect many ecological elements of the state, including residents' lawns to farmers' fields.
Listen to NPR's story on the sequoia below.
Popular in the Community