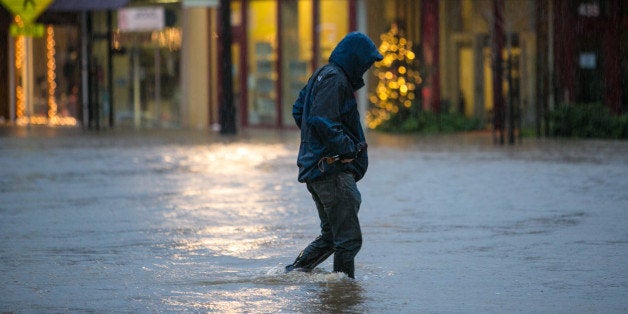 When it comes to drought, California is no longer "exceptional."
Data released Thursday, after recent heavy rains, shows that just 32 percent of California now faces "exceptional drought," the most severe level of dryness recorded by the U.S. Drought Monitor. The week before, 55 percent of the state was covered by the designation -- an alarming statistic that had held steady since July.

Images courtesy of the National Drought Mitigation Center, NOAA and the USDA
"The short-term drought is over, particularly in the northern half of the state," Mark Svoboda, a climatologist with the National Drought Mitigation Center, told The Huffington Post. "We're looking more now at the long-term hydrological impacts … things like reservoirs and snowpack and groundwater. They're the last to improve."
The update follows the "storm of the decade," which closed schools, roadways and public transportation.
"Two consecutive weeks of widespread heavy … precipitation, augmented by above-normal autumn precipitation, produced major stream and river flooding in north-central California," the U.S. Drought Monitor's David Miskus wrote in a summary accompanying the drought update. He noted that flooding on the Sacramento River was at its highest since December 2005, and runoff contributed to good increases in the state's major reservoirs.
Svoboda explained that while a heavy storm only provides so much relief on its own, it is an important first step in drought recovery.
"It gets soil moistures recovered, so then when we get future rain or snow that melts out in the spring, that will lead to better runoff into streams, reservoirs and groundwater, which will help recovery there," Svoboda said. "If it had stayed dry, then the soil's going to take the first cut of the check, if you will, to get itself saturated before it's going to share that water with groundwater, stream flows and reservoirs."
The rainfall has been major cause for celebration for California's home water-harvesters. Some reported collecting 1,800 gallons of water in a few hours. While not potable, the water can be used for landscaping, washing cars and dishes and doing laundry.
Miskus warned there is still a long road to recovery. The second-most severe level of drought covers 78 percent of the state.
"A wet December (to date) has provided California a foothold for drought recovery, but 3 straight winters of subnormal precipitation will take time (possibly several consecutive wet winters) to fully recharge the reservoir levels and subsoil moisture back to normal," Miskus wrote. "... 'Cautious optimism, but still a long way to go' would be the very short summary for this week's California drought picture."

Calling all HuffPost superfans!
Sign up for membership to become a founding member and help shape HuffPost's next chapter
BEFORE YOU GO
PHOTO GALLERY
California Drought