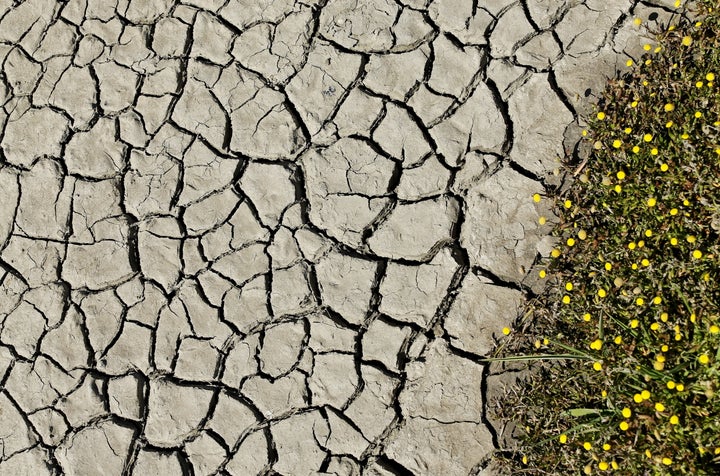 As California heads into its sixth year of drought, its residents are continuing to conserve water — but recent data has raised concerns that they aren't saving enough resources given forecasts of a drier-than-usual winter.
In the four months that have passed since the California Water Resources Control Board lifted its mandatory conservation requirements for the state's residents, water conservation rates have steadily declined.
The most recent numbers, released this month, showed that in August 2016 Californians reduced their water usage by just 17.7 percent, compared to 27 percent in August 2015.
"Are we seeing relaxation of conservation messaging and programs, or are we seeing abandonment of programs?" state water board chair Felicia Marcus said in a news release. "One may be appropriate, the other is not. It's a mixed picture."
The report has prompted some to question whether the mandatory conservation requirements were lifted prematurely.
"When the state board removed the mandatory targets, that sent a message," Peter Gleick, co-founder of the Pacific Institute water think-tank, told Water Deeply earlier this month. "I think it sent the wrong message, and I think the numbers reflect that. It sort of said, 'The drought's over, the mandatory conservation targets are gone.'"
Currently, more than 40 percent of California remains in extreme drought conditions. It is increasingly clear those conditions appear unlikely to change significantly anytime soon.
The water board has emphasized that it is continuing to monitor the state's conservation levels and water conditions and may yet re-institute the mandatory conservation requirements.
Also, state water board spokesman Max Gomberg told The Huffington Post, it's tough to generalize statewide water conservation efforts because of the wide variation in how different communities have approached the issue.
Many parts of the state, Gomberg noted, are continuing to excel in their water conservation efforts, including some areas — like San Francisco and Santa Cruz — that already had lower water usage rates to begin with. Other areas — like Malibu, which has seen its water savings decrease from 20.4 percent a year ago to 7.9 percent in August — have seen their water conservation rates tumble dramatically.
"This is not across the board, but it's a concern," Gomberg said. "It's a little bit more nuanced."
Environmental groups have also questioned the degree to which local water utilities' declining revenue ― due to the mandatory conservation targets ― played into the decision to eliminate them. And while the board has admitted that was a factor, it has said it was not the primary one.
Other water experts have defended the board against such criticisms.
David Sedlak, co-director of the Berkeley Water Center at the University of California Berkeley, noted that it is important to adjust drought messaging as the conditions persist and to encourage local water utilities to take adopt creative approaches to help their customers save water, specifically catered to their communities' needs and challenges.
But even without across-the-board rationing of water, Sedlak added, California needs to be looking ahead to a drier future.
"I think it's a kind of philosophy about when you say something is an emergency, when the immediate hazard is passed you need to relax the emergency," Sedlak said. "But that doesn't mean the state has told people they shouldn't be planning for a future with less water."
Joseph Erbentraut covers promising innovations and challenges in the areas of food and water. In addition, Erbentraut explores the evolving ways Americans are identifying and defining themselves. Follow Erbentraut on Twitter at @robojojo. Tips? Email joseph.erbentraut@huffingtonpost.com.
Calling all HuffPost superfans!
Sign up for membership to become a founding member and help shape HuffPost's next chapter
BEFORE YOU GO
PHOTO GALLERY
What A Drought Looks Like