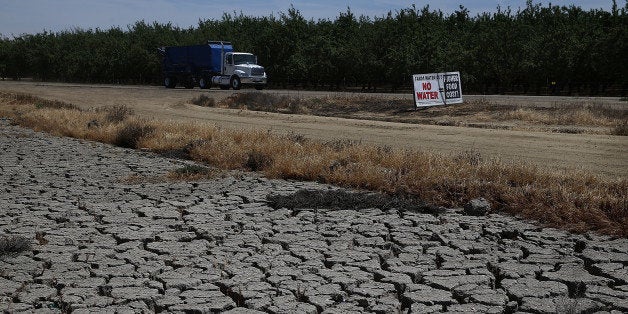 LOS ANGELES, May 27 (Reuters) - An overwhelming majority of U.S. residents think the drought that has hit agriculture in the West will lead to increased food prices, according to a Reuters/Ipsos poll released on Wednesday.
The poll, conducted May 18 to 22, also found strong support for certain water conservation efforts that might be aimed at the general public in drought-stricken states.
California is enduring its worst drought on record. The governor of Washington state has declared a drought emergency even as Nevada, parts of Oregon and other western states also deal with a lack of water.
The survey results suggest many people nationwide see the drought in the West as affecting them in some way, either now or in the future.
Eighty-four percent of those polled said they strongly agree or somewhat agree the drought is going to cause food prices to increase significantly.
Survey respondent Jackie Morenzoni, 39, a mother of two who lives in the Midwest, said she has already seen produce prices go up and worries about further increases.
"I'm on a fixed budget so I watch every penny very carefully," Morenzoni said.
When asked if the drought has affected them personally, 43 percent of respondents said it had in some shape or form, although 21 percent of people in that group said they were affected only a little bit. Forty-nine percent of those asked said it did not affect them at all, and 8 percent said they did not know whether it had.
Separately, 73 percent of those polled said that if they lived in a state experiencing the drought seen in the Western United States, they would support rules limiting the use of water to wash vehicles.
Sixty-four percent would support rules prohibiting homeowners from watering lawns and landscaping.
Darryl Collins, 51, a graphic designer who lives in the Seattle area, is one respondent who supports those measures.
"It seems like such a waste to me to actually use water that's so expensive and so hard to get just to water grass, when people don't have any water to use," he said.
For the survey, 1,305 people aged 18 and older were interviewed online. The Reuters/Ipsos poll has a credibility interval of plus or minus 3.1 percentage points. (Editing by Eric Walsh)
Calling all HuffPost superfans!
Sign up for membership to become a founding member and help shape HuffPost's next chapter
BEFORE YOU GO