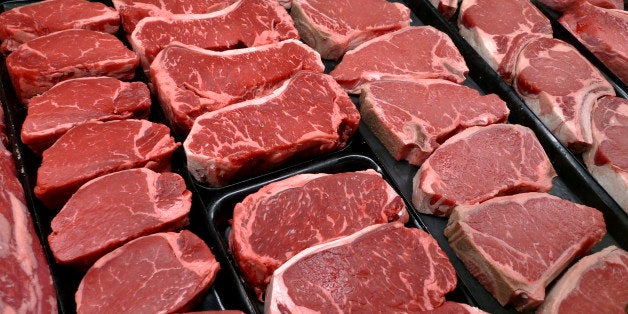 You can't taste it, but a whole lot of water went into producing that hamburger.
As Californians cut residential water use by 25 percent under Gov. Jerry Brown's unprecedented mandatory restrictions, pressure on the drought-stricken state's water resources continues to come from its robust agriculture industry, which accounts for about 80 percent of the state's total water consumption.
In short, not really, one expert said.
Newsha Ajami, the director of urban water policy with Stanford University's Water in the West initiative, told The Huffington Post that if everyone in California -- the nation's fourth-leading beef producer -- were to go vegetarian, farmers probably wouldn't slow production and would continue selling meat internationally.
"It eventually may impact water use," she said. "It's not fast. It's a long-term plan. So if we decided to do that tomorrow, that doesn't mean it's going to impact the drought at all ... Don't forget, because this is a global market, they might have other customers they're selling their meat to."
However, Ajami said, that doesn't mean people should disregard the water footprint of their meals.
"I think at the end of the day ... eating less water-intense food products certainly is important to lower demand," she said.
U.S. policymakers are starting to encourage that shift.
The authors of the 2012 study on agricultural water use came to a similar conclusion.