For a few days last month, it rained in San Francisco. Residents across the city cheered a welcomed respite from a drought that has crippled California for more than two years -- but the celebration turned out to be premature.
On Thursday, for the first time this century, the U.S. Drought Monitor declared that all of California is in a "severe" drought, with many areas of the state in an even worse condition, from "extreme" to "exceptional," the poorest possible rating.
"This is a once-in-a-generation conversation," Mark Svoboda, a climatologist at the National Drought Mitigation Center, told The Huffington Post. He added that the last time California experienced comparable conditions was in the mid-1970s.
"The state has doubled its population between then and now," Svoboda said. "You've got a lot more people using a relatively finite amount of water."
The map below, courtesy of the U.S. Drought Monitor, shows the varying levels of drought throughout California. The orange represents "severe," the red is "extreme," and the maroon is "exceptional" -- the agency's highest level (Story continues below):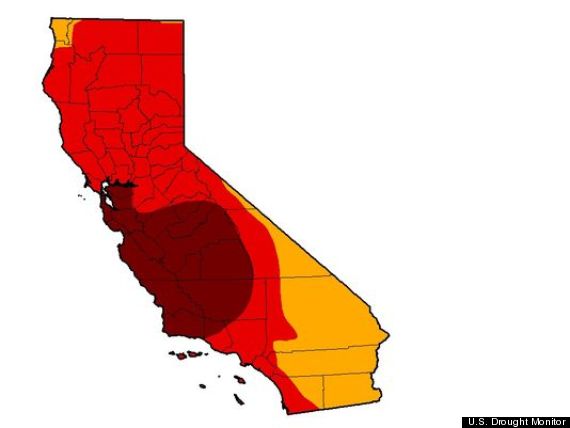 No area of the state is feeling the effects of the drought more harshly than San Diego, where wildfires have ripped through more than 10,000 acres of land and tens of thousands of residents have been forced to evacuate. "In a drought, the biggest threat to health and human safety is wildfire," Doug Carlson, an information officer at the California Department of Water Resources, told HuffPost.
And there doesn't appear to be an end in sight. "The drought has set the stage for a very busy, very long, potentially very dangerous fire season," Daniel Berlant, a spokesperson for CAL FIRE, said to HuffPost. "As we move into the more traditional summer months, the days are only going to get longer, and the temperatures are only going to get higher."
California's wildfire season usually peaks during summer and fall months and then tapers during the typically rainy winter. But the drought has turned wildfires into a year-round issue. "With that lack of rain, the grass, brush and trees really have been tinder-dry all year long," Berlant explained, noting such conditions help flames flourish.
Svoboda added that the state's hot, dry surface leads to a hot, dry, atmosphere, which creates a prime environment for wildfires to spread. "You also typically see windier conditions," he added. "These are all things that fires feed on."
The damage in Southern California has ravaged hills, homes and businesses. Beloved craft brewery Stone Brewing Company evacuated its premises on Thursday. On Wednesday, KTLA senior producer Marcus Smith tweeted a widely-recirculated photo of a "firenado," a dangerous phenomenon caused by strong winds whipping spirals of fire into the air.
Authorities have deployed more than 2,500 firefighters into the area, but Svoboda noted that for wildfires of this scale, manpower isn't the solution. "You can't have human resources put it out," he said. "You need a rainstorm."
Raging wildfires aren't the only consequence of California's dry conditions. Reservoirs have drained, and many communities are being forced to ration their water supplies. Moreover, experts predict the drought will drastically impact both the state and the nation's food supply.
"California produces nearly 50 percent of the nation's fruits, vegetables, and nuts -- they're kind of the nation's garden," Denise Gutzmer, a drought impact specialist at National Drought Mitigation Center, told HuffPost. "We're going to be seeing higher produce prices in the store this summer."
Nearly 1 million acres of agricultural land will likely be affected. An Arizona State University study released last month found that, as a result, lettuce prices may spike by as much as 34 percent, and tomato prices by some 18 percent. And with less land to maintain, as many as 20,000 farm workers could find themselves unemployed.
Moreover, local food banks that rely on California produce to feed their customers will likely see a sharp drop in donations, and will subsequently be forced to spend more money importing out-of-state produce. Sue Sigler, the head of the California Association of Food Banks, told the San Francisco Chronicle it was a "perfect storm of drought-related factors." Two men look out towards the water on the dry bed of the Stevens Creek Reservoir.
In February, when California Gov. Jerry Brown (D) declared a state of emergency due to the drought, he urged residents to cut their water usage by at least 20 percent. As a result, communities across the state have adopted a variety of unique measures.
City governments have banned washing cars with hoses, fined homeowners who don't promptly fix leaks and handed down strict landscape watering schedules. Enforcement of these new laws is perhaps most evident in Sacramento, where 40 city employees have been re-designated as "water cops" tasked with reporting and responding to wasteful maintenance.
The new rules have been a wake-up call for residents with sprawling lawns. In the grassy Golf Course Terrace Estates of Sacramento, the neighborhood is starting to take on a different look.
"A number of neighbors have seized this as an opportunity to redo their landscape that's quite old, and they've taken out the grass and plants that require a lot of water and are putting in various things," said neighborhood association spokesman Ernest Lehr, who has lived in the area for 50 years. "One fellow put in a fabulous bocce ball court in front."
"This is an opportunity to do something, to rethink and to learn, especially for folks who have moved here from other areas and regions," Lehr told HuffPost. "Maybe they're not that familiar with shrubs, plants and trees that are really best suited for this kind of a climate."
While experts remain unsure what prompted such severe conditions, a Utah State University study released in April directly linked the situation to climate change. "Increased greenhouse gases since the 1970s are a major contributor to California's drought," co-author Simon Wang told HuffPost.
Climatologists predict that the coming of El Niño may mitigate some of the drought's harshest effects later this year. In the meantime, drought specialists urge residents to continue to be mindful.
"Do your best to conserve, and have hope that the rains next winter will be better," said Gutzmer, the drought impact specialist. "If El Niño pans out, they could have a nice winter next year."
Related
Before You Go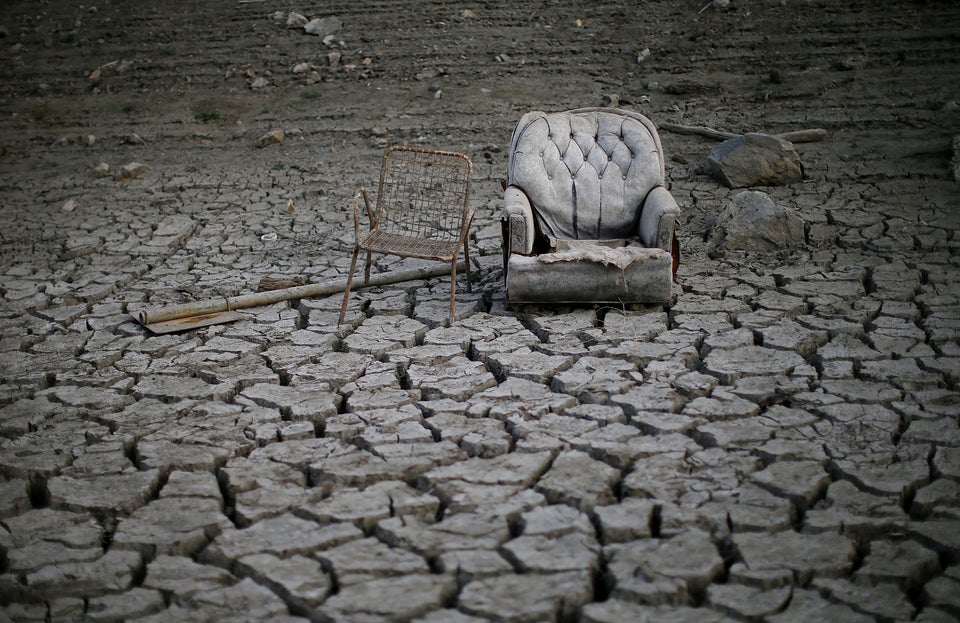 California Drought
Popular in the Community