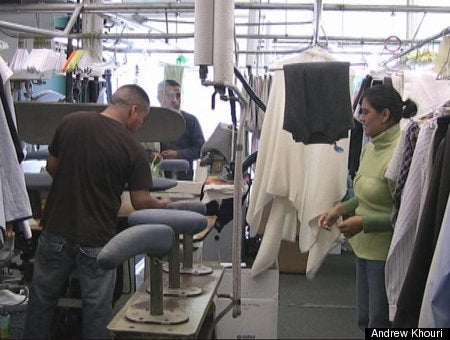 (This story comes courtesy of Neon Tommy, The voice of Annenberg Digital News)
Eight years ago Eugene Park owned a small dry cleaning business in Mid-City that used perchloroethylene (perc), a hazardous chemical common in the industry. Today, he owns numerous shops, the majority of which have shifted from perc to greener methods.

The direction of Park's business follows an evolution in the industry spurred by health and environmental concerns as well as the wishes of government regulators.
Perc exposure increases cancer risk, and can cause dizziness, impaired judgment, and liver and kidney damage, according to the South Coast Air Quality Management District's website.
Park's three Cleaner By Nature stores use a liquid silicone process from the company GreenEarth Cleaning. He also provides a wet cleaning alternative, which environmental groups label as one of the most eco-friendly processes available.
"The solution that we use to clean clothes is much, much safer," Park said. "If I spill this [liquid silicone] it does not matter, it will not ruin the soil, the ground, plant life, whatever."
Park still owns two stores--Leonard's Custom Quality Cleaners and Sparkling Cleaners both in West Hollywood--which use perc, but they will be converted in time. Cleaners throughout the state will soon have no choice.
California began to phase out the chemical in 2007. In July, dry cleaners must toss out their perc cleaning machines when they reach the age of 15. Cleaners must stop using the chemical by 2023. For those who fall under the umbrella of the South Coast Air Quality Management District, that date will come three years earlier.
However as the industry shifts, some cleaners--including Park--say the new technologies don't work as well as the old industry standard.
"They both have their up and downs," Park said. "The green ones don't clean as well; you have to do a lot of pre-spotting. The perc cleaners you can throw in most things and they come out well."
Henry Rahban, part owner of Splendid Cleaners on the corner of San Vicente Boulevard and Cochran Avenue, still uses the chemical to clean the myriad of garments that come through his doors. He says he even picks up the slack for some eco-friendly cleaners.
"I have one cleaner, who has that kind of solvent, and many times he doesn't get a good result, and sometimes we have to do it all for him."
One of the green cleaners who acknowledges sending hard-to-clean garments to Rahban is Renato Yescas, manager of New Image Cleaner in the Miracle Mile.
Yescas, who uses wet cleaning, said that process performs poorly with silks, 100 percent wool, and oil stains. He said his customers are aware of the practice.
"There are a few things we cannot wet clean," he said. "I have friends and they do dry cleaning and I send it to them, but it's not many things."
However, Park disagrees and says with practice such garments can be wet cleaned. Although, he said the process can take the life out of clothes, and the GreenEarth technology provides both a good clean and is eco-friendly.
GreenEarth is "an acceptable dry cleaning solvent alternative," however, more information is needed to ensure its safety, according to the California Air Resources Board's website.
Federal regulators have also taken notice of perc's potential dangers.
In 2008, the EPA designated perc a "likely human carcinogen" in a draft consideration, a step up from its previous label of "possible-to-probable." The National Academy of Sciences (NAS) backed up that finding in February, but suggested "using better designed studies" to improve the EPA's final assessment.
"The EPA is now in the process of addressing the key comments and recommendations of the NAS expert panel before the report is a final assessment," said EPA spokeswoman Latisha Petteway in an email.
Industry groups have criticized the EPA study.

"The overly broad classification [likely human carcinogen] doesn't really spell out very clearly the concerns you should have about the chemical," said Dr. Paul Dugard, a toxicologist with the Halogenated Solvents Industry Alliance, a group that represents users of perc. "The science does not suggest that perc is as bad as EPA is suggesting."
About 27,000 dry cleaners still use the chemical, according to the EPA's website.
But as California's regulations begin to kick in, Park says he will most likely change his West Hollywood perc cleaners to a hydro-carbon process, one he says cleans next best to perc, but is not as environmentally safe as his Cleaner By Nature stores. A decision he reached, because he says those in the area care more about quality than the environment.
"Greener is way safer and the way I want to go in the future," Park said. "I would stick to GreenEarth, but I can't grow GreenEarth in an area that is going to reject it, I still have to look out and support my family."
Park said customers shouldn't worry about their health when going to a perc cleaner, and that it's more of a concern for employees.
"It is really the guy who is opening and closing that dry cleaning door," he said.
Related
Popular in the Community