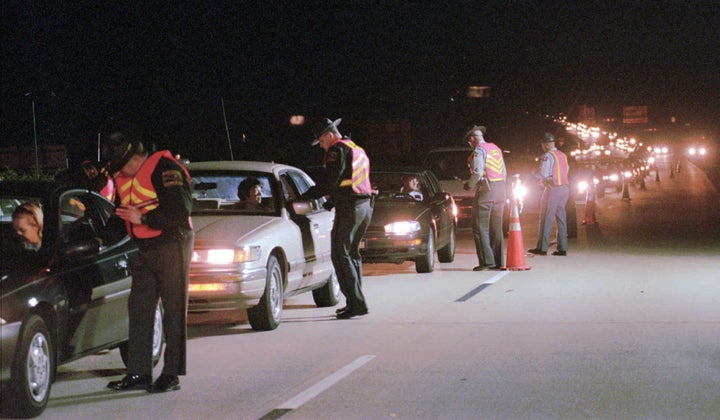 California traffic safety officials declared 2010 the "year of the checkpoint," and they delivered on that pledge.
Police agencies ran 1,050 of the state-funded roadway sobriety operations just during the holidays (which include Christmas, New Year's, the Super Bowl, St. Patrick's Day and Labor Day) last fiscal year. That is nearly twice as many holiday checkpoints as law enforcement ran the previous year. In all, the California Office of Traffic Safety planned to operate more than 2,500 such operations in 2010.
And while the checkpoints are ostensibly intended to snare drunken drivers, officers impounded six cars for every one DUI arrest made, according to data from the Safe Transportation Research and Education Center at UC Berkeley.
The center operates a grant program funding the checkpoints for the California Office of Traffic Safety.
Vehicle seizures totaled 17,419 last fiscal year. An investigation by California Watch and the Investigative Reporting Program at UC Berkeley found most of the motorists losing their cars at the operations were sober, unlicensed illegal immigrants.
Unlike in previous years, the most recent data documents how many unlicensed drivers police encountered during the operations. Under state law, motorists who don't have a license or who have had their driving privileges suspended or revoked can have their cars impounded for 30 days. The fees and fines that car owners must pay to retrieve their vehicle often reach more than $1,500.
Police cited 12,867 unlicensed drivers during the 2010 fiscal year, according to the data. Not every one of those motorists lost their cars, but the numbers still indicate that illegal immigrants might have accounted for as much as 70 percent of vehicle seizures at DUI checkpoints
Impounds have become a revenue source for cities in recent years.
Local governments often charge unlicensed drivers a fine to get their vehicles released from impound - on average more than $150, finance records show. Cities, increasingly, also get a cut of the fees that tow operators charge vehicle owners, generating hundreds of thousands of dollars a year.
However, seven California police agencies have altered their checkpoint policies in recent months to try to reduce impounds.
Here is a breakdown of last fiscal year's holiday checkpoint results for six of the seven cities aiming to shrink the disparity between DUI arrests and vehicle seizures.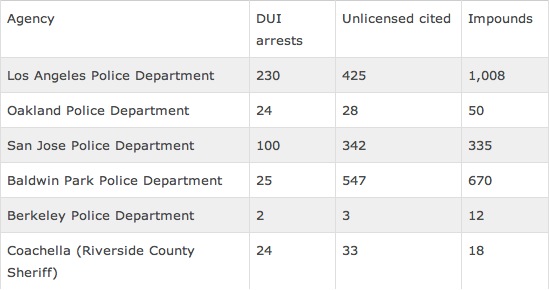 Cathedral City also altered its policies to limit impoundment of unlicensed drivers at checkpoints but did not operate any holiday checkpoints in fiscal 2010.
Related
Popular in the Community