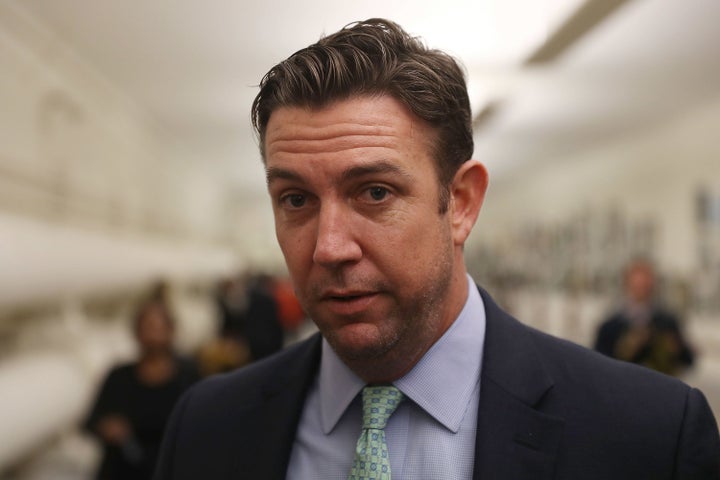 In a conversation with constituents earlier this month, an indicted California congressman suggested reducing the national debt by raising Social Security's retirement age to 72.
A constituent challenged Rep. Duncan Hunter (R) during an Aug. 7 telephone town hall to explain what the voter described as Republicans' plans to pay for the recent tax cuts by "taking away my Medicare and Social Security," according to audio of the call provided to HuffPost by American Bridge, a Democratic super PAC.
Hunter, whom the federal government charged Tuesday with using over $250,000 in campaign funds for lavish personal spending, argued that "entitlement spending" on social insurance programs like Social Security and Medicare was driving the country's "debt problem."
One way to resolve that problem, he said, would be to raise the Social Security retirement age for future beneficiaries to 72.
"I'm 41 years old. What if we said, hey, for everyone who's under 45 years old, you don't get to collect Social Security until you're 72," Hunter said.
The change makes sense, Hunter continued, because of advances in "medical technology, technology in general, the fact that we're not working in caves anymore or hunting animals, we're working usually in desks or in a building."
"You could do something like that and it would be really easy. It wouldn't impact me," he said. "I don't plan on getting Social Security anyway. I think it will be busted."
He later clarified that he is open to raising Medicare's eligibility age to 72 as well.
In the same call with constituents, Hunter also dismissed the notion that the Republican tax cuts would balloon the debt.
"I don't believe that tax cuts cost the government money," he said.
"It wouldn't impact me. I don't plan on getting Social Security anyway. I think it will be busted."
Americans retiring today are eligible for full benefits at age 66, though reduced benefits are available as early as age 62. For Americans born in 1960 or later, the full retirement age will rise to 67.
Contrary to Hunter's remarks, however, not all Americans have shared in the longevity gains associated with technological advancements. There is a 20-year gap between U.S. counties with the highest life expectancies and those with the lowest, concentrated in impoverished parts of the Dakotas and Appalachia.
And a significant chunk of older Americans still have physically exhausting professions. About 44 percent of Americans ages 58 or older are employed in jobs that are either "physically demanding" or that feature "difficult working conditions," according to a 2014 study by the Center for Economic and Policy Research, a liberal think tank.
As for the tax cuts, all independent analyses have concluded that they would indeed cost the government an enormous amount of money. The nonpartisan Congressional Budget Office estimated in April that the tax cuts would add $1.9 trillion to the debt over the next decade.
Ammar Campa-Najjar, Hunter's 29-year-old Democratic opponent, told HuffPost that he disagrees with raising the retirement age.
"If we could find a way to give tax breaks for millionaires and billionaires, surely we could find a way to help people retire with dignity," said Campa-Najjar, the son of a Latino mother and Arab father who previously worked in former President Barack Obama's White House.
"We debate a lot on 'entitlements.' I call them earned benefits," he added. "The only 'entitlement' here is Hunter inheriting his seat from his dad."
Campa-Najjar nonetheless said he favored allowing wealthier Americans to opt out of Social Security benefits altogether and receive a tax credit instead.
When it comes to Medicare, Campa-Najjar supports Medicare for all, under which all Americans would be covered by one public, federal insurance program. In the nearer term, he wants to allow Americans ages 50 or older to buy into Medicare, rather than increasing the eligibility age above the current level of 65.
Hunter's campaign did not immediately respond to a request for comment on his stance on Social Security.
Regardless, for Democrats, pairing Hunter's comments with his alleged theft of campaign funds to obtain frivolous luxury items ― including shorts he told his wife to misreport as golf balls for wounded veterans ― is an irresistible juxtaposition.
"The corrupt Congressman who just became world-famous for being a financial train wreck wants to cut people off from Medicare in order to make room for the GOP's tax giveaway to the rich," said Andrew Bates, a spokesman for American Bridge, in a statement. "That tells you everything you need to know about the Republican Party's economic credibility in 2018."
Before You Go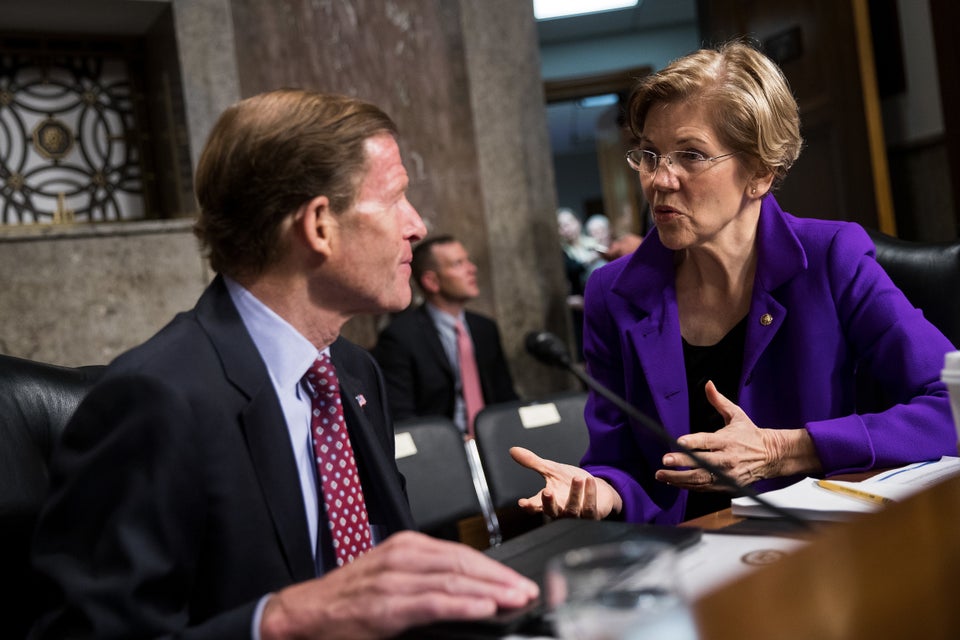 2017 Scenes From Congress & Capitol Hill
Popular in the Community