NAPA, Calif. (AP) — A large earthquake rolled through California's northern Bay Area early Sunday, damaging some buildings, igniting fires, knocking out power to tens of thousands and sending residents running out of their homes in the darkness.
Two major injuries have been reported, and hospitals have been very busy with moderate injuries, Napa Division Fire Chief John Callanan said. The 6.0-magnitude quake caused six significant fires, including at four mobile homes, Napa Division Fire Chief Darren Drake said. The damage from the fires is not yet clear but it appears significant, he said. Several other smaller fires have been reported and firefighting efforts have been complicated by broken water mains.
The earthquake struck just before 3:30 a.m. about 10 miles northwest of American Canyon, which is about 6 miles southwest of Napa, in California wine country, Leslie Gordon of the U.S. Geological Survey said. It's the largest earthquake to shake the Bay Area since the 6.9-magnitude Loma Prieta quake in 1989, the USGS said.
"There's collapses, fires," said Napa Fire Capt. Doug Bridewell, standing in front of large pieces of masonry that broke loose from a turn of the century office building where a fire had just been extinguished. "That's the worst shaking I've ever been in."
Bridewell, who said he had to climb over fallen furniture in his own home to check on his family before reporting to duty, said he was starting to see more reports of injuries.
The shaking emptied cabinets in homes and store shelves, set off car alarms and had residents of neighboring Sonoma County running out of their houses and talking about damage inside their homes. Officials say widespread power outages have been reported in the area.
"It was a rolling quake, said Oakland resident Rich Lieberman. "It started very much like a rolling sensation and just got progressively worse in terms of length. Not so much in terms of shaking, but it did shake. It felt like a side-to-side kind of rolling sensation. Nothing violent but extremely lengthy and extremely active."
The USGS says the depth of the earthquake was just less than seven miles, and numerous small aftershocks have occurred in the Napa wine country.
"A quake of that size in a populated area is of course widely felt throughout that region," said Randy Baldwin, a geophysicist with the U.S. Geological Survey in Golden, Colorado. "The 6.0 is a sizeable quake for this area. It's a shallow quake. It's about 6 miles deep. We received hundreds of reports on our website from people that felt it in the surrounding area."
California Highway Patrol Officer Kevin Bartlett said cracks and damage to pavement closed the westbound Interstate 80 connector to westbound State Route 37 in Vallejo and westbound State Route 37 at the Sonoma off ramp. He says there haven't been reports of injuries or people stranded in their cars, but there are numerous flat tires from motorists driving over damaged roads.
Highway Patrol and the California Department of Transportation was checking roadways for damage, Bartlett said.
California Highway Patrol Officer Daniel Hill told KTVU-TV that road damage appears confined to the Napa and Sonoma areas. He said there appears to be no damage to major bridges in the Bay Area.
In Napa, city spokesman Barry Martin there has been significant damage. Store windows were broken and water mains broke in several location, one of which left at least one street flooded. Power outages left streetlights dark.
Numerous emergency vehicles were on the roads in Napa and Sonoma counties.
Associated Press writer Tom Verdin in Sacramento contributed to this report.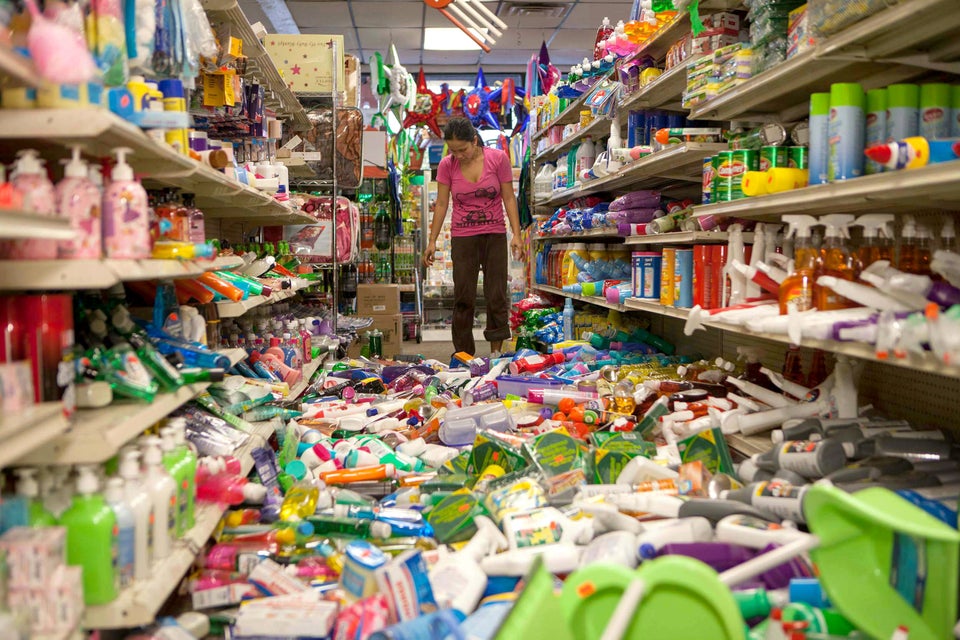 Bay Area Earthquake -- 8/24/2014
Support HuffPost
The Stakes Have Never Been Higher
Related
Popular in the Community