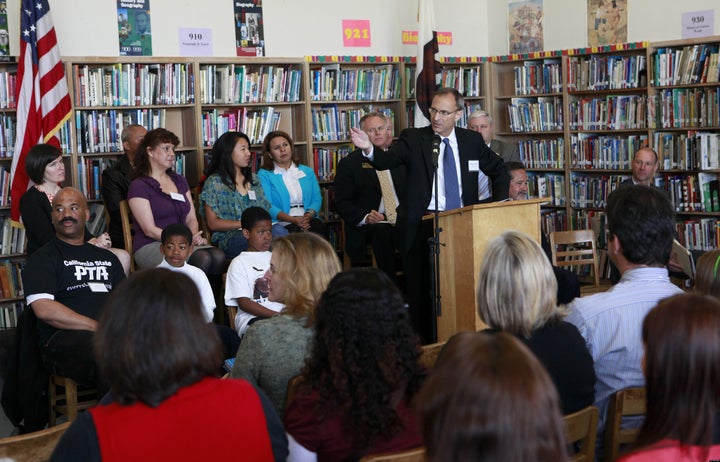 As public schools continue to be battered in California's budget wars, parents are organizing to compete with other powerful constituencies fighting for a share of dwindling taxpayer dollars and to push for education reforms.
At least two new parent-driven groups have emerged in recent weeks, Educate our State, and Educacy. Educate Our State was formed by parents in San Francisco and nearby districts - after a successful town hall meeting attended by 1,000 people.
"We realized that there were thousands of local groups working tirelessly to advocate for their communities, and the time has come to rally these groups and focus our efforts where we can achieve a real long-term solution in Sacramento," said co-founder Susie Peyton, who has three children in Redwood City schools.
Linda Shaffer, a parent of two children in Sherman Elementary School in San Francisco, another co-founder, said her organization may back an initiative on the 2012 state ballot that would provide more resources for the public schools.
"We thought we would focus more solely on parents," she said, "and not get get too hung up in politics around unions that comes with the 'T' in PTA."
The Silicon Valley-based Educacy, which is still in its planning stages, also has a statewide focus. The group emerged from a hugely successful spring fundraising effort that raised $2.2 million for the Cupertino Union School District using grassroots techniques.
Hoi Yung Poon, one of the leaders in the Cupertino drive who has a son in the Christa McAuliffe Elementary School in Saratoga, has joined forces with Kay Louis, a parent in the Redwood City School District, and Steffanee Taylor, a parent in the Evergreen Unified School District in San Jose.'
A major goal, according to the group's prospectus, will be voter registration "to help school districts pass measures and elect candidates that support education reform."
In Los Angeles, Parent Revolution, headed by Ben Austin (recently appointed to the State Board of Education by Gov. Arnold Schwarzenegger) has a narrower, more local focus, trying to persuade 51 percent of parents in a school to sign a petition demanding a transformation of that school, including forming a charter school.
(Several months ago Steve Barr, founder of Green Dot Public Schools, which operates 18 charter schools in Los Angeles, told me he was trying to organize a statewide "Campaign for California Schools," but I was unable to reach Barr, arguably the most successful parent organizer in California's history, to find out what has happened since our conversation).
Another significant organizing effort was launched in April by the California School Employees Association, which represents 220,000 custodians, cafeteria workers and others. In May, it formed California Advocates United to Save Education, or CAUSE, the primary force behind 35 rallies that protested education cuts across the state May 19.
Many of CSEA's members are themselves parents, and have sponsored house meetings, and met with their elected representatives in Sacramento to sign a pledge not to make additional cuts in education.
"We're taking a methodical approach, targeting folks in local communities to build a united force, as opposed to a splintered one," said spokesperson Carolyn Constantino. "Everyone tells us what a priority education is to them, but they don't know how to have an impact."
The goal, she said, is "to start at a local level and build a movement for education and bring it up to the state level."
Involved parents must have noticed what happened after public college students throughout the state protested against higher fees and other cutbacks. Higher education leaders also presented a united front in urging Sacramento to undo some of the most egregious cuts. And that is precisely what Schwarzenegger and the Legislature now have pledged to do.
Parents are arguably among the least politically active, given the relentless time and financial pressures of raising children. For years, many have worked on local school issues through their PTAs to advocate for their schools, and the California PTA to represent them in Sacramento. But in a state where Sacramento controls so much of what happens in local schools, some parents are beginning to realize they may have no choice but to get more directly involved in political organizing.
Support HuffPost
The Stakes Have Never Been Higher
Related
Popular in the Community