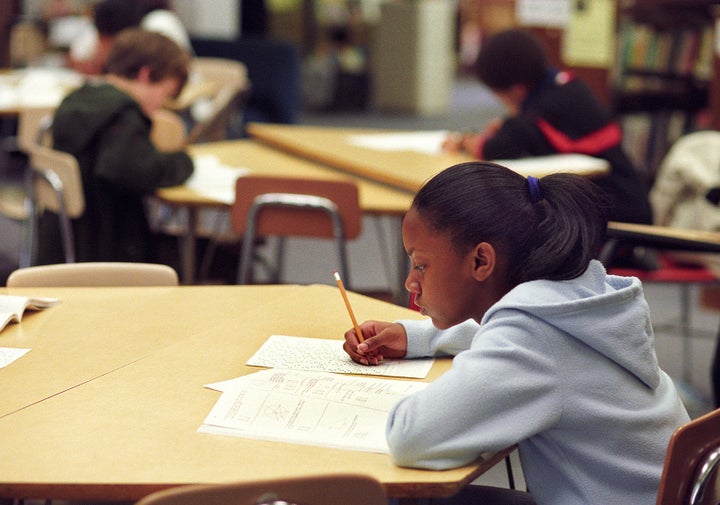 The California Department of Education has stripped nearly two dozen schools of a key state ranking as a result of cheating among educators and irregularities in test administration.
A report Sunday by the Los Angeles Times revealed "adult irregularities" in 23 of 10,000 schools statewide on tests administered last spring. Misconduct included giving students test questions before the actual exam, helping test-takers correct wrong answers during the exam and failing to cover bulletin boards that could provide test answers.
California schools are scored on the Academic Performance Index -- a scale that ranges from 200 to 1,000. The exams students took in the spring factor into a school's API score, which rewards schools with high rankings and increases property values and penalizes schools with low rankings.
The API is considered the "cornerstone" of the state's high-stakes student accountability system that determines whether a school meets federal Adequate Yearly Progress requirements under the No Child Left Behind law. A poor API and failure to meet AYP could mean state intervention that range from giving students the option to transfer out to school closures and staff turnover.
The number of schools, however, with testing violations has remained flat over the last three years at about two dozen annually. Schools with violations that affect at least 5 percent of its students are stripped of its API rating.
One teacher, according to the LA Times report, used facial expressions to give students clues on right or wrong answers. She also "corrected student tests and sent students back to their desk to fix incorrect responses" and "helped set up math problems where students couldn't themselves." The teacher later informed parents that their student had performed well on portions of the test, information that would snot have been available to her at that point.
Investigators at the time implicated 178 Atlanta educators involved in test tampering, including erasing students' incorrect answers on standardized tests and replacing them with correct ones. The findings shook the country and "stunned" U.S. Secretary of Education Arne Duncan.
The uncovering of the cheating scandal that plagued Atlanta Public Schools last year unveiled a widespread and deeply embedded culture of cheating, fear, intimidation and retaliation among the district's educators. The teachers were afraid, reports showed, to be held accountable for students who performed poorly on standardized tests and subsequently be evaluated poorly, miss out on bonuses or contribute to their school and district's inability to receive funding for meeting or exceeding federal benchmarks.
Popular in the Community