 As Californians entered the voting booths, many likely believed they were in charge, pulling the levers of power with their ballots.
But Tuesday's election results were heavily influenced by a trifecta of decisions made years earlier -- two ballot initiatives that dramatically overhauled California's political and electoral process, and a U.S. Supreme Court ruling that allowed unlimited money to prop up campaigns.
Citizen redistricting, the new top-two primary system and "SuperPac" money guaranteed this election would shake things up.
Veteran incumbents -- from Rep. Howard Berman, D-Van Nuys, to Rep. Laura Richardson, D-Long Beach, to Rep. Pete Stark, D-San Fransisco -- were knocked out, raising the question of whether redistricting and the top-two system were bigger foes than their opponents.
For others candidates, such as incumbent Rep. Joe Baca, D-San Bernardino, the new lines meant costly campaigns, and millions of dollars in outside expenditures.
Tuesday's election marked the first test of California's new approach to redistricting, which voters demanded when they passed Proposition 20 in 2008. Unlike past years, when politicians drew lines in a process described as a "political bloodsport" that often protected incumbents, 14 citizen volunteers carved out state Assembly, Senate and congressional boundaries last year.
Instead of the obvious political operators, such as Michael Berman, Howard Berman's political consultant brother, the maps were drawn by a group that included a chiropractor, architect, professor and urban planner.
"Redistricting really changed the landscape for everyone," said Stuart Waldman, president of the Valley Industry and Commerce Association. "Incumbents had to introduce themselves to new districts. Newcomers had opportunities that didn't exist."
The Citizens Redistricting Commission drafted boundaries for state and congressional seats that kept like-minded communities together, creating for instance, a new Latino district in the eastern San Fernando Valley, and a new Asian-heavy district in the San Gabriel Valley.
The redrawn lines helped Democrats, and drew criticism from Republicans who believed the Democratic Party had a hand in shaping the volunteer groups' final outcome.
"The redistricting (process) favored Democrats," said Jessica Levinson, associate clinical professor at Loyola Law School. "But it also resulted in "costly and competitive races," she added.
Nowhere was that more evident than in the Western San Fernando Valley, where Berman, a three-decade veteran of Congress, was pitted against his fellow Democrat Rep. Brad Sherman in a $15 million race.
Through redistricting, Berman was shifted to the 30th Congressional District, which only included about 20 percent of his old district, while it held about 60 percent of Sherman's.
Unable to overcome the odds, Berman lost to Sherman, who had far less experience, but was a familiar face in the district.
Nearby, 38-year-incumbent Democrat Henry Waxman nearly lost to independent Bill Bloomfield after redistricting pushed his congressional seat into new territory. Waxman racked up large majorities on the Westside of Los Angeles and Santa Monica -- areas that have supported him for decades -- but struggled in the South Bay communities that were new to him. He won by 7 points, his smallest margin of victory since first being elected in 1974.
With redistricting, there was more turnover, as younger Democrats challenged veterans of Congress in districts where the incumbents had no clear advantage.
But California may quickly lose many of its veteran members if other states don't follow suit, and also do away with politically-charged line drawing.
"That's the danger," Levinson. "Unless every state does redistricting with an independent commission, California risks losing its senior members."
Tuesday was also the first test of California's new top-two primary system, in which the top vote getters compete in the runoff, regardless of party. Voters approved the system through Proposition 14 in 2010 after supporters said it would result in more moderate candidates.
The result on Tuesday was a slew of Democrat vs. Democrat and a fewer number of Republican vs. Republican races.
A combination of top-two and redistricting cost three-term Democratic incumbent Richardson her seat. Richardson, who was reprimanded by the House Ethics Committee in August for coercing her congressional staff into working on her campaign, lost 60 percent to 40 percent to fellow incumbent Democratic Rep. Janice Hahn. The new 44th Congressional District stretches north from San Pedro into Carson, Compton, Lynwood and South Gate. It also includes parts of Los Angeles and Long Beach.
Additionally, Tuesday's election was the first major contest influenced by SuperPACs, political-action committees that are allowed to collect and spend unlimited amounts of money from corporations, unions, individuals and associations. The committees have flourished following key court rulings in 2010 that found limits on corporate and individual contributions violated the First Amendment right to free speech.
Overall, groups poured more than $56 million in outside expenditures into California's House races.
In a last minute push, Democrat Gloria Negrete McLeod got a $3 million boost from Independence USA, a Super PAC backed by New York Mayor Mike Bloomberg.
Those funds may have helped her push out incumbent Rep. Joe Baca, who served in the House since 1999, to win the newly drawn 35th Congressional District.
Aside from SuperPACs, candidates themselves also raised a lot more money than in past years. Bloomfield, for example, raised $6.4 million for his battle with Waxman, though most of that came from his own wallet.
And in the 47th Congressional District race, candidates raised a total of $2 million in one of the first truly competitive Republican vs. Democrat races in Long Beach in recent years.
Democrat Alan Lowenthal won in the left-leaning district in a close race against Republican Gary DeLong.
Pundits believe consultants and the candidates are still figuring out the campaign strategy for California's new political landscape, said Allan Hoffenblum, a former GOP consultant and author of The California Target Book, a nonpartisan guide that handicaps local races.
"It will be a couple of election cycles before we know the impact," Hoffenblulm said.
But some political observers already seem more hopeful about the process.
Jennifer E. Walsh, a professor of government at Azusa Pacific University, dubbed the old way of redistricting as "gerrymandering on steroids."
"It resulted in bad elections on both sides," Walsh said. "I'm personally hopeful we are going to see more competitive elections and greater attentiveness to voter concerns."
Staff writers Eric Bradley, Brian Sumers and Steve Scauzillo contributed to this report. ___
(c)2012 the Daily News (Los Angeles)
Distributed by MCT Information Services
Before You Go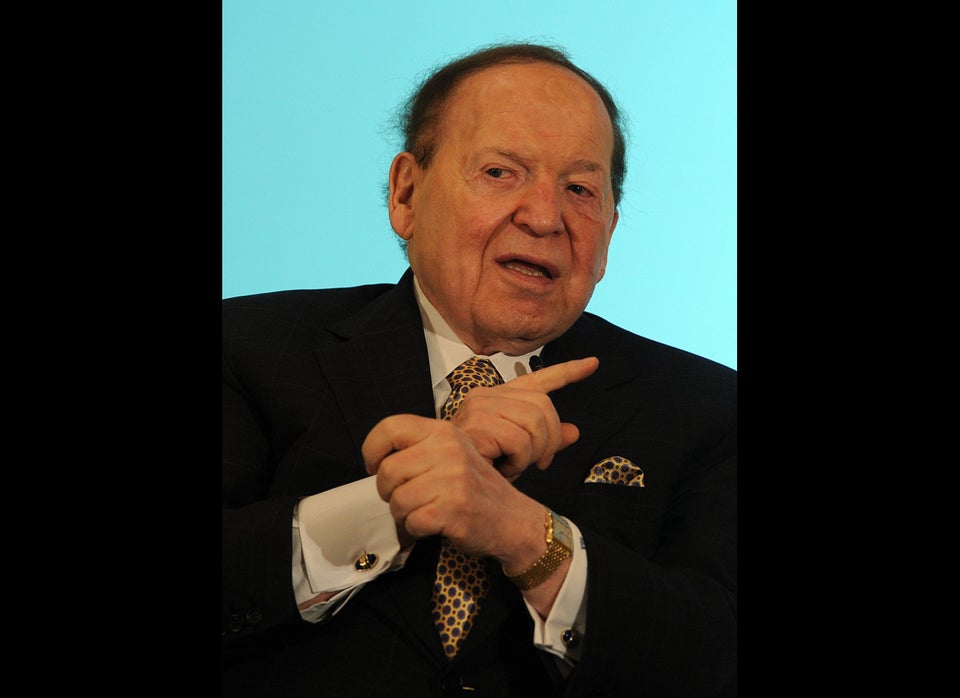 Donors Giving $500,000-Plus To Super PACs
Popular in the Community