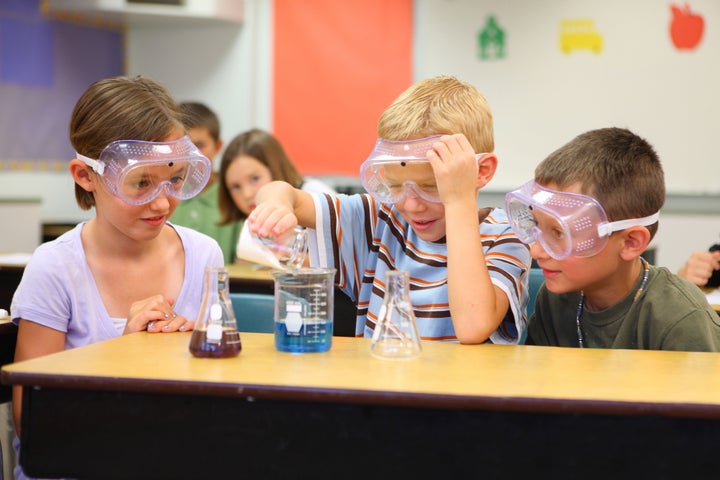 California, home to some of the world's leading engineers, tech companies and research institutions, is failing to provide high-quality science education to public elementary school students, according to new research.
Just 10 percent of elementary school classrooms provide regular hands-on science experiments, and 40 percent of elementary teachers say they spend an hour or less teaching science each week, according to the report, "High Hopes -- Few Opportunities." Fewer than half of surveyed school principals think their students would receive high-quality science instruction in their respective schools.
The study, commissioned by education think tank WestEd and conducted by the Lawrence Hall of Science at UC-Berkeley, analyzes data collected during the 2010-11 academic year and surveyed teachers, principals and school district leaders across the state.
Additionally, only about a third of elementary teachers feel very prepared to teach science. And most teacher say that their ability to teach science is held back by lack of time and emphasis on English and math instruction.
On a higher level, the report shows that about two-thirds of school districts do not have elementary science specialists at the district level, and an even greater portion -- three-fourths -- of elementary schools don't have access to someone who specializes in science.
The most effective science instruction was found in elementary schools that had plans for long-term science training and support, and had developed partnerships with members of the community for involvement.
"California can fulfill the high hopes that many have for making science education a priority in our state and nation, but this will require real commitment to revise the accountability systems that have pushed science education out of California's classrooms," the study's authors write in their report. "The state needs a new road map for supporting science education in public schools to ensure that all students have the chance to participate in high-quality science learning opportunities that are crucial to their success and to the future of our state."
That new road map, the researchers suggest, should include the restoration of a balanced curriculum and the allocation of adequate resources and support systems to teachers and schools.
A focus on science and math education comes as the U.S. is becoming increasingly concerned over learning among the country's youth in science, technology, engineering and math (STEM). International testing has shown that American students fall behind foreign counterparts in math and science performance, and a 2009 study showed that U.S. students ranked 25th among 34 countries in those areas -- behind nations like China, Singapore, South Korea, Hong Kong and Finland.
Popular in the Community