California will soon have what advocates say are the strongest equal pay protections in the country after Gov. Jerry Brown (D) signed the California Fair Pay Act into law Tuesday.
SB 358, introduced by state Sen. Hannah-Beth Jackson (D) earlier this year, requires employers to prove that any pay gap between workers is due to factors like skill level or seniority and not gender. Additionally, the legislation protects workers from retribution for sharing salary information or asking about their colleagues' compensation.
Brown signed the bill into law during a ceremony at Rosie the Riveter Park in Richmond, California.
"Sixty-six years after passage of the California Equal Pay Act, many women still earn less money than men doing the same or similar work," Brown said. "This bill is another step toward closing the persistent wage gap between men and women."
The bill unanimously passed in the state Senate in May, and cleared the Assembly 66-2 last week.
Jackson attended Tuesday's ceremony, posting a celebratory photo on Twitter:
"This is a momentous day for California, and it is long overdue. I want to thank the Governor for his support and for signing this bill into law. Equal pay isn't just the right thing for women, it's the right thing for our economy and for California," Jackson said in a statement. "Today, California leads the nation in showing how it can be done."
The legislation goes a step further than existing fair pay regulations by establishing the standard of equal pay for "substantially similar work" rather than "equal work." The bill's backers say this language closes a loophole employers could use to justify gender-rooted differences in compensation.
While federal attempts at closing the gender gap, such as the U.S. Senate's Paycheck Fairness Act, have divided congressional Democrats and Republicans, the California bill had strong support from both parties as well as business groups like the California Chamber of Commerce.
"As working moms and women who have competed in male-dominated industries, Assembly Republican women stand behind the importance of paying women and men equally for equal work," Assembly Minority Leader Kristin Olsen (R) said in a statement in August.
On average, women are paid 78 cents for every dollar a man earns. The gender pay gap is even worse for women of color. As the Center for American Progress reported last year, Hispanic women on average made just 54 percent of what white men made in 2013, while black women made 64 cents on the dollar compared to white men.
Equal pay regulations have been on the books in California since 1959, but pay disparity still persists. A 2013 study by the National Partnership for Women & Families found California women earned an average of 85 cents on the dollar compared to men, costing female full-time workers approximately $33.6 billion annually.
Advocates hope California's new law is a beacon of progress to come.
"The win here is undeniable. We think of 2015 as the year of fair pay," Equal Rights Advocates executive director Noreen Farrell said in a statement. "With the strong support for fair pay bills in the California legislature, a business community willing to prioritize pay equity for women, and calls for fair pay from the Oscars stage to the United Nations, it seems the tides are shifting toward closing the gender wage gap."
The law also won praise from actress Patricia Arquette, who put a spotlight on pay equality during her acceptance speech at the 2015 Academy Awards.
"The California Fair Pay Act received bipartisan support because women support families and drive our economy. They also have tremendous political power," Arquette said in a statement. "It is a critical step toward ensuring that women in California are seen and valued as equals."
The California Fair Pay Act goes into effect Jan. 1.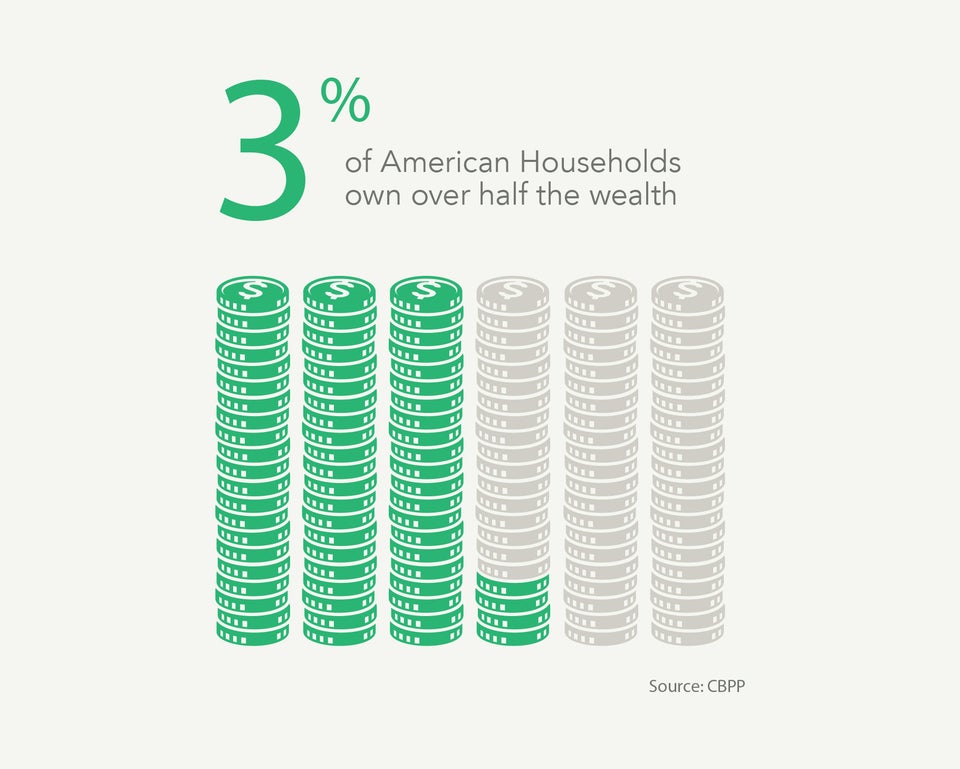 Income Inequality In California
Popular in the Community