The summer is drawing to a close, which means the tsunami of exhibitions that kick off the fall season is only weeks away. But before that happens, there remain a number of outstanding warm season shows in California that you should catch this coming Labor Day weekend.
ArtScene and Visual Art Source are the in print and online resources to fine art galleries and museums in Southern California and the Western United States. Visit us online or pick up a copy for complete listings of art venues and editorial Reviews, Recommendations and Previews of the best current exhibitions. Be sure to visit our Openings Calendar page so you can plan visits to the latest exhibitions--of wherever you may be in the Western States.
Want to opt-in for a free subscription to stay current every day on our Weekly Newsletter, as well as new shows, events and (if you are an artist) artists' calls? It's easy.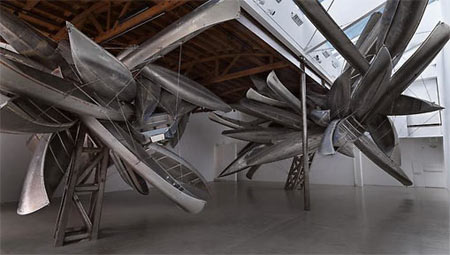 Nancy Rubins, "Work for New Space, Stainless Steel, Aluminum, Monochrome I," 2010, stainless steel, stainless steel wire, aluminum, 23'4" x 37' x 43'; "Work for New Space, Stainless Steel, Aluminum, Monochrome II," 2010, stainless steel, stainless steel wire, aluminum, 18'8" x 34' x 35"9', at Gagosian Gallery. Photo by Erich Koyama
If there is no surprise in the pair of massive sculpture assemblages Nancy Rubins presents, they exude overwhelming presence together with endlessly satisfying incidents. Constructed entirely of bare steel and aluminum canoes and kayaks, they rise weightless above you, encircling like a still tornado. Frozen by wire and a single muscular, angled base, one's gaze is directed upward to discern linear elements formed by the swirling pods and wires, and negative spaces between them that shift fluidly as you move. It's not unlike being among a flock of large birds just taking flight. Rarely have objects of this weight and scale conveyed such lightness.
It must be noted that with time our instinctive trust in the stability of Rubins' structures has fundamentally changed the way those familiar with her work approach it. The initial charge of being at the physical mercy of such a mass that might fatally collapse upon you at any moment has long since given way to a trustful assumption in their stability. It is important and admirable that the aesthetic qualities here push decisively beyond this; it shows that Rubins has gotten beyond the spectacle.
On Kawara, "Jan. 1, 1997" from the "Today" series, 1997, oil on canvas, at McBean Gallery, San Francisco Art Institute.
Continuing through September 18, 2010
McBean Gallery at San Francisco Art Institute, San Francisco, California

On Kawara is a New-York-based conceptual artist known for his "Today" paintings, faultlessly executed acrylics depicting their date of creation in white letters on black backgrounds, e.g., "Jan.1, 1997." Kawara's one-day artworks, accompanied by same-day newspaper clippings, treat the age-old themes of time and mortality in a deadpan style that seems equally bureaucratic, absurdist and Zen. His reticence invites viewers to fill in the blanks. In "Pure Consciousness at 19 Kindergartens" Kawara arranged for seven paintings (1/1/97-1/7/97) to be shown for two-month periods at nineteen kindergartens all over the world.
The paintings are shown along with booklets prepared by the participating schools -- "from Istanbul to the Ivory Coast, from the Amazon to Avignon, from Shanghai to Toronto, from London to Lund," to quote one writer. Some viewers, noting how the photographed children ignored the wall-mounted paintings, may recall the traveling-gnomes photos in the film "Amélie." But devotees of conceptualism should read the local interpretations of the project's meanings, which praise its rigorous formalism, its poignancy, its transcendence of artworld dogma, and its attainment of the "gentle and innocent consciousness of children."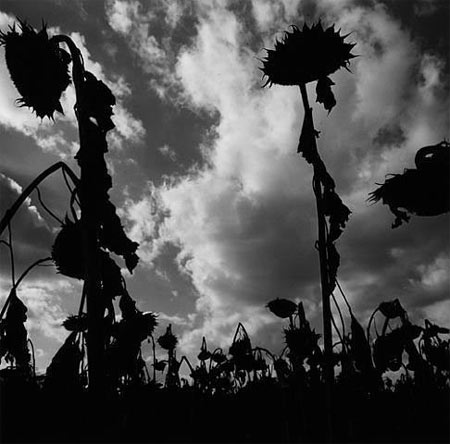 Graciela Iturbide, Untitled from the "Asor" series, black and white photograph, no date, at Rose Gallery.
Continuing through September 18, 2010
Rose Gallery, Santa Monica, California
Mexican photographer Graciela Iturbide has been making exquisite black and white images since the 1970's. In the exhibition which accompanies her book "Asor" Iturbide presents images culled from her personal archives, many of which have not been exhibited before. Her square formatted images are sequenced to not only celebrate the works' formal qualities, but also the narrative in and across many pieces. Iturbide's subjects include people as well as the built and natural landscape. Her keen eye isolates forms and gestures that have a dream-like quality as well as political and social commentary.
The book, printed on uncoated paper, frames each image in black. Such a solid border grounds them in a tradition of street photography rather than high art. (The book is accompanied by a CD with musical compositions by the artist's son.) While the gallery experience is silent, the book is meant to be looked at and listened to simultaneously, reinforcing the overall dream state Iturbide wishes her viewers to journey to.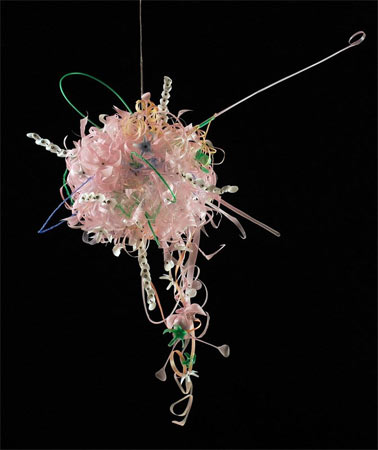 Aurora Robson, "Peoria," 2008, discarded plastic bottles, tinted polycrylic, mica powder, rivets and monofilament, at Traywick Contemporary.
Continuing through September 18, 2010
Traywick Contemporary, Berkeley, CA

Most art contains both figuration and abstraction in varying proportions: realism needs an abstract structure, while abstraction generally alludes to visible realities, even if they remain ambiguous. Art generally tries to escape being limited to its formalist properties, and may have done so, arguably, even during the Clement Greenberg era, when theory ran riot. "2-D/3-D" features five artists -- Mari Andrews, Jessica Martin, David McDonald, Aurora Robson and Lucrecia Troncoso -- who create hybrid drawings/paintings and sculpture sharing common elements and approaches. Martin writes, "Working in two and three dimensions gives me a way to add more layers of imagery and meaning to my work.... Sometimes a detail of a sculpture will be translated onto a painting (or vice versa), and the original and new [developed] imagery are fused. As a result, the past, present, real and imagined exist together."

That cross-medium fertilization manifests in different ways. Andrews makes poetic wire constructions ("Acocoil," "Ramble"), or drawings in space, that incorporate found natural objects like pebbles, pods, and thorns. Her framed wall pieces ("Eye," "Glass"), with their twig-like wire armatures and paper skins, look like diagrams or X-rays of three-dimensional sculptures. The floral motifs in Martin's ink/acrylic drawings and paintings ("Untitled bronze") take physical form in her wax and hot-glue "Imaginary Object" sculptures. McDonald's vocabulary of irregular rectangles in his untitled works on paper is made physical in "Ikebukuro," a precariously stacked double tower of blocks, some painted, some left raw, that also resembles crude legs, minus torso, atop a podium. Robson finds ingenious ways to recycle the stuff most of us toss out: junk-mail solicitations become lyrical semi-abstract collages ("Active Ingredient"), albeit laced with ad-copy superlatives; and plastic bottles, some 50,000 of which she has reclaimed for art, become jungles or seas of extravagantly beautiful (and bleach-sterilized) airbrushed assemblages. Troncoso, finally, makes the dueling of artistic modes her subject in "Fireflies," a yellow painting on paper mounted behind a spray of white Christmas tree lights (not blinking), and "Immortal," an array of framed colored-paper squares matched with painted versions on panel.

- Dewitt Cheng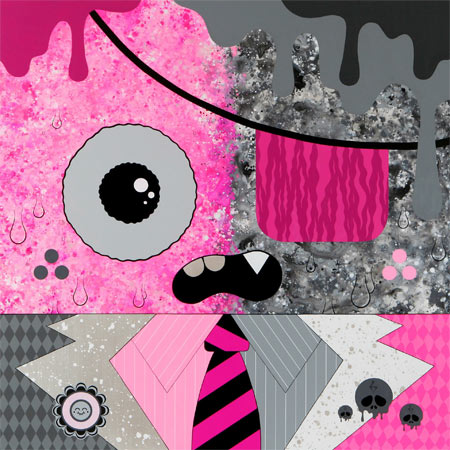 Buff Monster, "Untitled," 2010, acrylic on wood panel, at Corey Helford Gallery.
For his fourth solo exhibition here, "Beyond the Pink," street artist Buff Monster renders his colorful cast of amorphous characters in tie-dye camouflage. Alternately sporting fangs or dimples in lieu of mouths, he places them in meticulous 2D patterned landscapes that allude to analogue video game technology, and accessorizes his creatures with the symbol of Satan. The arsenal of subjects employed in the works are nether worldly creations inspired by Japanese design. An outright spermatozoa transforms the squeaky clean Scrubbing Bubbles characters into curious and mal-intentioned creatures. Several pieces bear Japanese typography or text referred to as "Buff Monsterisms" such as "Like it up," "Take Me to the Lollipop Land," and "Extra Creamy." The tongue-in-cheek verbiage riffs on the suspicious waves of liquid that ooze out of the creature's bodies; curious sexual innuendos are masked by the cute and overwhelmingly pink creations.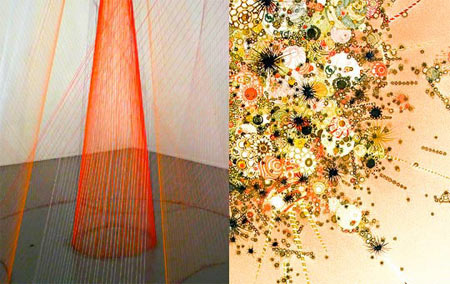 (l.) Jane Flynn, "Outerspace" (detail). (r.) Jill Gallenstein, "A Girl Names Peaches" (detail), ink on paper, 20 x 24".
Continuing through September 11, 2010
Johansson Projects, Oakland, California
Linear and organic structures complement each other in this two-person show of sculpture and works on paper. There is a shared lightness to the works, giving the exhibition an overall ethereal, meditative feel. The exhibition comprises two sculptures by Jana Flynn -- one wall mounted and the other a site-specific, floor-to-ceiling work that spans the back of the gallery -- and several ink-on-paper works of various sizes by Jill Gallenstein.
Flynn's creations come out of the craft of string art (think geometry class projects, gone huge, complex, and elaborate). She arranges arrays of strings, each their own color: Each same-length piece of string is fixed at either end; termination points are at equal intervals. Each array of strings, then, effectively creates a plane. Flynn interweaves these planes, shaping and bending space. The works are at once delicate in their transparency while also being formidable -- the taut lines make firm boundaries. (Of note is that these very precise, measured works are created improvisationally; they are not preplanned.)
Juxtaposed next to these are highly detailed and gorgeously colored works by Gallenstein. Rounded objects, starbursts, and other creations from the artist's imagination group together, string out, and sometimes regroup across or down the paper; the backgrounds often feature subtle washes of color which enhance the atmosphere. The intricacy of these works cannot be overemphasized; they are stunningly rendered, each shape decorated with dots and lines to the tiniest degree. Up close, they are a wonder of obsessive attention; far away, they present beautiful, fluid compositions in bright, dramatic palettes.
Considering these two artists together, Flynn's sculptures bring out the taut structure in Gallenstein's work; Gallenstein's seemingly amorphous works highlight the lyric aspects of the three-dimensional pieces. If these works hold their own individually, seeing them side-by-side mutually enhances their impact -- a reminder of how the experience of an artwork is profoundly affected by its surroundings.
Related
Popular in the Community