In the days since Camp Fire ravaged Butte County, consuming 150,000 acres and more than 10,000 homes, Annie Finney's house has been turned into a makeshift school, filled with a group of eager second-graders.
Finney, a teacher at Children's Community Charter School in Paradise, California, is one of the lucky ones. Most of her school burned down, but her house is still standing, which is more than many of her students and co-workers can say.
In the morning, students sit around her kitchen table, practicing math problems on a whiteboard that Finney borrowed from a neighbor. In the afternoon, they go outside for recess on her front lawn, wearing plastic masks to protect against the polluted air as they play basketball.
"After we figured out everyone was safe, I knew we would want to meet up again and show that we're still a community," said Finney, a teacher of nine years.
For teachers in Butte County, Nov. 8 could have been any other day filled with backpacks and blackboards, until the sky became dark and students were ordered to evacuate. Now, after the smoke has cleared, many will never be able to return to their classrooms, after the fire destroyed at least three schools and damaged five more in the Paradise area. County schools have been closed since the fire, with the hope to start up again Dec. 3. But it's unclear where classrooms will be housed and how many students will be coming back to the area. Students and teachers will work together on reading, writing and arithmetic, but also on finding on shelter and rebuilding their lives.
For the past few days, about a dozen students have come to Finney's house, as her husband, a firefighter, has gone out to sift through rubble for missing persons. Only about two of her students still have their homes. Those that are still in the area come to her from temporary trailers and the homes of friends and family members. The structure and sense of normalcy – at least for a few hours a day ― has been helping them cope with all the ways in which their typical routine has come crashing down.
When school starts up again, she has no idea where she'll be teaching or how many of her students will still be living in the area.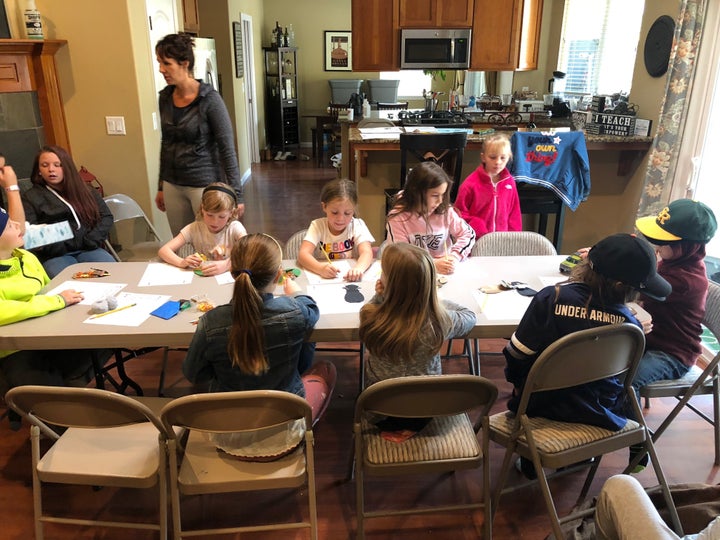 Most students from Paradise Unified School District who have been reached by teachers say they hope to stay in the district, according to Marc Kessler, a seventh-grade teacher at Paradise Intermediate School. Kessler has been working with other teachers to try and track down every student in the days since the fires. Students also communicate with teachers and each other through a website that was set up for them to share their experiences.
A group of teachers call about 15 students a day, says Kessler. Others can't bear to make the calls: They're still too traumatized and busy trying to ensure their own survival.
Kessler spends about three hours a day making calls, in addition to delivering gift cards to families in need and trying to track down supplies for the makeshift school that students will eventually return to. Teachers at his school are working to create a school for thousands of students in two weeks. They need computers, chairs and desks.
"We were in a life-or-death situation with our students, and it's been hard for us, not knowing where they went and what happened," Kessler said.
Katelyn Alderson, a teacher at Paradise elementary school, can't fathom the idea of delving back into academics upon returning to school. At first, she just wants to make sure her students are okay.
Alderson's school burned down, along with her house. Before the fire reached the school, she spent the morning trying to occupy her students in her classroom, keep them calm with games and tasks that would mask the chaos of the day.
But eventually, the fire made its way to the back door of her home, and she was sent to collect whatever she could salvage. For her students, the situation only got worse. When a bus came to evacuate students who hadn't been retrieved my parents, it left without taking all the school's kids. Teachers were told to stuff children in their cars and drive for their lives, embers flying all around them.
"We were in a life-or-death situation with our students, and it's been hard for us, not knowing where they went and what happened."
Now, like many of her students, Alderson is house-hopping with her husband, a fellow teacher, as they try and figure out what's next.
"All I want is to hold my kids and tell them it's going to be ok," Alderson said.
Life was already tough for many students in Butte County before the fires destroyed their communities.
There, more residents report having multiple Adverse Childhood Experiences (ACEs) than any other county in California. The ACEs scale is used to measure childhood trauma. Now, youth counselor Greg Shafer worries that life for local students is only going to get worse.
Shafer has been helping at a shelter for those who have been displaced as he works to track down his students, who are spread out between shelters, tents, trailers and houses of family members and friends in other communities. Many of Shafer's students – who he treated in schools around the county ― already technically fit the definition of homeless before the fires started. He can only imagine how tenuous their already fragile routines must feel.
He describes the ones he as spoken to as being in a state of shock and focused on the short-term challenges of the day, like getting a relative's necessary medication.
"This is going to be a deeply traumatic event of their life, and it is going to take years for it to have any meaning," Shafer said.
Popular in the Community