Authorities geared up for another grueling day of rescues Friday as the death toll from the Northern California wildfires continued to rise.
At least 32 people have died as 21 fast-moving blazes have roared across a 300-square-mile area, about the size of New York City. Most of the fires were less than 10 percent contained as of Thursday, with about 8,000 firefighters working to extinguish them.
Seventeen fatalities have come in Sonoma County. Other deaths have been reported in Mendocino County (eight), Yuba County (four), and Napa County (two).
The 32 deaths have set a new state record for the deadliest spate of wildfires in California history. The second-deadliest event was in 1933, when a fast moving brush fire in Los Angeles' Griffith Park killed 29 people and injured more than 150.
"We will do everything in our power to locate all the missing persons," Giordano said. "And I promise you we will handle the remains with care and get them returned to their loved ones."
The Sonoma County Coroner's Office identified 10 people killed in the county, eight of whom were in their 70s or older. Giordano said authorities had begun searching for those killed by the blazes.
"We have recovered people where their bodies are intact," he said, before noting that officials "have recovered people where there's just ash and bone."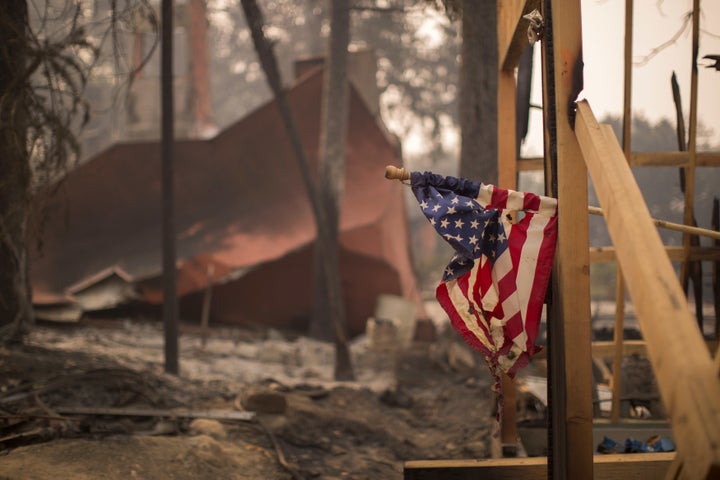 Giordano warned it'd be "unrealistic" to think the death toll wouldn't continue to rise. He noted that in Sonoma County alone, out of a total of 900 people who were originally reported as missing, 437 have been confirmed as safe.
Most of those reported missing are presumed to have the status due to the difficulty of communicating in the area, not because they're necessarily deceased or injured.
"We have had big fires in the past," California Gov. Jerry Brown said in a press conference Wednesday. "This is one of the biggest, most serious, and it's not over."
"We're pretty exhausted. It's pretty steep terrain," Sonoma firefighter Steven Moore told NPR. "We've been dealing with trying to save the structures. The winds aren't helping. All we can do is get to the structures as fast as we possibly can and save what we can."
Evacuations continue across Napa and Sonoma counties as authorities attempt to convey the severity of the threat.
"This is a mandatory evacuation. Your presence in Calistoga is not welcome if you are not a first responder," Calistoga Mayor Chris Canning said.
Some evacuees even left behind cookies for the first responders, according to The Associated Press.
Support HuffPost
The Stakes Have Never Been Higher
Related
Popular in the Community