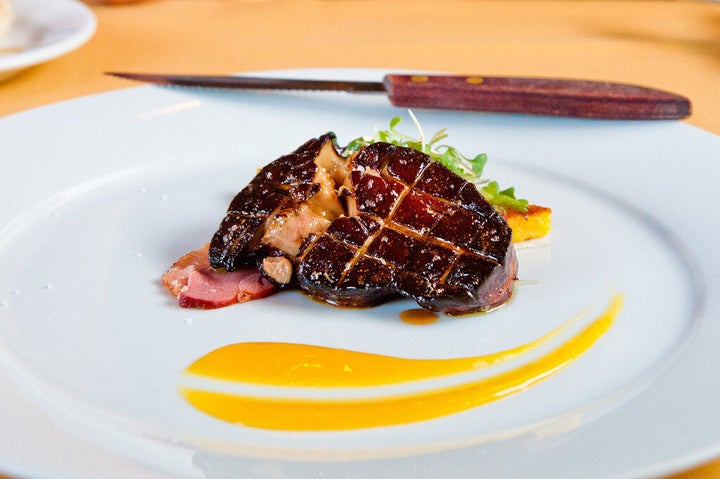 It's finally here: California's foie gras ban goes into effect Sunday. The law, enacted eight years ago, makes illegal the serving of fattened duck or goose liver, which many animal groups have demonized as an inhumane practice.
For the uninitiated, foie gras -- which means "fatty liver" in French -- is made by force-feeding corn to ducks and geese with a metal tube that's stuck down the animal's throat. The liver becomes enlarged over the course of many feedings, and when harvested, is praised in gourmet dishes for its buttery, siken texture and rich flavor.
Up and down the state, chefs and foie-thusiasts alike have railed against the measure, all the while whipping up elaborate foie gras farewell dinners and events.
The Los Angeles Times details one dinner at Santa Monica restaurant Melisse, which had offered for the last three months a seven-course all-foie gras menu for $185 a head. Chef Ken Takayama told the paper that he'd never bought so much foie gras in his entire cooking career. "It's just insane," he said.
Greg Daniels, the owner of Haven Gastropub in Pasadena, also told CNBC that he'd thought the ban would just go away. "To chefs around the world, they think it's ridiculous," he said. "It's the stupidest thing that Californians could ever do, and it just proves the Californians are stupid."
Some businesses dependent on foie gras have moved out of state to escape the ban, including culinary website Mirepoix, which specializes in foie gras and other gourmet products. Mirepoix's owner Laurel Pine, who moved her company to Nevada, told Reuters that her sales have actually boomed to nearly four times the normal amount in the last month as people begin hoarding foie gras.
Said Pine, "People in California are buying products they can keep in their freezer for the next two years.
Despite the uproar, some are speculating that the ban won't be strictly enforced. Los Angeles Police Department Officer Karen Rayner told The San Francisco Examiner that serving foie gras "is not a crime that would be investigated by the LAPD or likely any other municipal police department." San Francisco Police Department Sgt. Michael Andraychak likewise revealed that he was "not aware of any plans for us to enforce it."
The official punishment for those who break the ban is a $1,000 citation, but the Examiner also reports that animal activists, who were instrumental in getting the ban passed in the first place, won't likely be deterred:
"We're going to come down like a hammer on any chef or restaurant that wants to continue serving this very cruel product," Bryan Pease, co-founder of the Animal Protection and Rescue League in San Diego, said in a telephone interview.

"If we find somebody still serving that product, the gloves are going to come off and we'll use every legal means available to shut that place down, including lawsuits, protests and boycotts," Pease said.
The feedings take less than 10 seconds each, and having watched them at multiple farms, I can say that the birds don't react dramatically either way; they don't appear to be thrilled or panicked. Then again, ducks aren't the most expressive animals. ...

Opponents say force-feeding an animal to enlarge an organ to this extent is inherently cruel. Scientific studies draw contradictory conclusions over whether the process actually causes the birds to suffer.
A 2005 article in New York Magazine delved into the subject with Ariane Daguin, co-owner of the leading distributor of foie gras in the country, D'Artagnan. Daguin staunchly rejected claims that the practice is cruel:
"No one invented the foie gras—the ducks did it themselves," she says. "The liver is their cockpit for calories, and they need this when they are going to fly across the Mediterranean, when it is cold. So they have a natural propensity to extend and retract the liver. Besides, they have no gag reflex. It takes me pages to explain this, but all the protesters have to do is hold up a picture of a poor duck and people say, 'If that were me, it would hurt.' But this... this is the anthropomorphisme!"
To date, several countries have banned foie gras, including Italy, Britain, Germany and Israel. HuffPost has a timeline of foie gras ban-related events here.
In 2006, Chicago became the first U.S. city to ban the sale of foie gras. The move enraged chefs, restaurant-goers and other enthusiasts, and eventually the ban was overturned in 2008 by a vote of 37 to 6. Then-mayor Richard M. Daley called the original ban the "silliest" ordinance ever to have been passed by the city.
Related