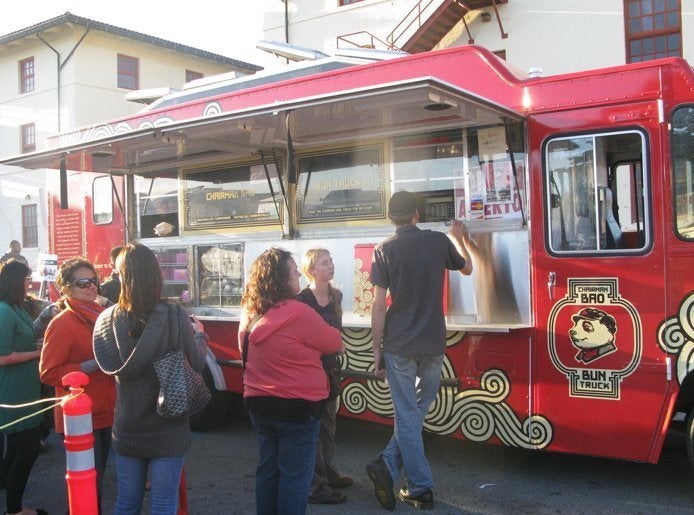 SAN FRANCISCO -- At a Tuesday morning press conference on the steps of City Hall, San Francisco Supervisor Scott Wiener gave official voice to something a lot of small business owners in California have been saying for almost two weeks: hands off our food trucks!
"We are here today to preserve food diversity and choice in San Francisco," said Wiener, who was backed by local food truck advocate and Off The Grid founder Matt Cohen. "The food truck movement is a route to entrepreneurship for many people, especially immigrants, and they help to activate our streets and public spaces."
At issue is a bill introduced by Carmel Assemblyman Bill Monning prohibiting food trucks from vending anywhere in California within 1,500 feet of an elementary, middle or high school--both public and private--between the hours of 6am and 6pm.
The bill is designed to support efforts by school districts in the state to institute healthy lunch programs, which many educators fear are being undermined by the presence of food trucks slinging junk food to students just off campus.
"California has worked really hard to promote healthy food in and restrict access to unhealthy options," Tia Shimada of California Food Policy Advocates, an organization sponsoring the bill, told The Huffington Post. "A lot of these trucks are just driving right up to the curb and reintroducing this food back into school."
But in a densely populated location like San Francisco, the vast majority of the city falls within 1,500 feet (about three city blocks) of a school.
Under Monning's proposal, food trucks would be banned almost entirely from the Haight, Marina, Castro, Downtown, Mission, Bayview and most of the Sunset and Excelsior districts. The only areas really left open for mobile vending would be the South of Market and Dogpatch neighborhoods, which boast a dearth of juvenile educational facilities.
The below map, provided by Supervisor Wiener's office, shows the areas of the city affected by the ban: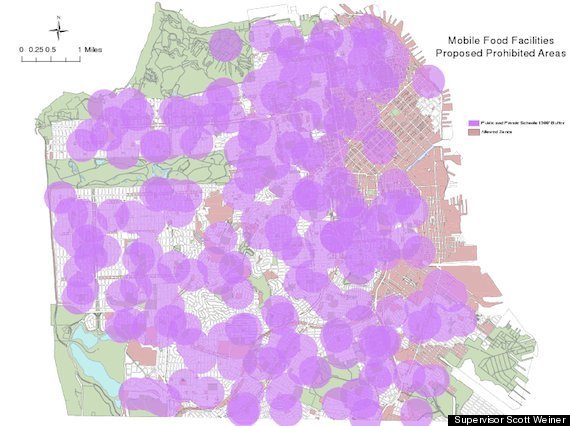 Wiener called the bill "an extreme piece of legislation that...is a very non-urban approach that doesn't work in a city like San Francisco," and said he would be introducing two pieces of legislation at Tuesday afternoon's Board of Supervisors meeting: a non-binding resolution opposing Monning's bill and another measure easing the food truck restrictions already in place.
For years, San Francisco has enforced its own 1,500 foot buffer between food trucks and middle and high schools; however, the city's version has exceptions for trucks located in parks and on private property--provisions that would be wiped out if Assemblyman Monning's bill becomes the law of the land.
Wiener's proposal would shrink the city's own ban to the space of a single city block.
The statewide bill's provision of applying equally to schools with both open and closed campuses has drawn the ire of many truck operators, who see little value in blocking trucks from areas surrounding schools where students aren't even permitted off the grounds.
"It's very intuitive to think that these problems don't happen at closed campuses," said Shimada, "but some of the first complaints we got from schools that led to our sponsoring the bill came from administrators at schools where students aren't allowed to go off campus. The trucks come immediately before school and right after school--it isn't just at lunch."
Many other California cities already have their own similar laws on the books. According to Matt Geller of the Southern California Mobile Food Vendor's Association, 85 percent of California cities with over 40,000 people already have vending limits in place for food trucks and schools.
Geller notes that the current laws are enforced by local police officers and, since this new measure would become part of the state's health code, enforcement would then be overseen by local health officials. "There are only eleven health inspectors in Los Angeles working on food truck issues," said Geller, "so the bill would actually decrease the level of enforcement."
While Monning himself admits that a shortage of health inspectors could prove problematic, he asserts there are other ways to prevent kids from accessing high-calorie, high-sugar food and drinks.
"If we can put a spotlight on the importance of this issue, it would empower school districts to go out and talk to vendors themselves or coordinate with police and local health inspectors," Monning said. "A lot of the enforcement...would come though public education and awareness."
The proximity of unhealthy food to school campuses does have a significant effect. A 2009 U.C. Berkeley study of almost three million California high school freshman found that students are 5.2 percent more likely to be obese if there's a fast-food restaurant within one-tenth of a mile from school.
However, the study brings up another criticism leveled at the bill--that is does nothing to cut down on said fast-food restaurants in close proximity to schools. "I think it's selectively targeting one class of small businesses at the expense of others," Cohen told HuffPost. "For example, it doesn't regulate liquor stores or fast food proximity."
Despite all of these issues, Monning has been in talks with both food truck operators and student health advocates in hopes of amending the legislation to make it more hospitable to those on both sides of the issue. "I'm confident we can hammer out language in the bill that threads the needle of protecting kids and allowing access for adults," he said.
Monning expects the bill to go before the Assembly's Health Committee, which he happens to chair, sometime in March.
Check out this video showing the inner workings of a food truck:
Related
Popular in the Community