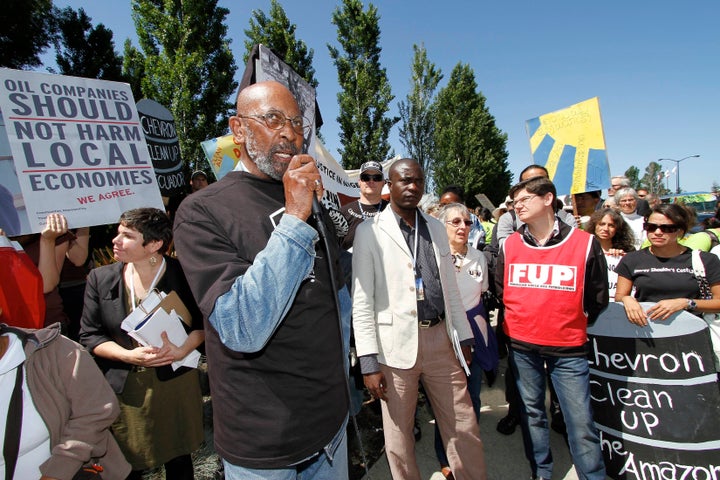 Andrés Soto remembers the first time his parents allowed him to walk to a friend's house after dark. As he made his way down the street in Richmond, California, where he lived, he could see a massive flame shoot up into the air from the refinery in the distance.
"You know, I was 10 years old. I thought it was hella cool," Soto says. "But now I know that's flaring and that it was being done to burn off an imbalance of gases to prevent an explosion."
The Chevron refinery looms large in Richmond — physically, but also in the affairs of its residents and government. On Jan. 22, the city filed a lawsuit against the multinational and 28 other oil, gas and coal companies ― including BP, Exxon and Shell ― for knowingly contributing to climate change.
A climate change adaptation study commissioned by the city revealed challenges it will face by 2100. It found that the city's current levees will not protect it against rising sea levels and its water supply, sourced from runoff from the Sierra Nevada Mountains, is vulnerable to drought.
"We have two rail lines, 3,000 acres of public waterfront parks, vulnerable neighborhoods, two wastewater treatment plants, and a refinery, all subject to inundation," said Richmond Mayor Tom Butt in a press statement.
Richmond is the ninth U.S. community in less than a year to take major fossil fuel companies to court, alleging that the industry has known for 50 years that its products significantly impact the Earth's climate yet concealed these dangers from the public. It joins New York City and seven California communities, including San Francisco, Oakland, Santa Cruz and San Mateo County, in seeking damages to help pay for infrastructure projects related to sea level rise.
Chevron spokesman Braden Reddall called the lawsuits counterproductive in an email, saying they will do nothing to address "the serious issue of climate change." He added, "Reducing greenhouse gas emissions is a global issue that requires global engagement."
But residents in the communities that have sued are cautiously optimistic. Soto, now a community organizer in Richmond with Communities For a Better Environment, says he's delighted to see the city file the latest lawsuit. The effects of climate change are on the community's mind, he said, from California's droughts to recent devastating wildfires.
"I have never seen that kind of air quality in my entire life living in the Bay Area and I'm 62 years old," Soto said of the wine country fires in October and the smoke they generated, which affected the entire region. "It was dense. It was dark. It was blocking out the sun. Everything was red," he added. "To us, these are all evidence of climate change. And the fact that the petrochemicals industry knew they were doing this to the planet and covered it up is why Richmond and these other cities are saying, 'Enough's enough.'"
Surrounded by water on three sides, Richmond, with a population of 107,500, is home to some of the poorest communities in the San Francisco Bay Area. Chevron is the city's largest employer.
"They just don't care. They just care about the profit, how much they can make money," lifelong Richmond resident Torm Nompraseurt, who is an organizer with the Asian Pacific Environmental Network, said of Chevron's attitude to climate change.
Kate Sears is a county supervisor from Marin County across the bay from Richmond, which filed a similar lawsuit in July against 37 fossil fuel companies. Sears likened the lawsuits to ones filed against the tobacco industry, which hinged on whether those companies lied to the public about the health dangers of their products.
"Instead of warning consumers about the dangers of their unabated consumption of fossil fuel products or adjusting their products to limit greenhouse gas emissions, or at least communicating, they launched a public campaign to create confusion and doubts and discredit the science of consensus about climate change," she said.
It's possible now to attribute amounts of greenhouse gas emissions to particular companies, she said. The level of scientific knowledge "gave me a lot of encouragement about the strength of this lawsuit because of the strength of the science."
Rising sea levels could compromise nearly 20 miles of public and private roadways, in addition to many buildings, according to a 2015 assessment released by Marin County.
Kevin Conger, who has lived in the county for 15 years, said he's noticed increased flooding in the past five to six years. "On a clear day when the road is flooded out and it's not raining or hasn't rained for a week, it's pretty clear that sea level is the issue," he said.
Conger is a landscape architect and participant in Resilient by Design, which brings together residents, experts and public officials in the San Francisco Bay Area to develop solutions to sea level rise and severe weather — such as horizontal levees that use vegetation and floating islands. No matter the result of the lawsuits, residents need to start thinking about climate change to voice their priorities to policymakers, he said.
"We either are going to flood slowly and abandon areas around the bay that can't protect themselves or we're going to adapt and protect the areas," he said. "The good news is we have some time to do that — not forever, a decade maybe, before things become really urgent. But planning at this scale is really, really slow. So we need to start on it right now."
Local communities are clearly feeling this urgency. In Imperial Beach, a working class city of 27,000 mostly Latino residents located south of San Diego, citizens have packed public meetings about the impact of sea level rise. Four hundred people appeared at one meeting, according to Mayor Serge Dedina. "It was the most widely attended meeting we had in our city's history," he said.
The real wake-up call for the city happened during the last El Niño in 2015, when the ocean was 12 inches higher than normal, said Dedina. "We really saw the future coming out at us. We saw some of the worst coastal flooding — without very big surf conditions — that we'd ever seen. In fact, in our bay front we had the worst flooding ever. "
Imperial Beach also sued fossil fuel companies in July. Paloma Aguirre, a town resident and avid surfer, is also the coastal and marine director of Wilcoast, an environmental nonprofit that Dedina co-founded. Sea level rise brings raw sewage and solid waste into the city from Tijuana, Mexico, which shares the border and an estuary with Imperial Beach, she said. Rising temperatures in Southern California means more mosquitoes, she pointed out. Some of them carry deadly viruses like West Nile or Zika.
"To the community here, it is absolutely an issue of environmental justice," she said of the lawsuit, noting that rising sea levels will force families out of their homes.
"And that is an injustice because many residents here have grown up here and love this community," she added. "I certainly do. I wouldn't want to be pushed out because of an issue that could have been prevented or resolved by some of these corporations."
For more content and to be part of the 'This New World' community, join our Facebook group. 
HuffPost's 'This New World' series is funded by Partners for a New Economy and the Kendeda Fund. All content is editorially independent, with no influence or input from the foundations. If you'd like to contribute a post to the editorial series, send an email to thisnewworld@huffpost.com
Calling all HuffPost superfans!
Sign up for membership to become a founding member and help shape HuffPost's next chapter