 SAN FRANCISCO -- Underneath much of Central and southern California sits one of the largest deposits of shale oil in the United States, boasting a motherlode of some 15 billion barrels of oil.
While the Monterey Shale's unique geology has prevented energy companies from unleashing a new West Coast energy boom, California regulators have begun to take the first steps in regulating hydraulic fracturing (or "fracking"), a controversial practice decried by environmentalists and the most promising solution for retrieving said oil.
The process of injecting a mixture of water, sand and other chemicals into a well in order to stimulate the flow of oil or natural gas, fracking is especially helpful in accessing energy deposits in shale formations that would otherwise be out of reach using traditional methods.
Kassie Siegel of the nonprofit Center for Biological Diversity, which is in the process of suing the state for doing what it calls an insufficient job of regulating fracking, argues that the practice has the potential to do irreparable harm to the environment. She notes that a quarter of all the chemicals used in fracking are known carcinogens, and some people living near fracked wells have reported health ailments like vomiting, nausea and seizures.
On the other hand, industry representatives have pointed to a recent year-long study conducted in Southern California's Ingleside Oil Field that found no negative health, air quality or seismic effects from the fracking occurring there. The study, paid for by Plains Exploration & Production Company as part of a lawsuit against the energy producer, has been criticized by environmentalists for not looking at the long-term heath effects of fracking.
During a phone conference with members of the media last week, state regulators noted that many of the rules they're planning to put in place mandate practices already standard across the energy industry. However, one area headed for change is the requirement that companies disclose all the chemicals they use in fracking.
The new rules mandate that all chemicals used in the fracking process be disclosed within 60 days after the completion of fracking and that the state be notified 10 days before fracking occurs.
Presently, energy producers aren't required to tell anyone where or when they're using hydraulic fracturing, although many companies have started to do so on a voluntarily basis through industry-run site FracFocus.org after state regulators asked them to do so earlier this year. Under the new regulatory regime, reporting chemicals on FracFocus would become mandatory.
FracFocus now lists information for just over 600 fracked wells in California. According to Western States Petroleum Association Spokesman Tupper Hull, a recent survey found that of the 47,000 active wells, only 628 utilize hydraulic fracturing.
Some environmentalists have questioned the wisdom of relying on a private, industry-run website to host this information, especially when said site isn't required to comply with Freedom Of Information Act requests. However, on last week's conference call, regulators explained that the state retains the ability to extricate itself from FracFocus at any time and build its own site if they feel FracFocus isn't doing an adequate job. It would likely take California at least three years to get its own version of FracFocus online, whereas the industry site is ready now and has been hosting voluntary disclosures for over a year.
"When the companies voluntarily disclosure info, we're happy," said Scott Anderson, a senior policy advisor at the Environmental Defense Fund. "But voluntary disclosure is insufficient."
Surprisingly, over the past year or so, many of the companies engaging in fracking have come to the same conclusion as Anderson. When Wyoming adopted a mandatory disclosure rule in 2010, the state imposed it over significant industry opposition. However, as Anderson explained, the industry has come to see mandatory disclosure as a way to overcome some of the widespread hostility toward fracking. "There's no reason for people to trust data that's doled out by these companies on a voluntary basis," he explained.
This newfound openness toward letting the whole world know about precisely which chemicals they're pumping into the ground isn't exactly universal--it stops at a line marked "trade secrets."
Firms in states with mandatory disclosure rules, such as the ones proposed in California, are able to avoid releasing information about certain compounds by saying that making this information public would put them at a competitive disadvantage against other drilling firms.
The California rules would allow the state to challenge trade secrets claims and require immediate disclosure if a heath professional declares a medical emergency.
In an editorial published a few days after the release of this new set of regulations, the Sacramento Bee came down strongly in favor of the state demanding the strongest level of disclosure possible:
As valuable as fossil fuels are, California groundwater is a much more treasured resource, and it needs to be protected. We don't allow food companies to withhold the fact they might be adding carcinogenic chemicals to their recipes. Why should we allow oil companies to do the same with fracking?

California must insist on full disclosure on fracking chemicals. If regulators think they lack the authority to order such disclosure, then the Legislature will need to pass legislation to make it the law of the land.
Siegel came out even more forcefully. "These draft regulations would keep California's fracking shrouded in secrecy and do little to contain the many threats posed by fracking," she said in a statement. "These regulations are going to have to be completely rewritten if the goal is to provide real protection for our air, water, and communities."
Formal discussion of the fracking rules will begin early next year. During that process, regulators plan on meeting with both environmentalists and industry representatives and will host a series of town hall discussions with members of public in oil-producing areas across the state.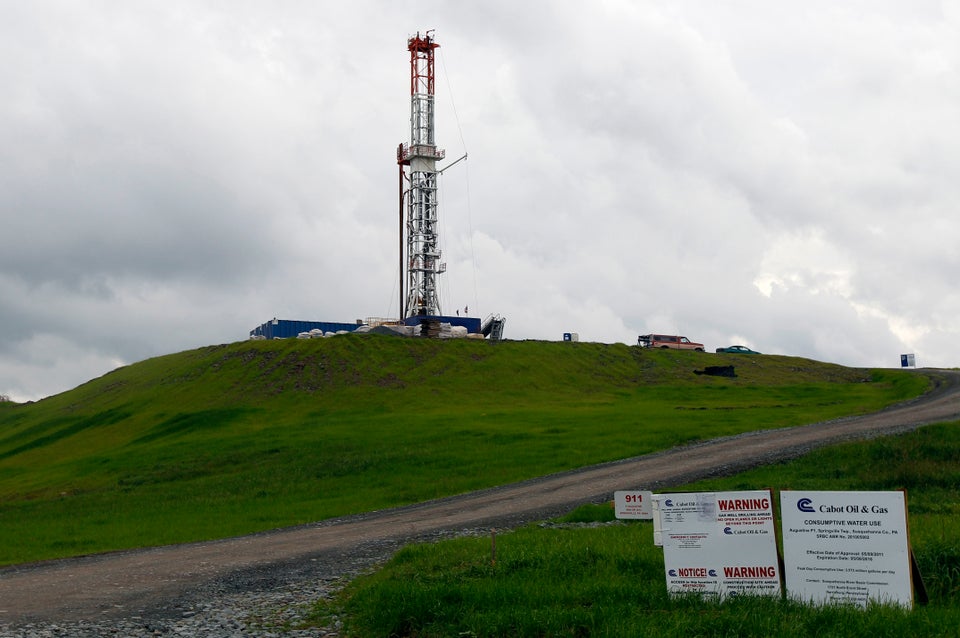 Drilling And Fracking Photos
Correction: The article originally incorrectly stated the Monterey formation had the largest shale oil reserves in the United States.