 SAN FRANCISCO/HOUSTON, Oct 8 (Reuters) - The unprecedented price spike that added more than 50 cents a gallon to California pump prices last week ended as quickly as it began, market analysts said, and consumers should see prices fall dramatically in the coming week.
Political outrage, however, was still heating up as Senator Barbara Boxer joined calls for a federal investigation into
possible market manipulation.
Prices started pulling back slightly on Monday afternoon, according to online filling station tracker Gas Buddy, after the American Automobile Association website reported they had hit a record of $4.668 per gallon on Monday morning.
California Governor Jerry Brown's decision on Sunday to allow an immediate switch to "winter-blend" fuel was a big factor in driving wholesale prices down by 60 cents a gallon on Monday, market participants said.
"Retail prices will come down as hard as they went up," said David Hackett, president of Stillwater Associates, an energy consultancy in Irvine, California. "It went up 56 cents in a week, it will come down that fast."
The price spike alarmed consumers and politicians across a state that is famous for its love of the automobile. Senator Barbara Boxer on Monday called for a Department of Justice investigation into possible price manipulation in gasoline trading markets. Senator Dianne Feinstein on Sunday made a similar request to the Federal Trade Commission.
Reuters reported on Friday that oil traders said the price spike had "many hallmarks of a classic short squeeze." Multiple trading sources said that refiner Tesoro Corp. was caught short of supplies and forced to scramble to buy fuel from other companies.
Spot market prices jumped by almost $1 a gallon in a matter of days, though trading sources said they saw no signs of collusion or deliberate withholding of supply.
Both Feinstein and Boxer cited the Reuters report of a possible short squeeze in calling for federal regulators to investigate. Boxer, in her letter to the Department of Justice, asked it to "immediately investigate whether any of these
traders colluded to manipulate and drive up gas prices at the expense of Tesoro and California consumers".

BITTER MEMORIES
Californians have bitter memories of the supply shortages and price spikes that hit the electricity market more than a
decade ago and were later found to have resulted from market manipulation led by the now-defunct Enron Corp.
Jason M. Jones, a music producer who was gassing up his Volvo in Santa Monica on Monday, said he was fearful of further price gyrations. "I feel they're taking advantage of the situation in Santa Monica," he said.
California gasoline prices are traditionally among the highest in the country. The state is largely cut off from national pipeline networks and refinery centers, and requires more expensive, cleaner-burning gasoline in the summer.
The recent price surge was initially set off by a series of refinery mishaps, including an August 6 fire at a big Chevron refinery in Richmond and an Oct. 1 power outage at Exxon Mobil Corp's Torrance facility near Los Angeles.
The Torrance plant is now back online, helping to alleviate supply constraints. Brown's order to allow winter-blend gasoline to be sold immediately, well ahead of the normal Oct. 31 transition date, was also a big factor in relieving supply concerns.
"I think prices will come down pretty quickly," said James Hamilton, an economics professor at the University of
California, San Diego. "The measures Governor Brown adopted are exactly the right ones."

SLUGGISH PRICES BOTH WAYS
Hamilton acknowledged that some academic studies show it can take a "little bit longer" for prices to come down than it takes for them to go up. But he detected sluggishness in both directions, suggesting some Southern California retailers may have been wary of angering customers by increasing too fast.
"A few stations didn't raise prices as quickly as others, and that created shortages at those stations," he said.
Southern California bore the brunt of the supply disruptions last week and faced the highest prices in the state, with $5 per gallon spotted in some areas.
At one station in West Los Angeles, Rick Lee, a restaurant and club manager in his 40s, said he had not yet noticed a fall in prices. "For now I'm just putting in $40 at a time and not filling up my tank in anticipation that prices will go down or that someone will bail us out," he said.
(Reporting by Braden Reddall in San Francisco, Erwin Seba in
Houston and Dana Feldman in Los Angeles. Editing by Jonathan
Weber, Bernard Orr, Sofina Mirza-Reid, Jim Marshall and Joseph
Radford)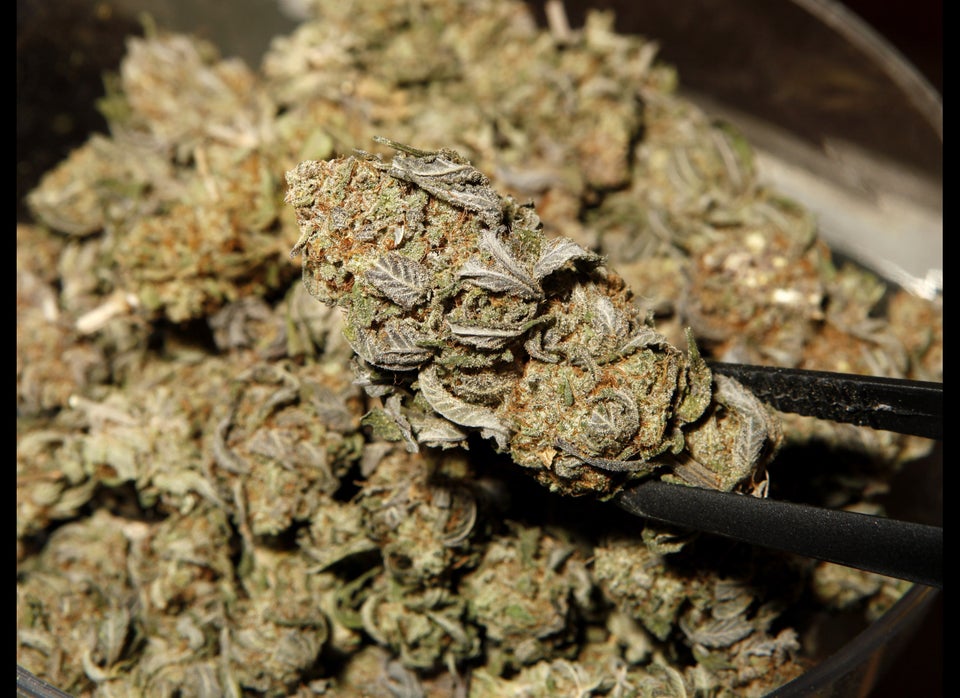 16 Facts About Marijuana And The U.S. Economy