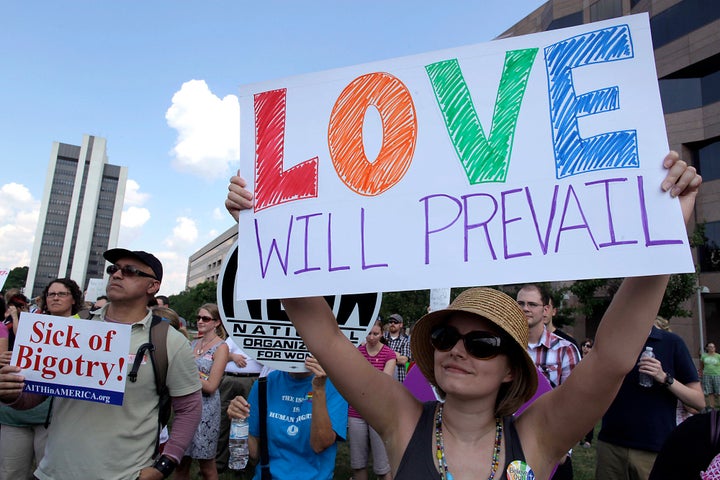 A recent California poll has infused a huge dose of hope into the state's battle for marriage equality.
On Wednesday, a Field Poll revealed that 59 percent of California registered voters support same-sex marriage -- the highest level of support ever recorded during 35 years of surveying issue in the state.
Only 34 percent of those polled disapproved, and seven percent expressed no opinion. The result shows a surprising jump from the 2010 report, in which only 51 percent of those polled supported same-sex marriage.
"The division of sentiment is nearly a complete reversal of the findings from the first time the Field Poll began measuring Californians' attitudes toward same-sex marriage in 1977," wrote Field Poll in the findings. "At that time, 59 percent disapproved and 28 percent were in favor."
While the news is incredibly encouraging for same-sex marriage advocates, Rebekah Orr of Equality California, the state's largest LGBT advocacy organization, urged supporters not to pop the champagne just yet.
"While it is always good news when things appear to be moving in our direction, it's incredibly important to take these results with a grain of salt," said Orr to The Huffington Post.
Orr pointed out that, while the growing support is palpable, the Field Poll included registered voters, not likely voters.
"We conducted a poll of likely voters in September, and found the results to be around 51 in favor and 44 opposed," said Orr. The Equality California poll (conducted by Amy Simon) focused on groups that were actually likely to make it to the ballot box.
"As a movement, I want us to be hopeful, and I want us to be proud of what we've achieved," she said. "But we have a lot of work to do and I don't want us to lose sight of that."
Still, even she admits that the winds of public opinion are indisputably shifting.
"Regardless of the difference, even our more conservative poll showed a positive shift of four points in two years. That's absolutely incredible," she said. "And it's certainly possible that events in the past few months have shifted that opinion even further."
While Proposition 8 makes its way through the courts, Equality California and other groups are working to build public support in preparation for future elections. And if the two polls are any indication, it seems to be working.
"There is no question that same-sex couples will have the right to marry," said Orr. "Voters are starting to see same-sex marriage as an inevitability, which is driving down our opposition. It's not a matter of if. It's a matter of when."
Check out Field Poll's findings in the chart below: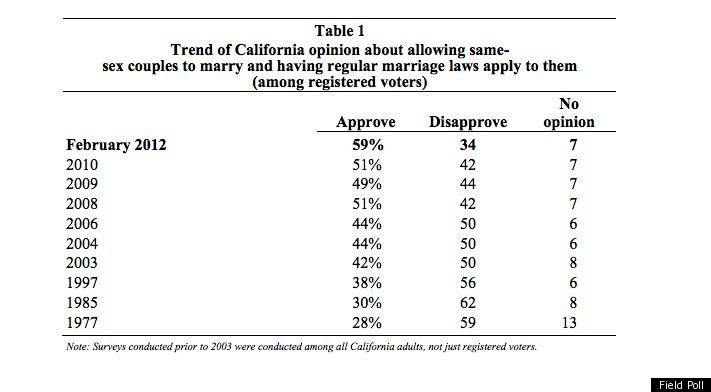 Related
Popular in the Community