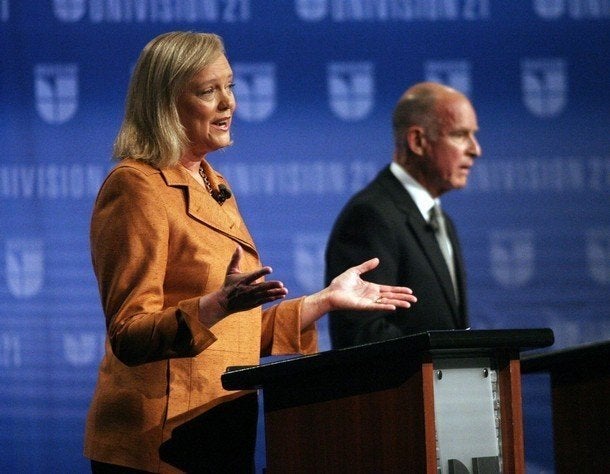 Two new automated surveys on the California governors race confirm that Democrat Jerry Brown now narrowly leads Republican Meg Whitman by a narrow margin. Other new surveys released over the last 24 hours show Richard Blumenthal's lead holding in Connecticut, reconfirm the razor close margin in the Illinois Senate race and present something of a puzzle on the Ohio governor's race.
In California, the latest automated poll from SurveyUSA shows Brown leading by four percentage points (47% to 43%), while an update from Rasmussen Reports has Brown ahead by five (49% to 44%).
While the new surveys show the usual random variation, a clear shift in the data is evident: Over three weeks in late August and early September, five surveys (all but one automated) showed Whitman holding modest single-point advantages and winning between 47% and 51% of the vote. The seven surveys conducted since September 15, however, (including four using live interviewers) all show Whitman with less than 44% of the vote. While our standard trend estimate now shows Brown leading narrowly (46.2% to 44.6%), our more sensitive trend lines appear to more accurately capture the recent data and show Brown leading seven percentage points (48.8% to 41.8%).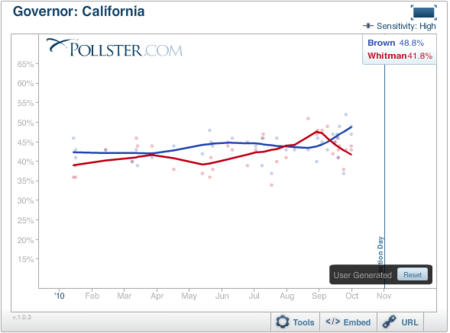 The new SurveyUSA result for the California Senate race shows Democratic Senator Barbara Boxer leading Republican challenger Carly Fiorina by three points (46% to 43%), a slightly narrower margin than her roughly four-point lead on our standard trend lines (47.9% to 43.5%). Still, Boxer has now held at least a nominal lead on ten California surveys conducted since September 11.
A new automated survey in Connecticut by the Democratic firm Public Policy Polling (PPP) shows Democratic Senate candidate Richard Blumenthal leading Republican Linda McMahon by 12 percentage points (53% to 41%). That margin is considerably better than two recent surveys by Quinnipiac University and Rasmussen Reports that showed Blumenthal leading by only 3 and 5 points respectively, though a recently released internal Blumenthal campaign poll had him ahead by 12. Our standard trend line splits the difference and shows the Democrat leading by nearly seven (50.8% to 44.2%).
While the most recent surveys show significant McMahon gaining after the August 10 primary, it is not clear whether she has continued to close the gap since Labor Day.
A new Suffolk University poll confirms the very close contest in the Illinois Senate race, showing Republican Mark Kirk at 42% and Democrat Alexi Giannoulias at 41%. Our trend estimate shows Kirk with a virtually meaningless one point edge (40.2% to 39.3%). The Illinois Senate race is currently the closest in the nation.
Just out this morning, a new head scratcher from Quinnipiac University in Ohio. They find incumbent Democratic Governor Ted Strickland trailing Republican challenger John Kasich by 9 percentage points (50% to 41%), a considerably closer margin than the outlier 17-point margin they reported in mid September, but still better than average for Kasich than most other recent Ohio polls. Surveys conducted over the last two weeks by the University of Cincinnati, Fox News/Pulse, Reuters/Ipsos and CBS/New York Times have shown Kasich leading by just 1 to 4 percentage points, although a Rasmussen poll released last week put Kasich up by 9.
The recent pattern in the Ohio data resembles the trends in California. Ohio polls gave Kasich mostly double-digit leads a month ago, but narrow single digit margins more recently. While our standard trend estimate shows Kasich with an eight point lead (49.5% to 41.5%), our more sensitive chart, showing Kasich leading by less than 3 points (45.1% to 42.5%), looks like a better fit for the more recent data.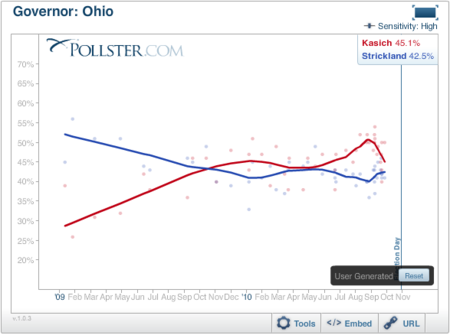 Finally, the wide variation in Ohio's "likely voter" surveys is similar to results we have seen on new national surveys in the last 24 hours measuring the "generic" U.S. House vote (the question that asks voters if prefer the Democrat or Republican House candidate in their district). Yesterday, Rasmussen Reports released new data showing Republicans leading by Rasmussen's narrowest margin so far in 2010, just 3 points (45% to 42%), while Gallup published new results based on two different likely voter models from the same survey showing the Republicans leading by either 13 points (53% to 40%) or 18 (56% to 38%). Meanwhile, a new survey out this morning from ABC News and The Washington Post puts the margin at 6 points (49% to 43%).
So what is a "likely voter" exactly and why are these results so different? I will be taking a closer look this week at HuffPost Pollster. Stay tuned.

Popular in the Community