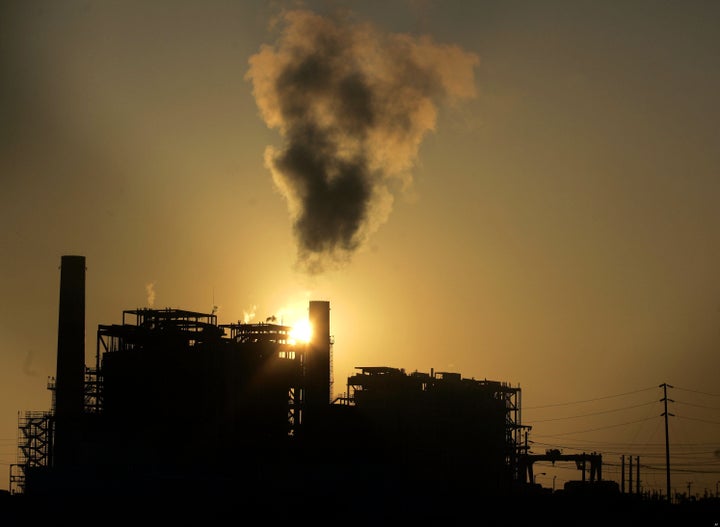 The attorneys general of at least four states are preparing to sue California if the state's landmark law limiting greenhouse gas emissions survives a challenge at the ballot box this November.
The attorneys general of Alabama, Nebraska, Texas and North Dakota have been devising a legal strategy to challenge the California act, signed by Gov. Arnold Schwarzenegger in 2006, on the grounds that it interferes with the right to freely conduct interstate commerce, according to Wayne Stenehjem, the attorney general of North Dakota.
"We are going to test the limits of how much you can constrain interstate commerce in the name of climate change," Stenehjem said.
California and other states are now in the forefront of the response to global warming in the wake of this year's congressional retreat from federal climate legislation. California's Global Warming Solutions Act, widely known as AB 32, imposes 80 percent carbon emission reductions by 2050 across all sectors of the economy.
That measure is now being challenged by Proposition 23, an initiative on the November ballot that would delay implementing the law until California's unemployment rate drops to 5.5 percent or below. The state's unemployment rate, which now stands at about 12 percent, was last at 5.5 percent in November 2007.
Stenehjem is hoping the initiative passes. And if not, he and his fellow attorneys general will sue, he said. "We will be posing a direct challenge to the interstate commerce clause of the U.S. Constitution," he said.
A precedent for any interstate commerce lawsuit against California is likely to come first from a case involving Minnesota and North Dakota.
North Dakota supplies 60 percent of Minnesota's energy, much of it from a massive lignite coal mine. Shortly after Minnesota Gov. Tim Pawlenty signed a law mandating a 30 percent reduction in CO2 emissions from coal-fired power plants by 2012 and an 80 percent reduction by 2050, tensions erupted with the electricity supplier next door: The North Dakota legislature appropriated $500,000 to finance preparation of a legal challenge by Stenehjem, the attorney general.
"Minnesota cannot regulate the way we do things in North Dakota," he said.
The federal Environmental Protection Agency has the authority to regulate greenhouse gases, but it has yet to do so. That leaves California, much like Minnesota, confronting a national electrical grid, subject to widely varying standards governing greenhouse gas emissions.
California obtains 30 percent of its power from beyond its borders, most of it from states in the Pacific Northwest and Southwest. The California Energy Commission did not immediately provide a state-by-state breakdown of all energy suppliers to the Golden State, but North Dakota does not appear to be one of them.
Stenehjem's fellow attorneys general are already at the forefront of using the courts to slow climate regulations. Texas Attorney General Greg Abbott sued the EPA in federal court earlier this year, hoping to overturn the agency's "endangerment finding" that greenhouse gases pose a threat to the environment and public health - a finding which triggered the agency's ability to regulate CO2 emissions.
When asked about its California strategy, Tom Kelley, spokesman for the Texas attorney general, demurred in an e-mail: "We have conversations with a wide variety of entities and officials about various issues, but we don't divulge the substance of those conversations. The Texas Office of the Attorney General has a long-standing policy of not divulging publicly any legal strategies in advance."
Two Texas oil companies, Valero Energy Corp. and Tesoro Corp., are thus far the biggest contributors to the effort to block the California law governing greenhouse gases, channeling more than $4 million into the "Yes on 23" campaign.
Alabama Attorney General Troy King filed a brief in support of an effort by the Tennessee Valley Authority to overturn North Carolina's regulation of greenhouse gases as a "public nuisance." That case was decided in favor of the authority last July by the 4th Circuit Court of Appeals, a decision that could have significant effects on the legal leverage available to states to restrict emissions.
King's office did not respond to numerous calls requesting comment about Stenehjem's strategy. Neither did the office of Nebraska Attorney General Jon Bruning.
Steven Maviglio, spokesman for the "No on 23" campaign, said, "We are confident that our state's clean air and electricity standards are bulletproof from any attacks from states where oil and coal companies control politicians."
Anita Mangels, director of communications for the "Yes on 23" campaign, said she was not aware of the legal strategy, and that "it bears no relevance to Proposition 23, which will be voted on by California voters and is focused wholly on a temporary suspension of AB 32."
She added, "After the election, we fold up our tents and go home."
David Farnsworth, a senior associate with the Regulatory Assistance Project, which represents current and former utility regulators, said that legal fights such as these could prove decisive as state regulatory authorities are compelled to illustrate that "the imminent dangers from climate change outweigh whatever impact restrictions on coal-powered electricity might have on interstate commerce."
California, he said, would have a strong argument to make now that the EPA has determined that greenhouse gases constitute a health risk. Stanley Young, communications director at the California Air Resources Board, which is implementing the rules governing AB 32, said: "We are aware of possible commerce clause implications and craft our regulations to address those concerns."
For North Dakota's Stenehjem, legal challenges are the one option left for limiting the uncertainties created for states, which are left to deliver, or obtain, electricity across state lines with different rules and, ultimately, different prices for carbon dioxide.
"We cannot meet the energy needs of the United States if we face a patchwork of different laws regulating energy," he said.
Popular in the Community