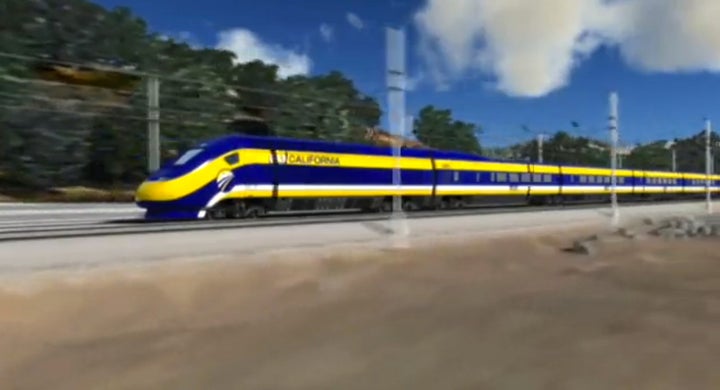 When it was announced that two top executives overseeing California's high speed rail project were stepping down from their leadership roles in the span of a single day, it was clear that some big changes were in the works for the increasingly troubled project.
This week, the shape of those changes may finally be becoming clear.
Under a new plan currently being negotiated between the High Speed Rail Authority and a number of regional transit agencies, the proposed high-speed linkage between San Francisco and San Diego would become much more closely integrated with local rail systems--Caltrain in the Bay Area and Southern California Metrolink.
Instead of creating an entirely new set of tracks running between San Francisco and San Jose, the California High Speed Rail Authority, working in tandem with local transit agencies, would make extensive improvements on the Caltrain tracks to make them usable for the state's bullet train as well as significantly improving service on existing Caltrain lines.
The project would eliminate a number of rail crossings, provide for the installation of a new train-control system and, most significantly, electrify the rails themselves, a feature that's long been on Caltrain's wish list because it allows the agency to employ lighter, faster trains.
The plan would permit high speed trains to begin running in this densely-populated urban corridor up to ten years earlier than previously envisioned.
Since federal funding restrictions have essentially mandated construction begin in the Central Valley, many critics have argued that for the first few years of the system's life, it will solely serve an area without a strong need for it. Starting to run high speed trains on tracks in regions where a significant number of people will actually use them would likely go a long way in building public support for the program.
This antipathy towards the train from a stereotypically liberal, pro-public transit population has put the squeeze on the project's boosters, who have also received significant political pressure from Republicans in Washington that see high speed rail as a prime example of wasteful government spending. A new transit bill proposed by the GOP-controlled House of Representatives explicitly bans the project from receiving a single penny of its $260 billion in appropriations.
While the plan to run high speed rail on Caltrain tracks isn't exactly new, a joint-use system was studied favorably in a report released by Caltrain late last year, what is novel is the increasingly widespread enthusiasm for it.
"Initially, the high speed rail folks weren't real keen on the idea of sharing tracks with Caltrain," the San Francisco Chronicle's Phil Matier said in an interview in KCBS radio. "They wanted their own line that was going to be able to accommodate up to 10 trains an hour."
When the High Speed Rail Authority rejected a similar track-sharing proposal last year, it criticized the plan for stopping short of its ultimate destination, San Francisco's soon-to-be-constructed Transbay Terminal, in favor of the Caltain station near the intersection of 4th and King streets. Ending at the Transbay Terminal is mandated in the state law created in the bond measure funding the rail system passed by California voters in 2008.
Proposition 1A, the $9.95 billion bond measure approved in 2008 that funded the high-speed rail project, would pay for the Caltrain improvements. But the Bay Area would have to match that money with a significant amount of local funds, perhaps as much as $1 billion. According to the plan, $600 million would come from bond money for high-speed rail service with an additional $400 million coming from bond funds dedicated to transit agencies providing connections to high-speed trains.
Caltrain/High Speed Rail soon won't be the only train running between San Jose and the rest of the Bay Area. Just this week, the federal government approved $250 million towards funding a BART extension through to San Jose.
Check out this video simulation of the high speed rail train zooming down the Caltrain corridor near San Francisco: