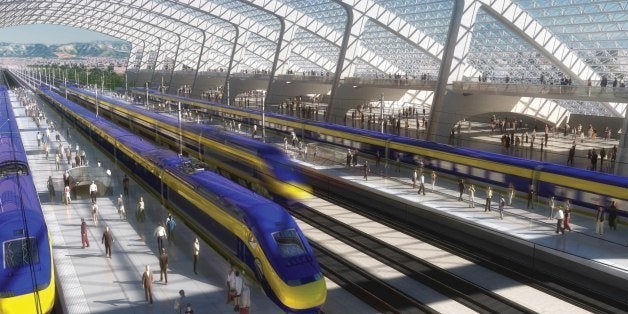 It had a low-speed start, but America's biggest, fastest high-speed rail project finally broke ground Tuesday in Fresno, California, about halfway between the two major cities it hopes to connect by 2029 -- if it can cross some longstanding financial and political hurdles.
According to the California High-Speed Rail Authority, the system will run from San Francisco to the Los Angeles basin in under three hours at speeds capable of over 200 miles per hour. It will eventually extend to Sacramento and San Diego, totaling 800 miles with up to 24 stations.
Driven by plans to cut back on jet fuel and car use as California's population grows, the bullet train's groundbreaking comes on the heels of Gov. Jerry Brown's inaugural speech Monday in which announced ambitious energy goals. Among those were hopes to reduce vehicles' petroleum use by up to 50 percent, increase electricity derived from renewable sources from one-third to 50 percent, and double the efficiency of existing buildings while making heating fuels cleaner in the next 15 years, the same projected timeline for the rail's completion.
The $68 billion project was set to start two years ago after it secured $9.95 billion from a voter-approved bond in 2008, $3.2 billion in grants from the Obama administration in 2010 and, as of last year, 25 percent of future cap-and-trade-fees that could provide up to $1 billion a year for the project, the Los Angeles Times reported. The delay was largely caused by slow land acquisitions, an onslaught of lawsuits from possibly impacted communities, and blocked bonds, all of which the state managed to beat back, Salon noted.
But where the rest of the money for the project will come from remains to be seen; California Republicans in Congress have pledged to block any more federal funding for the railway, and experts warn that costs could greatly exceed expectations.
"The public should understand that the uncertainties are much greater than the certainties," Martin Wachs, a University of California, Los Angeles, professor emeritus of urban planning, told the LA Times. But our political process doesn't allow us to say 'We don't know what it will cost or how long it will take, but let's get started anyway."
The completed railway will be an important baby step in getting the U.S. on par with other nations' high-speed rail systems. Fast Company points out that trains in Japan, China and Germany already exceed 300 miles per hour.

Calling all HuffPost superfans!
Sign up for membership to become a founding member and help shape HuffPost's next chapter
BEFORE YOU GO
PHOTO GALLERY
Greenest Cities