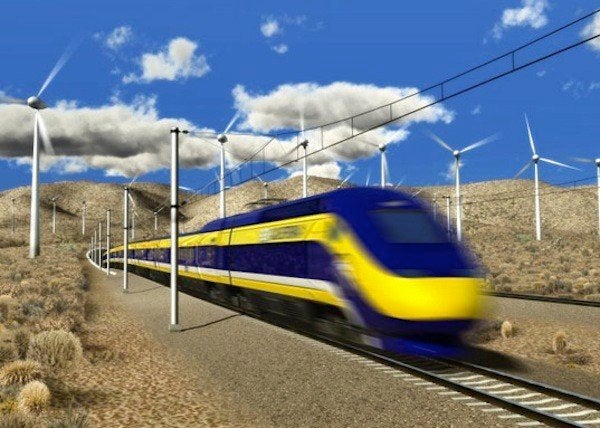 With most Californians worried about the state budget and opposed to trigger cuts to education, a slim majority would support Gov. Jerry Brown's plan to increase taxes, according to a survey released yesterday by the Public Policy Institute of California.
Among likely voters, 52 percent said they would support Brown's proposal to raise the sales tax by half a cent and increase taxes on incomes of more than $250,000 for the next five years.
But when it comes to another Brown priority, high-speed rail, California voters are not as gung-ho. When told the project would cost $100 billion over the next 20 years, 53 percent of likely voters said they would oppose it.
Voters passed a $10 billion bond measure to build the system in 2008, but cost estimates and criticism of the project have grown. State Sen. Doug LaMalfa, R-Oroville, is trying to send the issue back to voters. He introduced a bill and ballot measure that would stop the state from issuing and selling more rail bonds.
"What (the survey) says is if we can get it on the ballot, there's a very, very strong possibility that they're going to vote to repeal the bonds," LaMalfa said. "The damage hasn't been done yet. It's not too late to save nearly $10 billion."
Still, Lance Simmens, spokesman for the California High-Speed Rail Authority, took heart in another survey statistic: Among all adults, not just likely voters, 51 percent said they support the rail project.
"That, I think, is very significant, that a majority of adults in California favor high-speed rail," Simmens said.
Simmens noted that the Public Policy Institute survey told participants the estimated cost of the project, but not much about its benefits or the cost of alternative ways to meet the "transportation and infrastructure demands of a growing population."
"When confronted with, 'Here are the costs and here are the benefits and here's the alternatives to do the same thing,' you might get different responses," Simmens said.
The survey quizzed Californians on a broad array of issues, from immigration and abortion to legislative term limits.
Among California Republicans likely to vote, the poll put Rick Santorum right behind Mitt Romney in the presidential primary, within the survey's margin of error. President Barack Obama, whose ratings have improved, would beat the Republican candidate by 16 percentage points.
The survey also added to evidence that attitudes on same-sex marriage are changing in the Golden State. Support for allowing gay and lesbian couples to marry rose from 47 percent in 2008 - just before voters approved Proposition 8 to ban same-sex marriage - to 56 percent of likely voters today.
Support for gay marriage grew among most demographic groups, including an 11 percentage point increase for Republicans, a 15 percentage point increase among evangelical Christians and a 13 percentage point rise for those 55 and older.
The percentage supporting gay marriage is even higher than in a poll conducted in September by the gay rights group Equality California. That poll, asking the same question, put support at 51 percent of likely voters.
"Public support for the freedom to marry is shifting absolutely in favor of same-sex marriage," said Rebekah Orr, an Equality California spokeswoman. "This continued shift in support of equality is something to celebrate."
Will Evans is an investigative reporter for California Watch, a project of the non-profit Center for Investigative Reporting. Find more California Watch stories here.
Popular in the Community