 Plans for a high-speed rail line connecting Los Angeles and San Francisco have recently hit a snag, owing to a Sacramento judge who recently issued a ruling threatening the project's financing. This is just the latest obstacle to land in the way of progress in California. Critics of the planned line have warned of certain cost overruns and claimed that projected estimations of ridership (and thus revenue generated by the project) are too rosy, while voter support for the project has been declining. In March of 2013, a survey conducted by the Public Policy Institute of California found that "only 43 percent of likely voters support the project."
The New York Times published a piece this week about the plan. Wedged in the middle is a quote that was seemingly included to reflect the most asinine take on the matter:
Joe Nation, a professor of public policy at Stanford University and a critic of the plan, said Mr. Brown would have to grapple with this decline in support, which he argued reflected voters' growing doubts about the basic competence of government.

"Obamacare has leached over into this," Mr. Nation said. "You have people saying, 'The federal government that can't build a website — how can we expect them to build a multibillion-dollar train?'"
Dearie me! We can't build trains anymore, because of this one website? If that's actually true, then why haven't we simply cancelled the future entirely?
There is a point to be made here. The woes of the online federal health insurance exchange have served, of late, as a reliable political brickbat for Obamacare opponents to wield. But as more and more Americans turn to the web -- and their mobile devices in particular -- to assist them in the day-to-day task of solving problems, there will be a greater demand for the federal government to get in sync with the modern world. HealthCare.gov's specific woes should serve as a wake-up call that serious reform is needed. The UK government, which endured and surmounted a similar crisis, can serve as a model -- or it would serve as one, if "constant government dysfunction as a lifestyle choice" wasn't part of the GOP's essential brand identity.
That said, these problems really have no bearing on the proposed California high-speed rail line. In the first place, the only job the federal government has in this is to allocate money. The responsibility for "planning, designing, building and [operating]" the line falls to the California High-Speed Rail Authority. Now, they might be a gaggle of utter cock-ups, but Obamacare, and its website's woes, aren't reflective, in any way, of the quality of their work.
But I suppose everyone should get used to being told that Obamacare is the reason nobody can have nice things anymore. Dana Milbank, for whom this meme is clearly wearing thin, wrote about this on Tuesday:
Indeed, Americans do have enough things to worry about, but now they have the additional worry that one of the two major political parties is collectively suffering from obsessive-compulsive disorder. Immigration? Iraq? Unemployment benefits? The Republicans, following a year that included dozens of repeal attempts and a government shutdown over Obamacare, are prepared to respond to all with Obamacare, Obamacare and Obamacare.
Milbank points out a truth that many have missed: "The American public has a different view. A Gallup poll last month found that 47 percent cited economic issues as their top concern, including 31 percent who listed the overall economy and jobs." Indeed, back at the beginning of December, respondents to a United Technologies/National Journal Congressional Connection Poll practically got down on their knees and begged lawmakers to turn their attention to jobs: "By more than three to one, Americans said they would be 'very pleased' or 'somewhat pleased,' rather than 'somewhat disappointed' or 'very disappointed,' if the chief executive and lawmakers worked together to create jobs -- either by cutting taxes and regulations or by increasing federal spending on infrastructure projects."
Oh, hey, speaking of infrastructure projects, the California High-Speed Rail Authority estimates that the construction of the L.A.-to-San Francisco link will "generate 66,000 jobs annually for 15 years," lead to the direct employment of 4,500 people, and "could indirectly generate up to 400,000 additional long-term, permanent jobs statewide."
Before You Go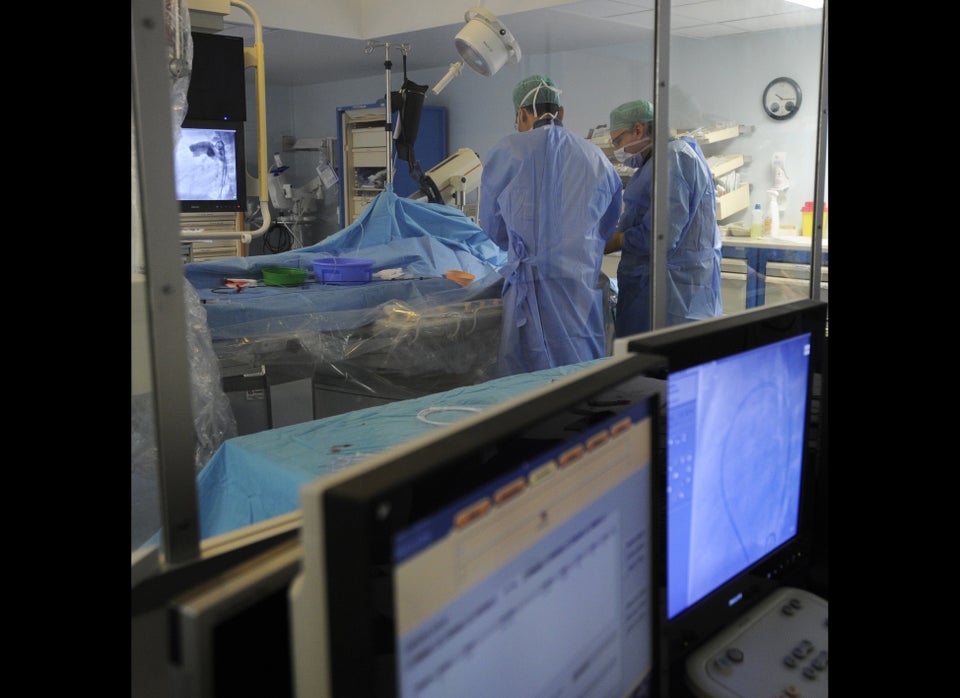 Lies And Distortions Of The Health Care Debate
Popular in the Community