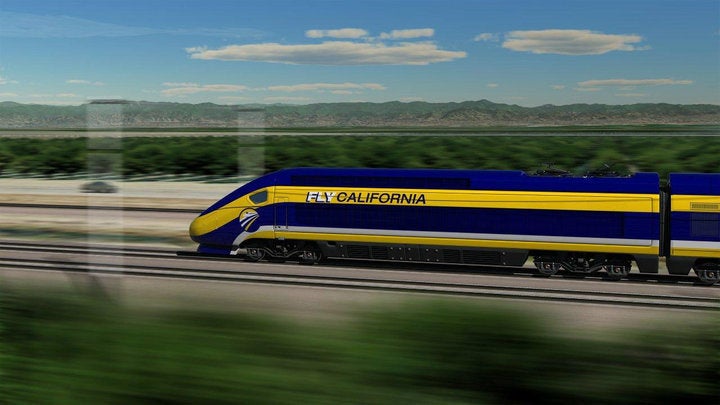 FRESNO - The plan for high-speed rail in California is to start on the Fresno side of the San Joaquin River, between Bakersfield and Chowchilla, and go until the money runs out.
The Central Valley is for many reasons a practical place to begin: The land is broad and flat and relatively inexpensive, and the federal government, which is contributing billions of dollars, requires it.
The first section will one day form the spine of a system connecting Los Angeles to San Francisco, officials say. But there is no money guaranteed to build the rest, and the initial tracks, through towns like Wasco and Madera, are conspicuously far from where most people live.
For the California High-Speed Rail Authority, the location has become a political and public relations challenge. "It's a 'Bridge to Nowhere,'" said Adriana Gianturco, who was California's transportation director three decades ago, when the state first considered high-speed rail.
A "Bridge to Nowhere," she said, "does not gain political support."
Farmers on the line are calling lawyers and organizing opposition, and criticism is intensifying at the Capitol.
Last month, the nonpartisan Legislative Analyst's Office said the rail authority's financial assumptions are optimistic and its management inadequate. It cited "significant risk" the project will never be finished, and it suggested starting in Los Angeles or the Bay Area in case nothing else is built.
Rail officials are undeterred. They plan to release a new business plan in October, including updated financial and ridership projections.
"If that plan is not acceptable," said Sen. Alan Lowenthal, the Long Beach Democrat who chairs the Senate select committee on high speed rail, "then all the money stops."
The project, costing $43 billion or more, is one of the most ambitious in North America. Even on a map it is imposing: Plowing through the Valley, the railroad rises over roads and rivers and tunnels underground, rearranging whole intersections and pushing part of Highway 99 aside. It rubs out motels and fast food restaurants as it runs into towns, and strips of farmland outside them.
Yet nowhere in California is the landscape more open.
"It's the middle that there's nothing there," former rail authority director Mehdi Morshed said. "It's the middle that is now still an opportunity to build something."
The only reason construction hasn't started yet, he said, is politics.
"It's the mayor of such and such a city who wants a station in such a place," Morshed said. "It's Assemblyman or Senator X, Y, Z who thinks they have a better idea where to build it."
California has contemplated high-speed rail at least since the early 1980s. But it wasn't until 2008, when voters approved $9 billion in project bonds, that anyone paid much attention. The Obama administration awarded the project about $3.5 billion, and the rail authority, influenced by federal transportation authorities, decided in December where to start.
Its first choice, a 65-mile stretch from Borden, outside Madera, to Corcoran, in Kings County, would have started construction in an area represented in Congress by Jim Costa, the conservative Democrat and former state senator who pushed hard for the project and for funding for the Central Valley.
A banner went up on a cotton trailer off Highway 99: "Looks like a high speed train. Smells like pork." Costa and Rep. Dennis Cardoza, D-Atwater, said the selection was not political.
But Cardoza, fearing the line would bypass Merced, had what he would later describe as a "conniption." In a letter to federal transportation officials, he said it was logical to start building in the Valley, but "it defies logic and common sense to have the train start and stop in remote areas that have no hope of attaining the ridership needed to justify the cost of the project."
Cardoza's mood improved in May, when the project found enough federal money to extend the line north to near Chowchilla. The extension convinced Cardoza the railroad eventually will reach Merced, where a connection to existing Amtrak trains would benefit Valley residents years before the high-speed system's planned extension to Sacramento and San Diego.
Many Central Valley cities are hours from major airports, and passenger rail service is relatively slow. Nowhere else in California could the state lay so much track for so little money, Costa said.
Still, it could be many years before high-speed trains run through the Valley, even if the tracks are built. The planned segment is not long enough and does not connect sufficient populations for high-speed trains to operate on that route alone. Only if the line is extended could service begin. In a worst-case scenario in which nothing more is built, authority officials say, Amtrak could use the line. Even critics acknowledge the potential benefits of high-speed rail: Improved transportation for a growing population, reduced oil consumption and work for thousands of people during a period of high unemployment.
Yet for decades, as other countries pushed ahead with high-speed rail projects, plans in California stalled.
"It's amazing to me that it's taken as long as it has, and there's so much controversy," Gianturco said. "I don't understand why California, why the entire United States, is so much behind the curve."
It was long ago settled that the path from Los Angeles to San Francisco would go through the Central Valley, and more recently that the route would generally follow Highway 99. The Valley is where trains can reach speeds of 220 miles per hour, and engineering and environmental concerns are less pronounced than on the coast.
Andrew Goetz, a professor at the Intermodal Transportation Institute at University of Denver, said the Central Valley offers a "nice, linear corridor," and Anthony Perl, a transportation researcher at Simon Fraser University in Vancouver, said it's "not cluttered with people, businesses and other things that will feel threatened by change."
The nation's interstate highway system started in the Midwest, which is roughly in the middle, too.
But Goetz said visibility is important.
"If the first segment is not successful just because it's not serving a real market, then I don't know if you're doing yourself any favors," he said.
The federal government required spending in the Central Valley after concluding construction there was more likely than other areas to meet a 2017 deadline for spending federal stimulus money. Officials believed there was little opposition locally to slow the project down.
But farmers in the Central Valley noticed when surveyors started visiting their land. East of Hanford, the proposed line runs through an almond orchard that has been in Helen Sullivan's family since the late 1800s.
Sullivan voted for the rail bond in 2008, but she said it is foolish to permanently disrupt productive farmland for a line that may never be finished. If officials were expecting "yahoo farmers" to roll over, she said, they miscalculated.
"They can't throw enough money at me to take my land away," she said.
Yet the promise of massive spending in the region - the first section alone is expected to cost $6.3 billion - is attractive to many people in the recession-battered Valley. Cities clamored for stations and are competing for a maintenance yard.
Scott Crawford, chairman of the board of The Greater Merced Chamber of Commerce, said a station will bring Yosemite-bound tourists through Merced, and people working as far away as San Francisco could live there.
"It's going to change the whole complexion of our downtown," Merced Mayor Bill Spriggs said.
The response has been less enthusiastic in cities where the train won't stop.
"The cities that are getting a station, they're falling all over themselves to get this thing going," Madera Mayor Robert Poythress said. "I just don't see the ridership numbers. ... It's, 'Let's put down the track and we'll work out the details later.'"
The timing of the legislative analyst's report, issued just days before lawmakers began considering the rail authority's budget for next year, could hardly have been worse for the project's supporters.
The analyst called the project a "big gamble," predicting it could cost $67 billion while relying on billions of dollars in uncertain private investment and additional federal funds.
Roelof van Ark, the rail authority's chief executive officer, acknowledged there is no long-term commitment from the federal government. But mega-projects rarely, if ever, start with all the money they need.
"If you were to wait until you had every dollar set aside and reserved for these kind of infrastructure projects, you'd never build anything," Costa said.
As state lawmakers last month discussed the project's merits, Daniel Krause, executive director of the advocacy group Californians for High Speed Rail, said their "futzing around" risks delay and losing federal aid.
"We're getting this initial chunk of money," Krause said. "We want to build as much track as we can."
Krause and other supporters of high-speed rail responded sharply to the legislative analyst's report. Former state Sen. Quentin Kopp, a former rail authority board member, said it read "almost as if it was written by Lowenthal and (Joe) Simitian," two senators critical of the authority.
"That was the most disgraceful report I ever saw come from that office," he said.
But even before the report's release, Kopp acknowledged the project had developed an image problem.
In a March memorandum urging van Ark to cancel the rail authority's multimillion-dollar contract with Ogilvy Public Relations Worldwide, Kopp said the firm's failure was evident in "the worsening legislative, media, academic, and popular comments in the public domain about our project."
The rail authority's outreach challenges came up in a budget hearing recently. Sen. Jean Fuller, R-Bakersfield, said support already has eroded.
"We're losing it," she said. "In my area, we're just losing it like crazy."
The rail authority is pushing forward, staffing up and meeting with people living on the line. Engineers plan to start construction next year, preparing to lift a bridge over the San Joaquin River while pushing south through Fresno. Tom Tracy, the engineer managing the section from Fresno to Bakersfield, was standing on the Fresno side of the river when a Union Pacific train rumbled overhead.
High-speed rail will look a lot like that, he said. Except, he said, "we'll go by a lot quicker."
David Siders is a reporter with the Sacramento Bee Capitol Bureau. He can be reached at 916-321-1215.
This article was produced as part of a joint initiative to cover high-speed rail involving The Bakersfield Californian, California Watch, The Fresno Bee, The Orange County Register, The Sacramento Bee and the San Francisco Chronicle.
Calling all HuffPost superfans!
Sign up for membership to become a founding member and help shape HuffPost's next chapter