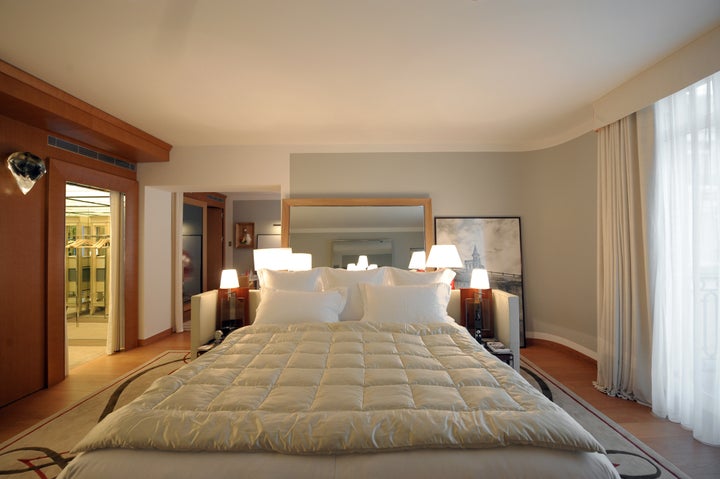 When she isn't sidelined by an injury, Nenita Ibe cleans 16 rooms a day at the Santa Clara hotel where she's worked for 10 years. Since some rooms have two beds, that adds up to 25 mattresses per day, each of which needs to be lifted up on each side so that the 69-year-old Filipino immigrant can set the bedsheet properly. Luxury hotel mattresses can weigh more than 150 pounds these days. Ibe weighs a waiflike 125. The beds have taken a toll.
"Every night I wake up from pain and cannot go back to sleep for two hours," Ibe said. "Sometimes I sleep five hours, sometimes six."
Ibe said she suffered an injury to each shoulder due to lifting heavy mattresses, one in 2007 and another earlier this year. When she no longer had sufficient strength in her arms, she developed a way to hold the mattresses up with her knee so she could tuck the sheets in. But the shooting pains haven't let up.
So last week Ibe headed to Sacramento to testify in favor of a bill that would force the state's hotels to ditch their traditional flat bedsheets in favor of the fitted elastic sheets most of us use in our homes. The bill would also require hotels to supply housekeepers with long-handled tools so that they would no longer have to clean bathrooms on their hands and knees. Ibe even gave lawmakers a demonstration of her strenuous bed-making method, arguing that fitted sheets would help housekeepers avert injuries to their shoulders and backs.
The bill was sponsored by state Sen. Kevin de Leon (D-Los Angeles), whose mother was a housekeeper in California and who called this "an issue close to my heart."
"It just seemed like a no-brainer," said Claire Conlon, de Leon's spokesperson. "With all the travel that people in our industry do, we sleep on these huge, comfortable mattresses, but they're so heavy to lift."
Last week, de Leon's bill made it out of the state Senate's labor committee, with five Democrats supporting it and two Republicans opposed. A number of California hotel maids delivered passionate testimony asking for fitted sheets and long mops, one of them even displaying her swollen, black-and-blue knee on the floor of the chamber.
Some hotel trade groups have come out against the bill, saying the regulations are unnecessary and would be prohibitively expensive. It had the support, however, of UNITE HERE, the nation's largest hospitality labor union.
"What we see on a daily basis is women hurting their backs and ruining spinal disks," said Leigh Shelton of UNITE HERE. "Especially with the introduction of this sort of more luxurious bedding. Go stay in a Westin and imagine these women having to lift them."
Shelton said some of the Sacramento hotel maids she works with, most of whom are Asian and Hispanic immigrants, recently met with a group of housekeepers from Hawaii who said the hotels where they worked used fitted bedsheets. Many of the California workers had no idea there were hotels that used them.
Eleazar Dumuk, who, like Ibe, works for Hyatt and is from the Philippines, testified that she and her colleagues used to have long-handled mops -- but one day, they suddenly disappeared. "It's probably just cheaper for the company to have my coworkers and me get on our knees," she testified. "I came to this country not to work on my knees but to make a just, humane living." A spokesperson for Hyatt did not respond to requests for comment.
Considering a fitted bedsheet can't be pressed as tidily as a flat one, Shelton said she suspects the hoteliers' concerns are partly cosmetic – something Lynn Mohrfeld, president of the California Hotel & Lodging Association, doesn't dispute. In the case of some hotels, "The flat sheets are incorporated into brand standards," Mohrfeld said. Another trade association has argued that the elastic in fitted sheets tends to wear out and that the sheets themselves are difficult to stack.
Mohrfeld's group has submitted a letter against the bill and estimates that the switch to fitted sheets would cost the industry around $15 million statewide. "I think the main issue is regulating something that doesn't need to be regulated," he said.
According to Mohrfeld, green initiatives at some hotel companies have already led to significant reductions in the number of times bedsheets are washed and changed. He said he believes the switch would simply divert the extra work to the hotel laundry rooms, where the bunchy fitted sheets may be more cumbersome to deal with. He also argues that flat sheets may ultimately be easier on the housekeepers, since both the top and bottom sheet can be tucked in at the same time, unlike with fitted sheets.
Some occupational health experts disagree. Robert Harrison, a doctor of occupational medicine at the University of California at San Francisco, testified that the "repetitive and forceful exertion" of bedmaking and other duties makes hotel maids more susceptible to lower-back and shoulder injuries than most workers in manufacturing jobs. Lifting the corner of some luxury hotel beds, he said, exceeds what the Centers for Disease Control and Prevention considers safe lifting.
"I think [the law] would make a great difference," said Dr. Susan Buchanan of the University of Illinois at Chicago, whose paper on hotel-worker injuries was cited in testimony. "And, as usual, California would be first."
Housekeepers like Ibe certainly hope the law is passed. She said she's no longer able to fully wash her hair when she takes a bath because she can't always get her hands up over her head, and she often shows up to work with swollen kneecaps. Fitted sheets and long tools, she said, would change her life for the better. Still, she said she testified less for her own benefit than for that of the younger housekeepers coming up behind her.
"I'm 69. I'm old," she said. "It's not for me. It's for the others."
Popular in the Community